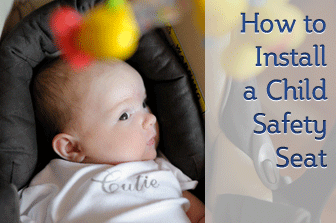 How to Install a Child Safety Seat

Andrei Zakhareuski
A child is precious cargo indeed when you are the driver of the car he or she is riding in. Whether the child is yours or someone else's, a newborn or a rambunctious tot, there are certain safety precautions that need to be put into place when driving with a child in your vehicle. One of the most effective means of reducing the risk of injury to children in auto accidents is the use of child safety seats. All states require children under a certain age to be restrained in a car seat while a vehicle is in operation. There are three main types of child safety seats. Below is a quick description of each and a few installation tips.
Rear Facing
A rear facing child safety seat is typically appropriate for infants up to two years old.

1

These child safety seats are usually composed of two parts: a carrier that includes a seat belt system and a handle and the base onto which it can be locked.

2

To install a rear facing child safety seat, the base is secured to the back seat of your vehicle using the seat belt. The carrier can be transported in and out of the vehicle as needed.

3

The infant needs to be securely fastened into the carrier using its seat belt system that goes over each shoulder and between the legs. There should be two fasteners: one on the chest and one between the legs.
Forward Facing
A forward facing child safety seat is suitable for children over two years of age or who have exceeded the weight and height limits of their rear facing infant safety seats.

1

These seats are designed to safely restrain a child while they ride in a forward facing position.

2

In general, an across-the-shoulder seatbelt in your vehicle's back seat can be passed through a space on the back of these child safety seats and fastened so that it hold the safety seat securely and snuggly against the seat.

3

Like a rear facing child safety seats, forward facing models for older children also have their own seat belt systems that go over each shoulder and between the legs.
Booster Seats
A booster seat is suitable for children who have outgrown their forward facing child safety seats but who are still too small to sit with their knees bent over the edge of the seat while positioned all of the way inside the seat.

1

A booster seat does not have a backrest. Its purpose is to fill up extra room in your vehicle's seat.

2

When a booster seat is in use, a vehicle's normal seat belt system will function properly, even for a young child.
Make sure to check your state's specific child safety seat guidelines before transporting a child in your vehicle. Children should always ride in the back seat of a vehicle until they are at least thirteen years of age.
Enjoyed this article and learned something? Please share it!
Rate this article:
was this article helpful?
5
out of
5
based on
1
votes.
Take a free DMV practice test
Same type of questions that you'll see on the actual exam
Start now