Focus on the Road [Infographic]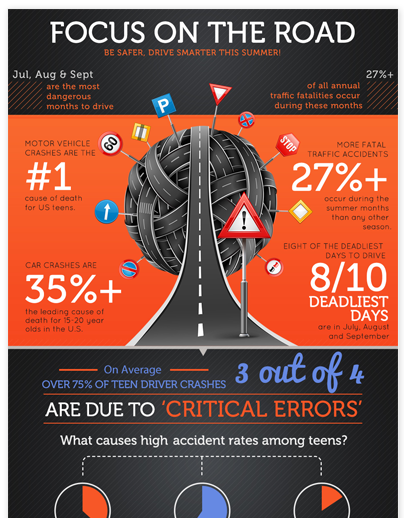 As a leading online educational learning site for permit test preparation and new driver education, Driving-Tests.org is committed to helping learner drivers maintain the highest standards of safety. According to AAA, teen driving goes up by 44 percent during the summertime, and during these months, teens tend to drive more often and they have less parental supervision than they do during the school year. With more teens on the road, close attention should be paid to educating teens on best practices for safe driving.
Our research shows that the summer months are the most dangerous days of the year to drive, especially for teen drivers. Over 27% of all annual traffic fatalities occur during the summer months. Because we believe that smarter drivers are safer drivers, we created this infographic to identify ways learner drivers and teen drivers can become better drivers. Most motor vehicle related crashes are preventable; if followed carefully, these tips will save lives.
As part of our company's commitment to corporate social responsibility, we are launching our "Be Safer, Drive Smarter" campaign to raise awareness for teen safety. Because of the sharp increase in driving-related deaths during the summer months, we are helping to raise awareness and encourage meaningful public and private responses to the issue.
Focus on the Road: View HI-RES version
Share on your website or blog (click to select, then CTRL+C to copy):