Free Maryland Permit Practice Test Two 2018 | MD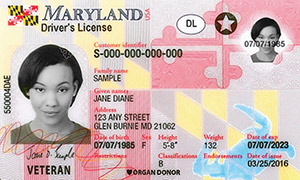 They say that practice makes perfect. It really does, so welcome to our second MD permit practice test brought to your home, free of charge. There are no hidden catches, no payments, or even registration required. Try it and see. This practice test includes 40 multiple-choice questions, which are similar in format and content to those on the actual MVA knowledge test. The questions are based on the latest
official Maryland Driver's Manual
. Take a look at the first question below. It is followed by four possible answers. Click the answer you think is best. Not sure? Try the optional hint. (Of course, the actual MVA test doesn't have any hints.) The progress bar on the left side of the page will track your progress by flashing green or red. If it flashes green, it means that you answered the question correctly, and you will move on to the next question. If it flashes red, it means that you made a mistake. You will be shown the correct answer along with an explanation so you won't make that same mistake again. Answer all the questions and check your final score. Any room for improvement? Take the test again as many times as you wish until you are satisfied with your score. Each time, the questions will be randomized for you. Sounds good? Try our MD permit practice test and tweet your friends about it, or just hit the "Like" button above. Good luck on the MVA knowledge test!
We're preparing your test...
Your Progress
6 mistakes allowed to pass
Passing score required at the MD MVA: 85%
Challenge Bank

0
Back to the MD menu
Show comments
Maryland MVA Permit Test Fact Sheet
| | |
| --- | --- |
| How many questions: | 25 |
| How many correct answers to pass: | 22 |
| Passing score: | 85% |
MD MVA Driver's Handbook
View the most recent (2018) official MD MVA Driver's License Handbook.
Explore