Why choose CDL Premium?
Train multiple employees for their CDL knowledge exams, fast

All License Classes
CDL Premium covers all license classes (A, B, C) and endorsements with no extra fees. Your staff members can study from home or on the go to get a new CDL or add an endorsement to their existing license.
Powerful Dashboard
Our powerful mobile-friendly Administrator's Dashboard lets you or your supervisor monitor every student's progress and quickly see who is doing well and who is falling behind.
Unlimited Use
Train multiple drivers with a single seat. Once you've purchased a certain number of seats, you can later reassign them to new users as needed. The past user progress will be reset automatically.
highly affordable
Only 1/10th the cost of traditional CDL training
Traditional CDL schools typically charge $3,000 – $7,000 for an 80-hour course, yet they may offer as little as one week of preparation for the knowledge test. There is so much to learn that one may not be ready to pass it in so short a time. CDL Premium, the nation's leading online driver licensing training program, provides a highly affordable way to fully prepare for the CDL general knowledge exam and all endorsement exams.
See pricing plans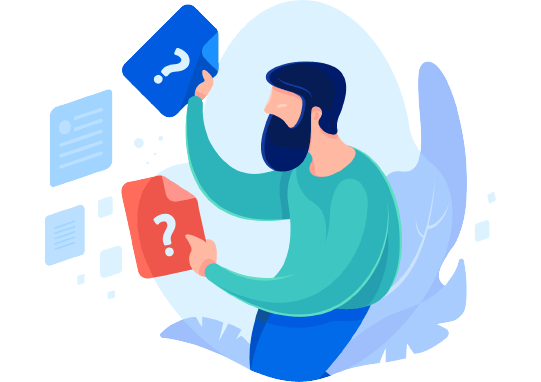 97% success rate
The Freedom of Desktop and Mobile Access
Instead of giving your new hires tons of outdated printed handouts, give them a modern way to prepare. With 24x7 access, your employees can study from home or on the go with minimal impact on their current job and family responsibilities.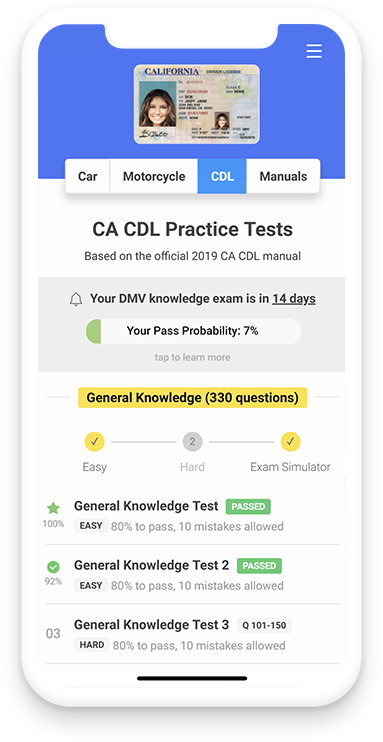 CDL Premium provides full access to Driving-Tests.org's extensive database of engaging practice tests for all CDL endorsements. Train your employees to pass their DMV exam for a specific endorsement, or use our platform as part of your organization's ongoing safety program.
CDL Premium is your one-stop shop for all CDL classes (A, B, C). Use it to help prepare all your new hires for their CLPs and endorsements. They're sure to do well on their state's official knowledge tests.
Our popular Marathon mode is the ultimate way to prepare. These massive CDL tests contain a total of more than 900 questions and are available for each endorsement. Each Marathon cycles through your missed questions until you've gotten every single one right.
Lets your new drivers find and fix their weak spots fast. When a trainee misses a question, it's automatically stored in their personal Challenge Bank™ for review so they'll know where to focus their study time. It's like having a personal tutor!
All your trainees get unlimited access to Driving-Tests.org's library of CDL Cheat Sheets. These quick, printable PDFs cover the trickiest CDL questions they are likely to see on the real exams.

vetted by several state DMV's
Recommended by trusted driving organizations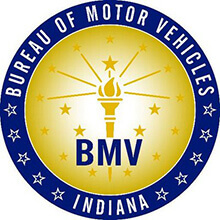 Indiana Bureau of Motor Vehicles
"These practice driving skills exams make studying easier and less stressful."
Get CDL Premium Now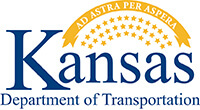 Kansas Department of Transportation
"First-time driver or need a refresher course? Test your knowledge on the Rules of the Road here."
Find out more
More than a CDL training program
Training America's next generation of commercial drivers
All questions are based on your state's most recent official CDL manual and relevant government regulations.
Exam Simulators mimic the experience of a real CDL exam, pulling random questions from a huge database.
No tedious setup process involved. Select the number of seats your organization needs, add student emails, and you're all set!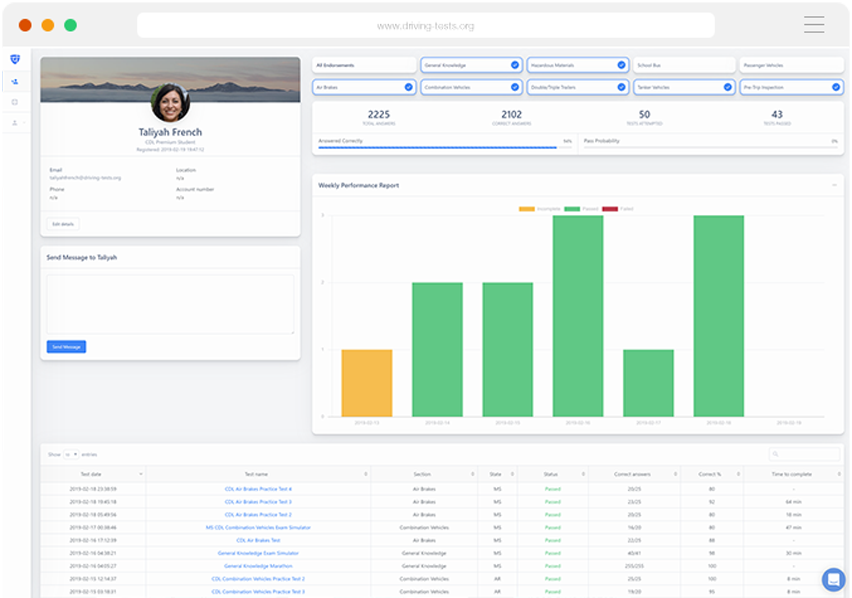 Super clean, easy-to-use Admin Dashboard
Your instructors will love the simple yet powerful Admin Dashboard. It displays your organization's CDL training statistics and lets you drill down to monitor individual students' progress.
View Demo
Simple, Straightforward Pricing
Select a price that suits
your organization
5 seats per month
Reassign each seat to new students as needed
Reset past progress
Premium support
Choose Plan
Medium-Sized Business
$350
$295
10 seats per month
Reassign each seat to new students as needed
Reset past progress
Premium support
Get started
15 seats per month
Reassign each seat to new students as needed
Reset past progress
Premium support
Choose plan
Over 20,000 truck drivers trust CDL Premium
People love CDL Premium. See some of their stories.
"I went to Driving-Tests, studied, got 40 out of 42 right the next day. Now I have my permit, I recommend it to anybody!"
Mark H.
CDL Premium Member from Florida
"I went down to get my Class A Combination license, and man, was it so helpful! If you want to get yourself a CDL license, and not drive yourself crazy worrying about it, go ahead and get the Premium."
Ron P.
CDL Premium Member from Maryland
"I walked in and did General Knowledge, Air Brakes, Doubles/Triples, Tanker, HazMat, School Bus and Passenger. I did it all in the same day and I passed with a 97% or 98%, something like that. I was very well-prepared and passed the tests with ease."
Kyle G.
CDL Premium Member from Colorado