»

FREE PA Permit Test Resources: Wake Up The Driver Inside You!
Applying for Your Pennsylvania Driver's License? Here's Everything You Need to Know: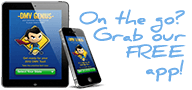 What's the best resource to study for your Pennsylvania driver's permit? This page! Everything that you need to successfully study for and pass your permit exam is right here. This page contains three valuable guides that have all of the information that will appear on the PA permit exam: the PA Driver's Handbook, the PA License Guide, and the PA Motorcycle Handbook. These official online guides will prepare you to take our 5 FREE practice exams, the most effect method of preparing for the real exam administered by the Pennsylvania Division of Driver and Vehicle Services. This page also contains a free PA motorcycle permit practice test for new drivers who wish to obtain their motorcycle permit. With a little studying and the help of these guides and tools, you'll be on the road before you know it!
How Can I Apply for my PA Driver's License? Frequently Asked Questions
What age do I have to be in order to apply for my permit in Pennsylvania?

What documents will I need when I go to apply for my license in Pennsylvania?

Where do I go to apply for my driver's license in PA?

How do I contact the nearest Pennsylvania DMV office?

Who should bring me for my permit test in PA?

Do I need a physical in order to get a permit in Pennsylvania?

Is a vision test required when applying for the PA driver's license?

Where do I get a photo for my Pennsylvania driver's license taken?

What colors should I avoid wearing when taking picture for my license?

Do I need to put up hair when taking driver's license photo?

What make-up to wear when I get my PA driver's license picture taken?

Why is it best not to smile when taking your drivers license picture?

What are some tips for getting the best out of the driver's license picture?

What happens after I apply for my Pennsylvania license?

I have a question that's not answered above. What do I do?
Share this page with friends:
How do I earn points?
top drivers-in-training this week: