Obtaining that drivers license is an absolutely exhilarating feeling. It is a milestone in life and offers you the ability to have so much freedom and independence. Of course, being behind the wheel is also a huge responsibility.
For that reason, taking the driving permit test and the DMV road test is no small feat. The degree of difficulty is why you have to be prepared and why you may be nervous about taking either or both parts of the DMV driving test. The important key to passing your driving test on your first attempt is to be ready and well prepared.
Here are the skills necessary for the driving part:
If you really want to make your first attempt at the written part of the DMV exam and the actual road driving test, you should keep some things in mind.
These suggestions will have you behind the wheel with your own state DMV issued license in no time.
4 Efficient Ideas for Getting You Behind the Wheel Quickly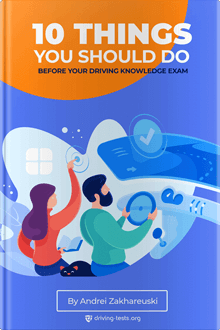 FREE e-Book:

10 Things You Should Do Before Your Driving Knowledge Exam

Many people get to the DMV overconfident and underprepared because they fail to do some of the simple things that would allow them to pass easily. What follows are the 10 steps that every aspiring driver should take to prepare for his or her official knowledge exam.