FREE New Jersey MVC Practice Permit Test 2019 | NJ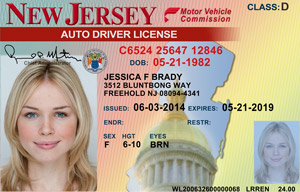 In 2001, New Jersey instituted a Graduated Driver License Program to help ensure better driver safety. No matter your age, if you're applying for your first driver's license, you must first start with a restricted permit. If you're between 16 and 17, you can get a special learner permit if you're enrolled in a driver-training course and pass the MVC written test. If you're over 17, you can skip the driving school but will still need to pass a written knowledge exam. The knowledge test will be comprised of 50 multiple-choice questions sourced from the
2019 New Jersey Driver's Manual
. A score of 80% or higher will be needed to pass and get your permit. Once you have passed your written exam and have your permit, you'll be required to display two decals on your vehicle: one each on your front, and back license plates. There is no fee to take the exam, but there is a $10 charge for either type of permit and an additional $4 for the decals.
Perfect for
New Jersey Learner's Permit
New Jersey Driver's License
NJ Senior Citizens' Refresher Test
NJ Driver's License Renewal
Rating:

4.23

out of

5

based on

976

votes.
Or get unlimited access to all NJ tests with

Premium
Your Progress
85%
of people found this test
helpful
.
Click a star to add your vote
976
votes - average
4.23
out of
5
85%
of people told us that this test helped them.
10 mistakes allowed to pass
Passing score required at the NJ MVC: 80%
We're preparing your test...
Report a problem
New Jersey MVC Permit Test Fact Sheet
| | |
| --- | --- |
| How many questions: | 50 |
| How many correct answers to pass: | 40 |
| Passing score: | 80% |
| Minimum age to apply for Special Learner Permit | 16 |
NJ MVC Driver's Handbook
View the most recent (2019) official NJ MVC Driver's License Handbook.
Explore
List of questions (classic view)
The most common type of parking on city streets is
Under New Jersey law, _________ in each passenger vehicle must wear a seat belt or suitable child restraint.
While you're driving, keep both hands on the steering wheel at
This driver is using a hand signal. Which of the following statements is true?
If you plan to turn, you must start to signal at least _________ before you turn.
During your MVC road test, your examiner will ask you to turn your vehicle around by making
What should you do when you park your vehicle facing uphill next to a curb?
What does this sign indicate?
If there is __________ in the center of a road, passing is not allowed on either side.
When making a left turn at a controlled intersection, you must yield to
When you encounter a school bus that has stopped with its red lights flashing on either side of an undivided roadway, you must
What does this sign mean?
Which of the following statements about headlights is FALSE?
Following too closely behind a vehicle is also known as
To lessen the chance of a collision, stay at least _________ behind the vehicle ahead of you for each 10 mph of speed.
What does this sign mean?
When driving at 20 mph on packed snow, you should maintain a following distance of at least
Total stopping distance equals
Don't turn your ignition key to the lock position while your vehicle is in motion because it will
What does this sign indicate?
If your vehicle's wheels drift onto the shoulder of the road, you should
If a vehicle is approaching you with its high beams on, you should look __________ until the vehicle has passed.
If a tire blows out, you should
This sign indicates that
In New Jersey, it is illegal to drive with a blood alcohol concentration (BAC) of ______ or above.
What is a No-Zone?
When a traffic signal turns green at an intersection and you are going straight through, you must
This sign represents
When are you allowed to drive on the shoulder to pass another vehicle on the right?
In New Jersey, the speed limit in an urban school zone, business district, or residential district is _______ unless otherwise posted.
You may make a right turn at a red light, but only after you
This sign means that
A Do Not Enter sign is
When you're driving in fog at night, you should use
Which of the following should you NOT do on a highway?
What does this sign mean?
The __________ technique lets you turn the steering wheel as much as a half turn while still keeping both hands on the wheel.
A single solid white line across a road at an intersection means that you must _________ for a traffic signal or sign.
Under New Jersey law, you may not use a handheld cell phone to __________ while you're driving.
What does this sign indicate?
Which of the following are three types of intersections?
To exit a freeway or expressway, use __________ to reduce your speed.
You are approaching a railroad crossing. If flashing lights, lowered gates, or other signals are warning that a train is approaching, you must stop ________ from the tracks.
This sign is
You must use your headlights
When entering a highway from an entrance ramp, you must yield the right-of-way to
If your vehicle stalls on a railroad crossing, what should you do?
This sign warns of
On an expressway, you can avoid highway hypnosis by
If you have consumed too much alcohol to drive safely, what should you do?
Show comments