FREE Wyoming DOT Practice Test 2019 | WY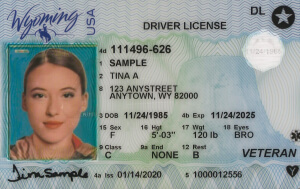 You must answer at least 19 questions correctly on a 25 multiple-choice question knowledge test in order to receive a learner's permit or driver's license in the state of Wyoming. The basis of all test questions is information contained in the 2019 Wyoming Rules of the Road Driver License Manual. It is also necessary to take the Wyoming knowledge test if you haven't driven in more than two years. If you struggle with reading comprehension or have a disability that affects reading, you may request that your examiner connect you with the phone-based oral testing system, which will allow you to hear the test questions. The test is only available in English, but if you have any difficulties with written English, you will be allowed to use an interpreter. In addition to passing the written test, you may need to pass a vision test and provide medical clearance to get your learner's permit or license, as determined by your examiner. This DOT practice test will help you to be fully prepared for your Wyoming written test.
Rating:

4.48

out of

5

based on

29

votes.
Or get unlimited access to all WY tests with

Premium
Your Progress
90%
of people found this test
helpful
.
Click a star to add your vote
29
votes - average
4.48
out of
5
90%
of people told us that this test helped them.
8 mistakes allowed to pass
Passing score required at the WY DOT: 80%
We're preparing your test...
Report a problem
Wyoming DOT Permit Test Fact Sheet
| | |
| --- | --- |
| How many questions: | 25 |
| How many correct answers to pass: | 20 |
| Passing score: | 80% |
| Minimum age to apply for Class C Learner's Permit | 15 |
WY DOT Driver's Handbook
View the most recent (2019) official WY DOT Driver's License Handbook.
Explore
List of questions (classic view)
This emblem on the rear of a vehicle indicates that the vehicle doesn't normally exceed
What are the four steps in the IPDE Method of defensive driving?
Which of the following statements about passing a vehicle is FALSE?
What does this sign mean?
On interstate highways in Wyoming, the legal speed limit is at least
If you are signaled by a flag person at or near a railroad crossing or construction site, you must
If you plan to turn at an intersection, you must signal _________ ahead.
What does this sign indicate?
When a school bus is stopped with its red lights flashing on an undivided roadway, vehicles traveling in either direction must
_________ are areas around trucks or other large vehicles in which other vehicles may disappear into blind spots.
If you park your vehicle facing uphill next to a curb, which way should you point your front wheels?
What type of sign is this?
If you hear the siren or see the flashing lights of a fire truck, police car, or ambulance approaching you from behind, you must
A typical stopping distance for a car traveling at 55 mph is
To prevent drowsiness when you're driving on an interstate road, you should
What does this sign mean?
If you miss your exit on an interstate highway, you should
On a highway with three or more lanes going in one direction, fast-moving vehicles should use
While driving, you should scan at least _________ ahead to predict oncoming dangers and avoid accidents.
What does this sign mean?
You must allow at least a _________ following distance for each 20 feet of your vehicle's length.
If there is another driver tailgating you, you should NOT
When you see a flashing red light at an intersection, you must
What does this sign indicate?
You must dim your headlights
If you are driving on a highway in heavy rain, you must slow down to avoid
To avoid a head-on collision if there is an oncoming vehicle in your lane, you should
What does this sign indicate?
According to Wyoming law, you must use your headlights
If you start to skid,
In Wyoming, which occupants of a vehicle must wear seat belts or suitable child restraints?
What does this sign indicate?
What is the legal blood alcohol concentration (BAC) limit for drivers under 21 years of age?
To exit an interstate highway, you must enter
A barrier of grass, concrete, or other material separating opposing lanes of traffic on a divided roadway is known as
What does this sign indicate?
When driving in fog, you should use
What does a broken line on the pavement indicate?
If your vehicle stalls on a railroad crossing, what should you do?
What does this green arrow signal indicate?
Show comments