FREE Michigan DOS Permit Practice Test 2019 | MI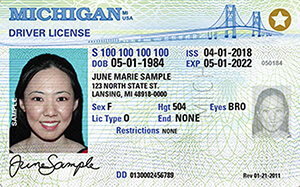 | | |
| --- | --- |
| Number of tests: | 11 |
| Number of questions: | 50 |
| Passing score: | 80% |
---
A written knowledge test is required for all those applying for a Michigan level 1 license, or temporary instruction permit if over age 18. The written test is comprised of 50 questions from the 2019 Michigan Driver's Manual and you must correctly answer at least 40 questions to pass. Questions are based on road signage, safe driving laws, and driving restrictions. Michigan has set up a graduated driver licensing program for those under 18 that may begin once you are 14 years and nine months of age. If you're under 18 and are applying for your stage 1 license, you'll take your knowledge test as part of your driver education program. In addition to passing the written test, you'll need to take a standard vision test, provide a Certificate of Completion for segment one of a driver education program if under 18, and pay a $25 fee. If you're over 18 and getting your temporary instruction permit, you'll take your test with the Secretary of State office. This SOS permit practice test will help you study Michigan's driving laws as it is based on the same information as the official knowledge test.
Rating:

4.41

out of

5

based on

250

votes.
Or get unlimited access to all MI tests with

Premium
Your Progress
88%
of people found this test
helpful
.
Click a star to add your vote
250
votes - average
4.41
out of
5
88%
of people told us that this test helped them.
12 mistakes allowed to pass
Passing score required at the MI DOS: 70%
We're preparing your test...
Report a problem
Michigan DOS Permit Test Fact Sheet
| | |
| --- | --- |
| How many questions: | 80 |
| How many correct answers to pass: | 56 |
| Passing score: | 70% |
| Minimum age to apply for Level 1 License | 14 ¾ |
MI DOS Driver's Handbook
View the most recent (2019) official MI DOS Driver's License Handbook.
Explore
List of questions (classic view)
Which headlights should you use when driving behind another vehicle?
You may lose control of your vehicle on a wet road because a layer of water comes between the tires and the surface of the road, causing the vehicle to skid. This effect is known as
If you miss your exit ramp on a freeway, do not back up. Instead,
What does this sign indicate?
What should you do if another driver tailgates your vehicle?
If your vehicle begins to skid, remain calm and do the following
When a school bus is stopped on the road with its overhead red lights flashing, you must
What does this sign mean?
While driving, you must maintain _________ in bad weather (such as fog).
You must yield the right-of-way to other vehicles in all of the following situations EXCEPT
A single broken yellow line usually marks the centerline of a two-way roadway where
What does this sign mean?
Crossing a solid white line is
When making a left turn at an intersection, you must yield the right-of-way to
You must maintain a _________ following distance to reduce the chance of a rear-end collision.
This sign indicates that
The stopping distance for a commercial vehicle traveling at 55 mph is about
What is the proper hand signal for a right turn?
A triangular orange sign on the rear of a vehicle indicates that
What does this sign mean?
When traveling in a roundabout, you must always drive
On a freeway with two lanes in each direction, drive in the right lane EXCEPT
Yield lines are typically found at roundabout intersections and mid-block crosswalks to
What does this sign mean?
When you see white triangles painted across a traffic lane, you must be prepared to
When turning, you must signal at least _________ ahead of where you plan to turn.
When you are approaching a railroad crossing and a train is coming, you must stop _________ from the tracks.
What does this sign mean?
Which of the following is NOT a parking violation?
What is the safe or suggested speed limit when you are passing through a designated work area?
What is the legal limit of blood alcohol content (BAC) for a driver who is at least 21 years old?
What does this sign mean?
When you see or hear an emergency vehicle approaching from any direction, you must
When exiting a freeway, you should first enter
On long trips, you can avoid highway hypnosis by
This traffic signal directs you to
At an intersection, a steady yellow arrow pointing left indicates that
On a four-lane divided roadway or a one-way road, a solid yellow line usually marks
What should you do when you see a pedestrian with a white cane or guide dog in your lane?
What does this device mean?
Show comments