FREE Alabama DMV Permit Practice Test 2019 | AL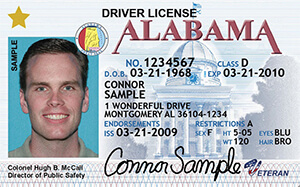 The Alabama DMV permit test will have 30 questions, and you'll need to answer 24 of them to reach the 80% passing score. If you are preparing to take the knowledge test (written or computerized) to get either your Alabama learner's license or driver's license, make sure you bring the $5 fee with you to your license appointment. No checks are accepted. According to Alabama's Graduated License Law, which took effect in 2002, anyone who is 15 years old can get a learner license. This type of license will help you learn to "safely and effectively operate a motor vehicle," according to the 2019 Alabama Driver Manual. In order to get it you need to pass the Alabama DMV written test (also known as permit test). The format of our DMV practice test is just like the one you'll take at the Alabama Law Enforcement Agency's Driver License Offices. This practice test has 40 multiple-choice questions, and you'll need to answer 32 of them correctly, for an 80% passing score.
Rating:

4.4

out of

5

based on

792

votes.
Or get unlimited access to all AL tests with

Premium
Your Progress
88%
of people found this test
helpful
.
Click a star to add your vote
792
votes - average
4.4
out of
5
88%
of people told us that this test helped them.
8 mistakes allowed to pass
Passing score required at the AL DMV: 80%
We're preparing your test...
Report a problem
Alabama DMV Permit Test Fact Sheet
| | |
| --- | --- |
| How many questions: | 30 |
| How many correct answers to pass: | 24 |
| Passing score: | 80% |
| Minimum age to apply for Class D Learner License | 15 |
AL DMV Driver's Handbook
View the most recent (2019) official AL DMV Driver's License Handbook.
Explore
List of questions (classic view)
This road sign displayed on the rear of the vehicle indicates
What does this sign mean?
What should drivers do when they see this road sign?
This road sign means that
What does this road sign indicate?
What does this warning sign represent?
What is the meaning of this sign?
When you see this road sign while driving, you should
What does this road sign mean?
This sign warns the drivers that they are in a
When preparing to leave a parallel parking spot, you should
If your intention at an intersection is to turn left, you must
When you see a motorcyclist on the right side of your lane, you should
What is the safe braking distance for a passenger vehicle moving at a speed of 55 miles per hour?
When stopped for a traffic violation, which of the following documents must be provided by the driver?
When you are under emotional or physical stress while driving a vehicle, it is better to
Which of the following statements is true regarding cell phone use?
The penalty for a first conviction, for persons whose blood alcohol content is .02% or more, and who are under 21 years of age, is the suspension of license for
If your vehicle hits an unattended vehicle on a highway, you should
The danger areas around trucks and buses where crashes are more likely to occur are called
When drivers hear the siren of an emergency vehicle while driving on a one-way street, they should
Upon seeing a school bus with flashing lights approaching in an opposite direction, a driver travelling on a divided highway should
If two vehicles enter an intersection that is not controlled by signs/signals, from different roadways at about the same time, then the vehicle _________ has the right-of-way.
A driver who wants to enter a highway from a private road
On two-lane roads with traffic moving in both directions, you may pass traffic on the left
When you see an elderly person crossing an intersection, you should
What is the correct hand signal for indicating a right turn?
While driving at night, you must _________ when within 500 feet of an oncoming vehicle.
The best way to stop your vehicle when the road is slippery and wet is to
The _________ design feature enables vehicles to enter or leave the main highway, while flowing with the traffic.
Statistics show that in a crash, 40 percent of deaths are caused by striking the windshield, windshield frame or instrument panel, which can be prevented by the use of
A driver's license may be suspended when
A _________ indicates the outer edge of the traffic lane, and it may be crossed only by traffic moving to or from the shoulder.
A first conviction, for not having a mandatory liability insurance, carries a fine of up to
Rain, snow and fog reduce visibility, so drivers should use _________ in such situations.
To handle hydroplaning, the best thing to do is
When you see a car coming towards you in your lane, you should
If your wheels drift onto the shoulder of the road
As you approach and enter the acceleration lane
In bad weather conditions, increase your following distance to a ________count.
Show comments