FREE Alaska DMV Practice Test 2019 | AK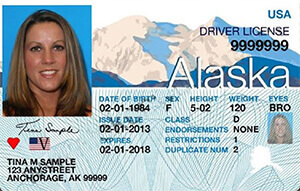 In order to be allowed to drive in Alaska, you will need to pass a written knowledge test. The test will consist of 20 multiple-choice questions and you will need to answer 16 of them correctly to pass. The information covered on the test will come directly from the 2019 Alaska Driver's Manual. The other types of tests you need to pass will depend on the type of license you are trying to obtain. If you are between the ages of 14 and 16 and trying to qualify for your learner's permit, you just need to pass the knowledge test and a vision test. If you are over 16 and trying to upgrade your learner's permit to a provisional or regular license, or trying to get your license at any age, you will need to pass the written knowledge test, a road skills test, and an alcohol and drug awareness knowledge test. The cost for a learner's permit is $15, while the cost for a driver's license is $20. This DMV practice test will help you prepare for the real test, as it covers the same information and requires the same passing rate as the real test.
Rating:

4.53

out of

5

based on

87

votes.
Or get unlimited access to all AK tests with

Premium
Your Progress
91%
of people found this test
helpful
.
Click a star to add your vote
87
votes - average
4.53
out of
5
91%
of people told us that this test helped them.
8 mistakes allowed to pass
Passing score required at the AK DMV: 80%
We're preparing your test...
Report a problem
Alaska DMV Permit Test Fact Sheet
| | |
| --- | --- |
| How many questions: | 20 |
| How many correct answers to pass: | 16 |
| Passing score: | 80% |
| Minimum age to apply for Class D Instruction Permit | 14 |
AK DMV Driver's Handbook
View the most recent (2019) official AK DMV Driver's License Handbook.
Explore
List of questions (classic view)
When you are backing a vehicle, the speed should not exceed
To avoid a rear-end collision, drivers must follow the
This road sign is a
The impact of a collision during an accident is _______ greater at 40 mph than at 20 mph.
You must use _______ when the sun is shining brightly or when a line of cars following you could obscure your turn signal light.
This road sign notifies drivers to give way to vehicles on the road they are approaching
Unless prohibited, drivers must use the three-point turn to
When two vehicles approach at the same time at a stop sign
Large flashing or sequencing arrow panels may be used in work zones. The purpose of these panels is to
What does this road sign represent?
Which of the following statements is NOT true when a driver is at a railroad crossing?
Headlights must be turned on during daytime when visibility is reduced to
Before changing lanes, drivers should
What does this arrow mark sign indicate?
Before attempting to merge into the traffic stream, a driver should use _______ to get up to cruising speed.
When your vehicle is skidding, you should turn the front wheels
In _______, the wheels must be within 12 inches of the curb.
What does this road sign indicate?
When parking the vehicle downhill, you should turn the front wheels
Upon the immediate approach of an authorized emergency vehicle displaying a flashing red light with a siren sounding, all traffic meeting and being overtaken must
When you see a red and white yield sign while driving, you must
What does the arrow mark sign mean?
The Mandatory Insurance Law requires either the vehicle owner or the driver to carry _______ in the vehicle.
A driver is presumed to be driving under the influence if his/her blood alcohol concentration is
A _______ offers you the best possible protection in a car crash and, therefore, is your best defense against the drunk driver.
What does this road sign indicate?
When you see a red flashing light while driving, you must
When approaching pedestrians who are walking on or crossing the roadway, you must
On multi-lane highways, if you drive slower than other traffic, use
What is the meaning of this traffic light?
If you approach a roundabout, always enter to the _______ of the central island.
If you are overtaking, you must pass on the left at a safe distance, and do NOT _______ until the way is clear from the overtaken vehicle.
You must NOT pass another vehicle if you see
What does this road sign mean?
When a train is within 1,500 feet of the crossing, you _______ to avoid a collision.
If you have vehicle troubles at night, you must use _______ to avoid an accident.
Which of the following are known as uncontrolled intersections?
What does this road sign mean?
When drivers turn left from a one-way street to a two-way street, they must
Which of the following is NOT a safe driving practice?
Show comments