FREE New Mexico MVD Permit Practice Test 2018 | NM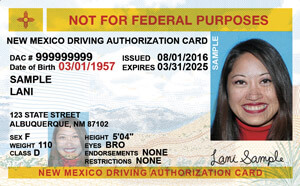 You must correctly answer 18 of 25 multiple-choice questions on the New Mexico written driver's knowledge test, which is based on the 2018 New Mexico Driver's Manual. You may apply for your learner's permit once you are 15, but you'll need to enroll in a driver education course in you're under 18 or a "None for the Road" DWI class for those between 18 and 24. In addition to the driver education classes, you'll need to pass an eye exam, provide proof of identity and social security number, two proofs of residency, parental consent for minors, and $10 fee, in order to receive an instructional permit. For those under 18, you'll be required to participate in the graduated licensing program, and will have to hold an instructional permit for six months before you may take a road test and apply for a provisional license, which will require an additional $18 fee and must be held for 12 months before graduating to a full license, which requires a final $18-34 fee. This MVD practice test will help you study for your written test, as it contains very similar questions to the official written test.
Rating:

4.3

out of

5

based on

43

votes.
Your Progress
Rate This Test:
4.3 out of 5 based on 43 votes.
You need to answer 29 questions correctly to pass.
Passing score required at the NM MVD: 72%
We're preparing your test...
Found a mistake? Let us know!
New Mexico MVD Permit Test Fact Sheet
| | |
| --- | --- |
| How many questions: | 25 |
| How many correct answers to pass: | 18 |
| Passing score: | 72% |
| Minimum age to apply for Class D Instructional Permit | 15 |
NM MVD Driver's Handbook
View the most recent (2018) official NM MVD Driver's License Handbook.
Explore
List of questions (classic view)
Which of the following statements regarding right-of-way rules is NOT correct?
When you see a reflective orange triangle-shaped sign on the rear of a vehicle, you are required to
If you find a dashed white line between lanes of traffic, this means that you may
This arrow-marked sign is posted
On multi-lane roads, which of the following lanes is intended to be used for passing slower vehicles?
What is the maximum posted speed limit in business or residential areas?
At an intersection where there is no stop sign, yield sign or traffic signal, drivers must yield to
This sign indicates to the driver that
When you drive around a rotary traffic island, you must drive
When you park on a hill, turn your wheels
When you drive in city traffic, you should try to look at least
This sign is used to remind drivers that
You must place both hands on the steering wheel at the _________ to balance your vehicle.
Parking of a vehicle is prohibited in all of the following areas, except
When turning sharp corners, a driver must use the
This sign warns of
In order to avoid last-minute braking or the need to turn suddenly, you should
When should you switch on your high-beam headlights?
You should use your turn signal _________ before you change lanes, turn right or left, merge into traffic or park.
What does this flashing traffic signal (flashing yellow light) mean?
A steady red arrow means
_________are areas around trucks where cars disappear into blind spots.
When driving on gravel or dirt, you must slow down because
This sign indicates you are allowed to
Hydroplaning occurs when it is raining or the road is wet and the vehicle speed is
When you exit a high-speed, two-lane roadway, you must _________ if you have traffic following you.
If you cannot see 400 feet ahead while driving, it means you may not be driving safely at
What does this figure mean?
When you are following another vehicle within 200 feet or when you are in a heavy traffic, you must use _________ at night.
If your tires have lost traction with the surface of the road, you should
Which of the following statements regarding the use of a cell phone while driving a vehicle is TRUE?
What does this sign mean?
You should use the ________ at night to make sure you are not "over-driving" your headlights.
Tailgating is the practice of
You should not start to pass if you are ________ of a hill or curve.
This posted sign indicates
As per New Mexico law, you can be arrested if you are 21 or above and driving with a blood alcohol content (BAC) of
The third and last level of the Graduated Driver License (GDL) system is
If a tire suddenly goes flat, you should _________ and keep the vehicle going straight until it stops.
What does this sign mean?
Show comments