FREE Indiana BMV Practice Test 2019 | IN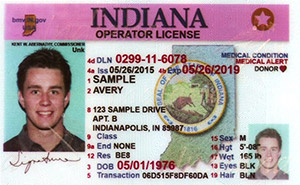 For those 16 or older, getting an Indiana learner's permit is easy – just pass a knowledge test and a standard vision test. If you're between 15 and 16, you'll need to pass both tests as well as show proof that you have enrolled in a driving education program. There will be 50 questions on the BMV written test divided into two categories; you'll need to correctly answer at least 28 of the 34 on road rules and 14 of the 16 questions on road signs to pass and receive your permit. You must wait until the next business day if you need to retake your knowledge test. With a little study and help from this free BMV practice test, you should be able to pass with no trouble at all since the questions on the real test are drawn from the 2019
Indiana Driver's Manual
.
Rating:

4.23

out of

5

based on

496

votes.
Or get unlimited access to all IN tests with

Premium
Your Progress
85%
of people found this test
helpful
.
Click a star to add your vote
496
votes - average
4.23
out of
5
85%
of people told us that this test helped them.
6 mistakes allowed to pass
Passing score required at the IN BMV: 84%
We're preparing your test...
Report a problem
Indiana BMV Permit Test Fact Sheet
| | |
| --- | --- |
| How many questions: | 50 |
| How many correct answers to pass: | 42 |
| Passing score: | 84% |
| Minimum age to apply for Learner's Permit | 15 |
IN BMV Driver's Handbook
View the most recent (2019) official IN BMV Driver's License Handbook.
Explore
List of questions (classic view)
If you get a blowout or flat tire, what should you do first?
On a multilane roadway with a speed limit of 50 mph or greater, you must signal your intention to change lanes ________ in advance.
When making a U-turn, you must NOT
What does this signal mean?
The maximum speed limit in a highway work zone is at least _________ below the maximum established speed limit for the area.
To leave yourself adequate room to stop, you should stay at least _________ behind the vehicle ahead of you.
If a tornado is nearby, you must
What does this sign mean?
What should you do if fog closes in completely while you are driving, and visibility is reduced to near zero?
When visibility is diminished, you must use low beams when you are
If your disc or drum brakes suddenly fail, you should
This sign indicates
To avoid the effects of glare of oncoming headlights, do not look directly into the lights of the approaching vehicle. Instead,
If you are driving near a school, you must slow down to _________ for the school zone.
To enter a roundabout, you must proceed
This service sign indicates that
The likelihood of an accident increases if a driver is under the influence of
When you enter an interstate on-ramp, stay to the right and __________ to allow your car to merge with traffic.
Indiana law requires the driver and all passengers to use seat belts whenever a vehicle is
This figure indicates
You must avoid _________ while crossing railroad tracks.
When a vehicle turns, its rear wheels will follow a _________ than its front wheels.
When you see a stationary emergency vehicle with flashing lights, you must
This sign indicates
It is dangerous and illegal to try to pass other vehicles when you are within _________ of an intersection, railroad crossing, bridge, viaduct, or tunnel.
If you are approaching a stop sign, you must
Which of the following statements about driving on highways is true?
What does this sign mean?
A flashing red light at an intersection is equivalent to
If another vehicle is passing you on the left, allow the other vehicle to pass safely, and
In most urban residential areas, you may not exceed
This sign indicates
What is the first rule of a safe and legal turn?
If you are involved in an accident, you must
A yield sign indicates that you must slow down when approaching an intersection and be prepared to __________ if a vehicle or pedestrian with the right-of-way is approaching from another direction.
What does this sign indicate?
When operating a vehicle with a steering wheel interlock system, never turn _________ while the vehicle is in motion.
If you are approaching an intersection with a non-operating signal, you should
Flashing arrow boards (panels) are often used to indicate
What does this figure mean?
Show comments