FREE Vermont DMV Permit Practice Test 2018 | VT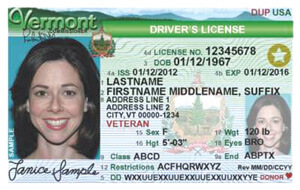 If you wish to drive in Vermont at any age and have not had a previous driver's license, you will need to get a learner's permit by passing a knowledge test consisting of 20 multiple-choice questions. You must answer 16 of 20 questions correctly to achieve a passing score of 80%. You will find all the information you need to pass the test by studying the 2018 Vermont Driver's Manual. In addition to passing the written knowledge test, in order to get a learner's permit, you will also have to pass a vision test, provide proof of identification and Vermont residency, and pay a fee of $20. If you have a learner's permit, you will not need to take the written test again in order to receive your driver's license. The fee for a regular driver's license is $32 for a two-year license or $51 for a four-year license. In order to take your exam, you will need to make an appointment. This Vermont DMV practice test is based on the same information as the real test.
Rating:

4.4

out of

5

based on

76

votes.
Your Progress
Rate This Test:
4.4 out of 5 based on 76 votes.
4 mistakes allowed to pass
Passing score required at the VT DMV: 80%
We're preparing your test...
Report a problem
Vermont DMV Permit Test Fact Sheet
| | |
| --- | --- |
| How many questions: | 20 |
| How many correct answers to pass: | 16 |
| Passing score: | 80% |
| Minimum age to apply for Learner's Permit | 15 |
VT DMV Driver's Handbook
View the most recent (2018) official VT DMV Driver's License Handbook.
Explore
List of questions (classic view)
Flashing arrow panels may be used in work zones to
When making a turn, you must give a turn signal at least _________ in advance to alert other drivers.
When there is a stop sign at a railroad crossing and you see a train coming, you must stop _________ from the nearest rail.
What does this sign indicate?
When two or more lanes of travel are permitted in the same direction, a broken white line is used
When a school bus stops on the street and has its red warning lights on, a driver should
When visibility is poor (e.g. fog, heavy rain, or heavy snow), a driver must use
What does this signal indicate?
If you are caught in a storm or come upon a hazardous situation, you should keep _________ between you and the motor vehicle in front of you.
You should have headlights turned on if you cannot clearly see persons or vehicles on the road
The best approach for recovering your vehicle from a skid in an icy condition is
This rounded yellow sign means
If you miss your exit on an interstate highway, you must
According to the law of Vermont, _________of a motor vehicle must be restrained with a safety belt when a vehicle is in motion.
The areas around big trucks where vehicles "disappear" are known as
This sign indicates that
When you are traveling on a two-lane road and a vehicle ahead of you stops for a pedestrian, you must
To avoid being temporarily blinded by the headlights of an oncoming vehicle, you should look towards
If you wish to park your vehicle on a one-way road, you must park __________ of the side of the road or curb.
This sign warns of
Show comments