FREE Utah DLD Permit Practice Test 2018 | UT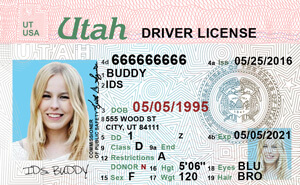 You will need to achieve an 80% passing score on a written knowledge test in order to get your learner's permit or driver's license in the state of Utah, by answering 40 of 50 multiple-choice questions correctly. You may apply for your learner's permit if you are age 15 or older. If you are 17 years of age or younger, you must have your learner's permit for at least six months before you can apply for a regular driver's license. Anyone with a learner's permit who is between the ages of 15 and 18 is required to take a driver's education course. If you are 19 years of age or older, you can either skip a driver's education course and be required to hold your learner's permit for at least 90 days or take the course and the 90-day requirement is waived. The fee for a learner's permit is $15, and you may renew is by paying another $15 and reapplying. Just like the real test, the questions on this Utah DMV permit practice test are based on the 2018 Utah Driver Handbook.
Rating:

4.4

out of

5

based on

330

votes.
Your Progress
Rate This Test:
4.4 out of 5 based on 330 votes.
8 mistakes allowed to pass
Passing score required at the UT DLD: 80%
We're preparing your test...
Report a problem
Utah DLD Permit Test Fact Sheet
| | |
| --- | --- |
| How many questions: | 50 |
| How many correct answers to pass: | 40 |
| Passing score: | 80% |
| Minimum age to apply for Class D One Year Learner Permit | 15 |
UT DLD Driver's Handbook
View the most recent (2018) official UT DLD Driver's License Handbook.
Explore
List of questions (classic view)
If you approach a school bus displaying alternating flashing red light signals on a two-lane roadway, you must
Lanes of traffic going in opposite directions are divided by
To avoid highway hypnosis or drowsiness while driving continuously, you must
What does this sign indicate to drivers?
When approaching a stationary emergency vehicle with flashing lights, you must reduce your speed and
You must not use _________ to exit the freeway, even in a traffic jam.
To avoid rear-end collisions, drivers must maintain at least _________ following distance.
This blue-figured sign indicates
The area of the freeway on the outside of the solid white line is meant for
What should you do if your vehicle stalls on a railroad crossing and there is a train approaching?
If you approach an intersection at which the traffic lights are not working, you must first __________ before entering the intersection and then yield the right-of-way.
What does this sign indicate?
You are in an intersection, turning left on a green arrow signal. Then the arrow signal turns yellow. What should you do?
When compared to normal zones, speeding fines are usually__________ in construction zones.
If a car is coming toward you at night, you should dim your lights before you are _________ of the oncoming car.
This figure indicates
A sign with an orange background and black letters indicates
If you park your vehicle uphill beside a curb, you must turn your front wheels
Which of the following lines permits the passing of other vehicles?
This sign warns that
As per Utah law, drivers are considered to be intoxicated if the blood or breath alcohol concentration (BAC) is
When your tire goes flat on a highway, you must
_________ occurs on wet roads when your tires start to ride on water instead of the road.
This 'RR' sign indicates
According to the law of Utah, which of the following must wear seat belts?
When you stop your vehicle at a railroad crossing, you must stop _________ from the nearest rail.
When you park your vehicle next to a curb, the back wheel of your car must be _________ from the curb.
This diamond-shaped sign indicates that
When more than one vehicle arrives at an intersection at the same time
You should switch on your headlights if you cannot see _________ ahead due to fog, stormy weather or dust.
Drivers must use the left lane on a highway for
What does this sign indicate?
The maximum speed on rural interstate highways varies between
When it is necessary to turn your vehicle around on a roadway, but there is not enough room available to complete a U-turn, you must use
You must not pass or change lanes within _________ of crossing an intersection.
What does this warning sign indicate to a driver?
Zones around a vehicle where other vehicles cannot be seen in mirrors are known as
Unless otherwise posted, the maximum speed limit in a business area is
When you enter a roundabout, you must drive
This curved arrow indicates that
Show comments