FREE Iowa DOT Permit Practice Test 2019 | IA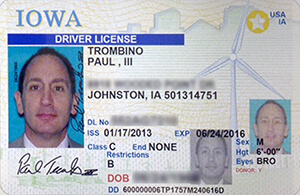 You must pass a written test, consisting of 35 multiple-choice questions, to receive either your learner's permit or driver's license in the state of Iowa. If you are attempting to get your learner's permit, you will need to be at least 14 years of age, pass the written test, provide appropriate identification and proof of state residency, and provide proof of parental permission. At the age of 16, you may then move up to a provisional license. If you are attempting to get a regular driver's license, non-provisional, you will need to be over the age of 18, pass written and vision tests, pass a driving skills test, and provide proof of identity and state residency. The questions on the written test are based on Iowa's driving rules and laws as laid out in the 2019 Iowa DOT Driver's Manual. The fee for a learner's permit is $6 and it is valid for four years. The fee for a driver's license varies based on the age of the driver. A minor's restricted license is $8, while a regular license is $4 per year. This Iowa DOT practice test covers the same information as the real written test, and requires the same 80% passing score.
Rating:

4.49

out of

5

based on

463

votes.
Or get unlimited access to all IA tests with

Premium
Your Progress
90%
of people found this test
helpful
.
Click a star to add your vote
463
votes - average
4.49
out of
5
90%
of people told us that this test helped them.
8 mistakes allowed to pass
Passing score required at the IA DOT: 80%
We're preparing your test...
Report a problem
Iowa DOT Permit Test Fact Sheet
| | |
| --- | --- |
| How many questions: | 35 |
| How many correct answers to pass: | 28 |
| Passing score: | 80% |
| Minimum age to apply for Class C Instruction Permit | 14 |
IA DOT Driver's Handbook
View the most recent (2019) official IA DOT Driver's License Handbook.
Explore
List of questions (classic view)
You approach a person who is about to cross the road. The person is walking with a white cane or a white cane tipped with red. You must
You must start to signal at least 100 feet before a turn if the speed limit is
You may make a left turn at a red light if you are turning
What does this sign indicate?
When you meet an oncoming school bus displaying flashing amber lights, you must
It is dangerous and unlawful in Iowa to __________ while driving.
When approaching a stationary vehicle such as a police car, tow truck, utility vehicle, or maintenance vehicle that is parked alongside the road and displaying flashing lights, you are required to
What does this sign mean?
When turning corners, turn the steering wheel using
The chances of hydroplaning increase at
To avoid last-minute braking or the need to turn, you should look down the road at least
What does this sign mean?
When driving at night, you must switch to low-beam headlights when you are within _________ of an oncoming vehicle.
When you are changing lanes, all of the following are correct actions EXCEPT
Before reaching the crest of a hill or entering a curve, you must _________ and watch for oncoming vehicles.
What does this sign mean?
When approaching an uncontrolled rural intersection, you should
To maintain a safe following distance, you should use
If you are being tailgated, what should you do?
What does this sign mean?
An uncontrolled intersection is
If a tire suddenly goes flat while you are driving, you must
The shared center lane on a two-way road is reserved for
What does a flashing yellow signal mean?
What does a reflective orange triangle on the rear of a vehicle mean?
Large flashing arrow panels may be used in work areas to direct drivers into
High-occupancy vehicle (HOV) lanes are reserved for
This figure shows
If you miss your turn or exit, do not back up on the travel lane or shoulder. What should you do instead?
When you see or hear an emergency vehicle approaching from any direction, you must
If you are going to stop or slow down where other drivers might not expect it, you should _________ to let those behind you know your intentions.
This driver has extended his left arm, bent and pointing straight up. This driver intends to
When the road or street is too narrow to make a U-turn and you cannot go around the block, make a _________ to turn around.
You should not start to pass if you are _________of a hill or curve.
What do double solid yellow lines in the center of a two-lane road mean?
What does this sign mean?
Proactively looking ahead, to the sides, and behind your vehicle to anticipate problems is part of
At a railroad crossing with a lowered gate and flashing red signals, you must stop _________ from the nearest rail.
A truck or bus has large blind spots on each side, where a car cannot be seen. These blind spots are called
What does this sign posted at an intersection mean?
Show comments