FREE Arizona DMV Permit Practice Test 2019 | AZ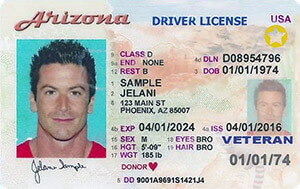 Need some serious practice before taking your Arizona DMV test (also knows as "driver's permit test")? You've come to the right place! This free DMV practice test uses real questions directly from the official AZ Driver Handbook. You'll get enough practice and will breeze through the official Arizona DMV knowledge test that requires an 80% passing score (24 out of 30 multiple-choice questions). Once you pay all necessary fees, you will have 3 attempts to pass the written portion of the DMV driving test within 12 months to get your permit. If you study carefully, take notes using the
2019 Driver License Manual
and take this permit practice test until you achieve a passing score, hopefully you won't need three attempts at your written exam. If you are unable to pass the AZ DMV test within those 3 attempts, you will have to pay the fee again. This practice test is here to give you an idea of what to expect at the DMV.
Rating:

4.46

out of

5

based on

575

votes.
Or get unlimited access to all AZ tests with

Premium
Your Progress
89%
of people found this test
helpful
.
Click a star to add your vote
575
votes - average
4.46
out of
5
89%
of people told us that this test helped them.
8 mistakes allowed to pass
Passing score required at the AZ MVD: 80%
We're preparing your test...
Report a problem
Arizona MVD Permit Test Fact Sheet
| | |
| --- | --- |
| How many questions: | 30 |
| How many correct answers to pass: | 24 |
| Passing score: | 80% |
| Minimum age to apply for Class G Instruction Permit | 15 ½ |
AZ MVD Driver's Handbook
View the most recent (2019) official AZ MVD Driver's License Handbook.
Explore
List of questions (classic view)
This sign warns you that you are approaching
Which of these signs indicates a school zone?
This sign represents
This sign represents
This sign warns drivers of
In this picture, the broken white line indicates
This sign warns drivers of
This sign represents
This arrow sign means
When you see this sign, you should
Which of the following statements about parking is FALSE?
A driver under the age of 18 has a graduated driver's license and is convicted of a traffic violation for the first time. This driver
The ______ keeps your head and chest from striking the dashboard or windshield in a collision.
Children ______ should never ride in the front seat of a car.
When sharing a lane with a bicycle, allow at least ______ for clearance between you and the bicycle.
The correct hand signal to indicate a left turn is
When a vehicle behind you flashes its lights with an intention to pass, you should
Vehicles approaching a roundabout must
When you parallel park facing uphill next to a curb, you should turn your wheels
Which of the following statements about a freeway is NOT correct?
The space between a through roadway and an entrance or an exit ramp is called a(n)
You should ______ when you are preparing to turn left at an intersection and see an oncoming vehicle.
In an emergency, the driver should maintain a distance of at least ______ behind any police vehicle.
On a three-lane highway, a driver towing a trailer keeps to the right while driving because
If you are already in an intersection to turn left and the traffic light has changed to yellow, you should
______ line(s) mean that passing is not allowed in either direction.
A curb painted with yellow lines indicates that the driver
When riding at night, a bicyclist should have a ______ visible from 500 feet.
Being constantly aware of the driving conditions, planning ahead, anticipating dangers, and taking the right actions so as to avoid obstacles or other vehicles is known as
The following distance for most driving situations is 3 seconds, but when driving on slippery roads, the following distance is
If you encounter a severe dust storm while driving you must
While driving in fog, you should use
If you find yourself feeling sleepy while driving, it is best to
If your engine dies as you pull around a corner, the best thing you should do is
If you are stopped at a traffic light and another vehicle is approaching you from behind at a high speed, you should
If you are one of the first persons to come upon the scene of a collision, what should you do?
Steam coming from under your vehicle hood may mean that
As you approach and enter the acceleration lane, ______to match that of vehicles in the through lanes.
In heavy rain, your tires can ride on a film of water and lose contact with the road. This hazard is known as
If you plan to turn beyond an intersection,
Show comments