FREE Delaware DMV Permit Practice Test 2019 | DE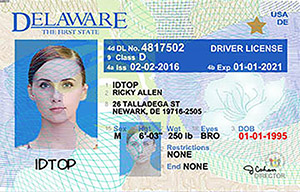 In order to receive your Delaware learner's permit, provisional license, or driver's license, you will need to take a class D knowledge test (also known as DMV permit test). All of the answers to this 30 multiple-choice question test can be found in the 2019 Delaware Driver's Manual, and you must score at least 80% to pass. While individuals under 18 may not have to take the knowledge test, Delaware is relatively unique in that a parent or sponsor is legally responsible for any infractions made by a 16-18 year old driver after they receive their learner's permit. Therefore, it is recommended that both a teen and their sponsor should study and be aware of all information in the DE Driver's Manual that is covered on the Class D knowledge test. This permit practice test can both help you prepare for your knowledge test and help ensure that you are familiar with all relevant information to be a safe driver.
Rating:

4.22

out of

5

based on

36

votes.
Or get unlimited access to all DE tests with

Premium
Your Progress
84%
of people found this test
helpful
.
Click a star to add your vote
36
votes - average
4.22
out of
5
84%
of people told us that this test helped them.
8 mistakes allowed to pass
Passing score required at the DE DMV: 80%
We're preparing your test...
Report a problem
Delaware DMV Permit Test Fact Sheet
| | |
| --- | --- |
| How many questions: | 30 |
| How many correct answers to pass: | 24 |
| Passing score: | 80% |
| Minimum age to apply for Level One Learner's Permit | 16 |
DE DMV Driver's Handbook
View the most recent (2019) official DE DMV Driver's License Handbook.
Explore
List of questions (classic view)
Which of the following is NOT a true statement regarding railroad crossings?
A solid white line between lanes of traffic means
You should never back up your vehicle in any travel lane EXCEPT
What does this traffic light mean?
Delaware's________ is the most up-to-date and effective way of monitoring busy intersections for motorists who disobey traffic laws.
You must always stop before reaching any school bus from either direction when it is stopped to load or unload school children, EXCEPT
At an intersection where there is no stop sign, yield sign, or traffic signal, drivers should
This regulatory sign means
On multilane roads, the leftmost lane is intended to be used for
When parking and leaving your vehicle on a highway or street, which of the following should NOT be done?
You must not stop or park your vehicle
This sign means
When a truck passes your vehicle, you must help the truck driver by
When you meet a truck coming from the opposite direction, keep as far as possible to the side to avoid
You must use the _________ to drive at a speed where you can always safely stop your vehicle.
What does this sign mean?
Which of the following is NOT a proper step for parallel parking?
You must avoid driving next to other vehicles on multilane roads because
When you find yourself being followed closely or tailgated by another driver, you should
What does this diamond-shaped warning sign indicate?
Use your ________ when following another vehicle or when in heavy traffic.
If you are about to overtake a bicycle and an oncoming vehicle is approaching, you must
When a driver behind you wants to pass, you must
What does this sign indicate?
Drivers must follow the three-second rule while driving to avoid
The ________ represents danger areas around trucks where crashes are more likely to occur.
Traffic warning signs in work zones are usually
This sign means
If you want to cross several lanes on a multilane highway,
Which of the following statements is true regarding passing a vehicle?
You should NOT start to pass if you are ________ a hill or a curve.
What does this sign mean?
What will happen if your vehicle's ignition turns to the lock position when it is in motion?
Which of the following are two types of speed signs?
The steady "DON'T WALK" signal indicates
What does this regulatory sign mean?
The probability of having an accident increases by ________ at a blood alcohol content (BAC) level of .06%.
Large flashing or sequencing arrow panels may be used in work zones both day and night to guide drivers
Drivers must never exceed the speed limit of 20 mph
What does this yellow-colored sign mean?
Show comments