FREE Texas DMV Permit Practice Test 2019 | TX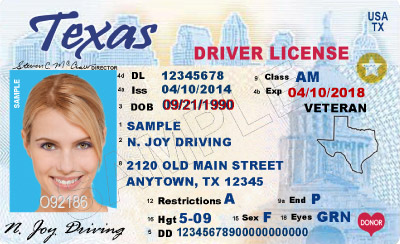 The official Texas permit test requires a passing score of 80%. As it contains 30 questions, you'll need to answer 24 of them correctly. Texas now has a Graduated Driver License (GDL) Program, so anyone under 18 must first get a learner license, and then get a provisional license valid until they turn 18 years old. A learner license is for anyone between the ages of 15 and 18 years of age; to get one, you must pass a vision exam, the non-driving portion of a driver's education course, and a knowledge exam, otherwise known as the permit test. You can find information about topics on the permit test, the GDL program, any license fees you'll need to pay, and more in the
2019 Texas Driver Handbook
. This DMV Practice Test will prepare you to pass the written test to get either your learner license or pass the knowledge test to get a regular license if you are over 18 years old.
Perfect for
Texas Learner's Permit
Texas Driver's License
TX Senior Citizens' Refresher Test
TX Driver's License Renewal
Rating:

4.34

out of

5

based on

367

votes.
Or get unlimited access to all TX tests with

Premium
Your Progress
87%
of people found this test
helpful
.
Click a star to add your vote
367
votes - average
4.34
out of
5
87%
of people told us that this test helped them.
12 mistakes allowed to pass
Passing score required at the TX DMV: 70%
We're preparing your test...
Report a problem
Texas DMV Permit Test Fact Sheet
| | |
| --- | --- |
| How many questions: | 30 |
| How many correct answers to pass: | 21 |
| Passing score: | 70% |
| Minimum age to apply for Class C Learner License | 15 |
TX DMV Driver's Handbook
View the most recent (2019) official TX DMV Driver's License Handbook.
Explore
List of questions (classic view)
If you approach a school bus from either direction while the bus is displaying alternately flashing red lights, you must
When you approach a flashing yellow light at an intersection, you should
_________ may be used in work zones in both day and night to guide drivers into certain traffic lanes.
This sign indicates
If an emergency vehicle is approaching you with its siren, bell, or flashing red lights on, you must
In which of the following situations should you NOT drive on the left side of the road?
In Texas, you must parallel park your vehicle within ________ of the curb or edge of the roadway.
What does this sign indicate?
When you're driving on the highway, you can prevent highway hypnosis by
When you approach a railroad crossing that a train is approaching, you must stop your vehicle _________ from the nearest rail.
If your vehicle is equipped with airbags, you should use _________ to turn the steering wheel in most driving situations.
What does this sign mean?
If a tire blows out, you should
In a roundabout, you must drive
At night, you should dim your headlights to low beam whenever you are
What does this sign mean?
If a broken yellow line is on your side of the centerline,
If you are driving faster than the other traffic on a freeway, you should use
Areas of the road that you cannot see in your mirrors are called
What does this sign mean?
For drivers who are at least 21 years of age, the legal limit for blood alcohol concentration (BAC) is
The stopping distance of an average passenger car traveling at 55 mph is approximately
In Texas, the speed limit in urban districts is _______ unless otherwise posted.
What does this sign indicate?
When a vehicle's tires lose contact with the roadway and rise up on top of the water, the condition is called
In Texas, which occupants of a passenger vehicle must wear safety belts or appropriate child restraints?
A pennant-shaped sign indicates
What does this sign mean?
When going down a steep hill, you should
At speeds over 30 mph, you should maintain a following distance of at least ________ behind the vehicle ahead of you.
In Texas, you must use your headlights from one half hour after sunset until
What does this sign mean?
__________ on your side of the road indicates a no-passing zone.
When approaching an intersection where there are no signs or traffic lights, you must
Under Texas law, if you intend to turn, you must signal continuously for at least _________ before you turn.
This sign indicates
If you're driving at night in fog or heavy rain, use
Under Texas law, you must not park your vehicle
To avoid the glare of an oncoming vehicle's headlights, you should shift your eyes
This sign means that
Show comments