FREE Montana MVD Permit Practice Test 2019 | MT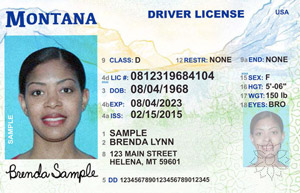 To get your license in Montana, you'll need to pass a written knowledge test of 33 multiple-choice questions based on the 2019 Montana Driver Manual, and answer at least 27 of the 33 questions correctly to achieve a passing score of 80% or better. The written exam will cover questions regarding driving under the influence, speed limits, license regulations, pedestrian safety laws, and more. To take the exam, you will need to provide proof of identity, residence, parental consent if you're under 18, and a $5 testing fee. You may begin the licensing process as early as 14 ½ years old while enrolled in a traffic education course; all minors must participate in the state's graduated license program. After passing the written test, you must complete at least 50 hours of supervised driving, including 10 hours of night driving, while holding your learner license. This Montana DMV practice test will help you prepare for your knowledge exam, as it uses the same information and question format as the real exam.
Rating:

4.27

out of

5

based on

56

votes.
Or get unlimited access to all MT tests with

Premium
Your Progress
85%
of people found this test
helpful
.
Click a star to add your vote
56
votes - average
4.27
out of
5
85%
of people told us that this test helped them.
7 mistakes allowed to pass
Passing score required at the MT MVD: 82%
We're preparing your test...
Report a problem
Montana MVD Permit Test Fact Sheet
| | |
| --- | --- |
| How many questions: | 33 |
| How many correct answers to pass: | 27 |
| Passing score: | 82% |
| Minimum age to apply for Class D Learner License | 14 ½ |
MT MVD Driver's Handbook
View the most recent (2019) official MT MVD Driver's License Handbook.
Explore
Fun Driving Facts and Tips
Make sure you have a chaperone - it's illegal to drive in Montana with a sheep in your truck's cab without one.
Don't even think about playing ball in Excelsior Springs. It's illegal to throw any balls, such as footballs or baseballs, within the city limits, since it is considered "worrying the squirrels."
Try not be anti-social while using your sprinklers in Helena! It's against the law to use a revolving water sprinkler to annoy passersby.
List of questions (classic view)
When turning corners, turn the steering wheel using
You can avoid panic stops by
While you drive, keep both hands on the steering wheel at
This sign indicates
Before turning right at an intersection, you should make sure that there is no traffic approaching
Which of the following statements about seat belts is FALSE?
In a vehicle with a steering wheel interlock system, do not turn the ignition to the lock position while your vehicle is in motion because it will cause
What does this sign mean?
You drive up to an intersection and you see a yield sign. You must
To avoid last-minute braking or sudden turns, you should look __________ ahead of your vehicle.
A "Speed Zone Ahead" sign means that you are approaching
What does this sign mean?
When a police vehicle, authorized emergency vehicle, or emergency service vehicle approaches you, you must
The speed limit in construction or work zones is
Which of the following statements about school zones is FALSE?
What does this sign mean?
If you find a steady yellow signal when approaching an intersection, what should you do?
When entering or exiting a roundabout, you must
You are required to stop at a railroad crossing when a train is clearly visible or within _________ of the crossing.
What does this sign mean?
You are driving in a roundabout. An emergency vehicle using a siren, an air horn, or a red or blue flashing light is approaching. What should you do?
A dashed white line next to your lane means that
Lines separating lanes of traffic moving in opposite directions are
What does this sign mean?
Which of the following statements about lane markings is true?
A shared center lane may be used by vehicles traveling in both directions to
On a road with three or more lanes traveling in the same direction, stay in the _________ lane except to pass.
What does this sign mean?
When no vehicles are approaching, you may make a U-turn if you have
At an intersection without stop signs or traffic signals, you must yield to
If you must park on a roadway, park your vehicle
What does this sign mean?
In the daytime, the speed limit on __________ is 70 mph except where posted otherwise.
When you drive on highways, you should try to look at least _________ ahead.
Before entering an intersection, you must watch for
This figure means that
Before changing lanes, you must check for traffic
When meeting traffic at night, avoid looking directly at the headlights of an oncoming vehicle. Instead, watch
When a road is slippery, reduce your speed by about ________ to maintain the tires' grip of the road.
What does this sign mean?
Show comments