FREE Washington DOL Permit Practice Test 2019 | WA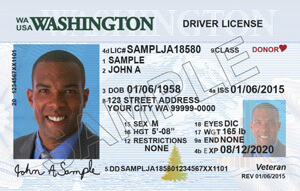 If you're 15 ½ or older and ready to get started towards your WA driver's license, you will need to pass a knowledge test that is based on the
2019 driver's guide
, as well as a vision test, and also pay a small testing fee. The DOL written test questions will be multiple-choice, covering road signs, traffic laws, and safe driving practices. There will be 40 questions on your exam, and you'll need at least 32 questions answered correctly to pass and to be eligible for your driver's permit. Your test can be taken at your local DOL by computer or at a driving school if you're currently enrolled, and the cost will be $25 plus an additional test fee, which will vary by location. Make sure to pre-apply for your test online beforehand or apply at your local DOL, as you will need to apply before your score can be recorded. Use our free DOL practice tests to get comfortable with the test questions and ensure that you'll soon be driving with your new instructional permit.
Rating:

4.14

out of

5

based on

322

votes.
Or get unlimited access to all WA tests with

Premium
Your Progress
83%
of people found this test
helpful
.
Click a star to add your vote
322
votes - average
4.14
out of
5
83%
of people told us that this test helped them.
5 mistakes allowed to pass
Passing score required at the WA DOL: 80%
We're preparing your test...
Report a problem
Washington DOL Permit Test Fact Sheet
| | |
| --- | --- |
| How many questions: | 40 |
| How many correct answers to pass: | 32 |
| Passing score: | 80% |
| Minimum age to apply for Instruction Permit | 15 |
WA DOL Driver's Handbook
View the most recent (2019) official WA DOL Driver's License Handbook.
Explore
List of questions (classic view)
At a speed of 55 mph, you need about __________ to pass another vehicle.
In Washington State, you can be arrested for driving with a blood alcohol content (BAC) of ______ or above.
You must not follow a fire truck closer than ________ when it is responding to a fire alarm.
What does this sign indicate?
To maintain a safe following distance behind the vehicle ahead of you, the Washington Driver Guide recommends that you use _________ at speeds over 30 mph.
When it is raining or the road is wet, you should reduce your speed to avoid
__________ mark the left edge of one-way roads and separate opposing lanes of traffic on two-way roads.
What does this sign mean?
In Washington State at night, you must use _________ whenever you're following another vehicle within 300 feet.
To hold the steering wheel, especially in turns, you should keep
In Washington State, the maximum speed limit on state highways is _______ unless otherwise posted.
What does this sign indicate?
When you parallel park in Washington State, you must park within ________ of the curb.
You are driving on a two-lane roadway. A school bus with flashing red lights is stopped ahead. What must you do?
At an intersection, if you see a pedestrian using a guide dog or other service animal or carrying a white cane, you must
What does this sign indicate?
A solid white line between lanes of traffic means that you should
You have parked next to a curb, facing uphill. Which way should you point your front wheels?
On some roadways, lanes marked as "Transit" are reserved for
This sign indicates
You must treat a flashing red traffic light like
In Washington State, which occupants of a passenger car must wear safety belts or appropriate child restraints?
If an oncoming vehicle has its high-beam headlights on, you should look toward
What does this sign mean?
If a tire suddenly goes flat or blows out, you should NOT
Show comments