FREE Oregon DMV Permit Practice Test 2019 | OR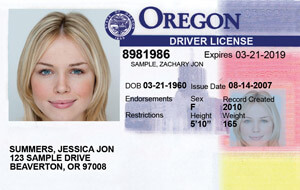 To receive your Oregon learner's permit, you need to be at least 15 years old, pay applicable fees, and get 28 of 35 questions correct on a DMV permit test. The knowledge test is administered on a touch-screen monitor and is available in many languages. You can bring your own headphones if you need to use optional audio assistance. If you fail the exam, you must wait one or more days before you try taking it again. You must wait at least 28 days if you fail the test four or more times. If you cheat on the exam, you will automatically fail and not be allowed to retake the exam for 90 days. You'll need to pay $5 each time you take it. Our DMV practice test will cover all the same information you'll find on the actual knowledge test, which you can study in the 2019 Oregon Driver's Manual.
Rating:

4.33

out of

5

based on

743

votes.
Or get unlimited access to all OR tests with

Premium
Your Progress
87%
of people found this test
helpful
.
Click a star to add your vote
743
votes - average
4.33
out of
5
87%
of people told us that this test helped them.
8 mistakes allowed to pass
Passing score required at the OR DMV: 80%
We're preparing your test...
Report a problem
Oregon DMV Permit Test Fact Sheet
| | |
| --- | --- |
| How many questions: | 35 |
| How many correct answers to pass: | 28 |
| Passing score: | 80% |
| Minimum age to apply for Class C Provisional Instruction Permit | 15 |
OR DMV Driver's Handbook
View the most recent (2019) official OR DMV Driver's License Handbook.
Explore
List of questions (classic view)
If you see a _________ sign in your lane, it means you are going the wrong way.
_________on highways require drivers to pay extra attention and carefully obey all traffic laws in these areas.
When you approach a flashing yellow traffic light at an intersection, you should
This warning sign alerts a driver that
When turning left from a one-way road onto another one-way road,
A double solid white line
In Oregon, what is the maximum speed limit in residential districts unless posted otherwise?
What does this sign mean?
When you drive slower than the normal speed of traffic, you should drive
A safe following distance behind the vehicle in front of you is
If you're being passed by another vehicle, you should ________ until the pass is complete.
This sign is found
When driving on a two-way road with no centerline markings, you must
If your vehicle is moving in traffic, you must signal __________ before you turn or change lanes.
When overtaking and passing another vehicle on a two-lane road, you should pass
A sign with this symbol indicates
In Oregon, you must dim your headlights whenever you are following another vehicle within
You are parked parallel to the curb, facing downhill. Which way should you point your front wheels?
What kind of parking is commonly found in parking lots and shopping centers and sometimes on wide streets?
What does this sign mean?
In parallel parking in Oregon, you must park your vehicle parallel to and no more than _______ from the curb.
In a roundabout, traffic circulates
On one-way roadways, solid yellow lines are used as
What does this sign mean?
To enter a freeway, use _________ to speed up and merge with fast-moving traffic already on the road.
Under Oregon law, a vehicle that is stopped or parked on a road or shoulder must have its _________ on when visibility is limited.
To be able to stop safely under conditions of rain, ice, or snow, you should
What does this pentagonal (five-sided) sign mean?
If your vehicle starts to skid, you should turn the steering wheel
If you are changing lanes, preparing to pass another vehicle, or entering traffic, signal and check for passing traffic. First, use your mirrors. Then
When backing up your vehicle, you must
This orange sign is posted at
You want to turn at an intersection that has a traffic signal, but there is a crossing pedestrian in the lane that you will be turning into. Before you start to turn, the pedestrian must be at least _______ from the lane that you will be turning into.
Oregon law requires __________ to wear safety belts or be in child safety seats whenever the vehicle is in motion.
You are driving on a divided highway with the two roadways separated by a painted median strip. You approach a school bus with its lights flashing that is stopped on the opposite roadway. What should you do?
This sign is
If an emergency vehicle is approaching you with a siren or flashing lights on, you must
What is a sharrow?
For drivers who are at least 21 years old, the legal limit for blood alcohol content (BAC) is under
What does this sign indicate?
Show comments