FREE Ohio BMV Permit Practice Test 2018 | OH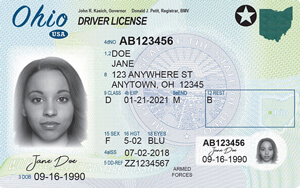 The first step to driving in Ohio is to pass a BMV written test to get your temporary instruction permit, or TIPIC. If you're 15 ½ or older, you are eligible to take the written test and get your TIPIC. The knowledge assessment will have 40 multiple-choice questions based on the
2018 Digest of Ohio Motor Vehicle Laws
, which covers traffic laws and vehicle regulations. To pass, you'll need to score a 75% or higher, so it can be useful to use BMV practice tests like this one. In addition to the written knowledge exam, you'll also need to pass a vision test, and pay a $22 fee. Ohioans also have the option of signing up as an organ donor with their TIPIC, starting at age 15 ½ instead of the typical age 18 requirements.
Rating:

4.4

out of

5

based on

895

votes.
Your Progress
Rate This Test:
4.4 out of 5 based on 895 votes.
10 mistakes allowed to pass
Passing score required at the OH BMV: 75%
We're preparing your test...
Found a mistake?
Ohio BMV Permit Test Fact Sheet
| | |
| --- | --- |
| How many questions: | 40 |
| How many correct answers to pass: | 30 |
| Passing score: | 75% |
| Minimum age to apply for Temporary Instruction Permit ID Card (TIPIC) | 15 ½ |
OH BMV Driver's Handbook
View the most recent (2018) official OH BMV Driver's License Handbook.
Explore
List of questions (classic view)
You are allowed to drive in the left lane of the highway in all of the following situations, except
When you are approached by an emergency vehicle displaying flashing lights and an audible signal, you must
In Ohio, you are legally __________, after stopping at a red traffic signal when the traffic is clear.
This sign with a red circle means
The allowed speed limit in school zones when children are going to or leaving school is
When you see the letters 'RR' painted on the pavement, you are approaching
On one-way streets, the driver may park a vehicle parallel to and not more than__________ from the right or left curb.
This regulatory sign is used
When you intend to turn, you must give the turn signal at least __________ before the actual turn.
If a school bus with its four red lights flashing is stopped on a street or road which has fewer than four lanes, then
You must maintain a safe stopping distance between you and the vehicle ahead by following
What does this sign indicate to the driver and passengers of a vehicle?
Which of the following statements about posted speed limits is true?
If your vehicle stalls while on the tracks and a train is approaching, you must
When a driver is being passed by another vehicle, the law requires the driver of the slower vehicle
What does this sign indicate?
In Ohio, it is unlawful for a driver 21 or above, to operate a vehicle with a blood-alcohol concentration (BAC) of
Which of the following results in a six-point traffic violation?
A flashing yellow signal at an intersection means
What does this sign indicate to a driver?
Passing on the left is not permitted within
The maximum speed limit in all alleys within a municipal corporation is
When you are approaching the rear of a vehicle with an orange triangle, you must;
This red octagonal image in the sign with an arrow mark indicates
It is against the law to make a left turn at a red light EXCEPT
On one-way roads, yellow lines are used as
If you hit a deer and cause its death, you must
This sign with two arrows allows
When you are closely following another vehicle at night, you must use
If a car approaches you with bright headlights, you must __________ to prevent being temporarily blinded.
When your vehicle starts to skid in winter due to icy road conditions, you must
This sign at an intersection directs
If you miss your exit on an interstate highway, you must
As per Ohio's child restraint law, children who are either or both under the age of__________ and weigh less than 40 pounds must be properly restrained in an approved child safety seat.
You must use headlights when natural light conditions do not make it possible to clearly see objects __________ ahead.
This sign in construction zones indicates
Which of the following statements regarding lines on the road is correct?
Which of the following statements is NOT true when driving in fog?
While getting onto an expressway, you reach the end of a freeway on-ramp. At this point, you should be traveling
What does this sign indicate?
Show comments