FREE Tennessee DMV Driving Practice Test 2019 | TN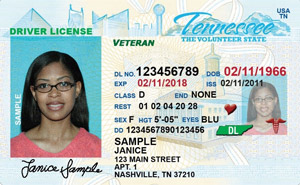 This practice test will help you prepare for the knowledge portion of the official Tennessee driving test which features 30 questions. You must answer 24 correctly to achieve a passing score of 80%. You can take the exam on a computerized testing machine at one of Tennessee's Driver License Service Centers. The exam is broken into four sections: 25% is about intoxicating substances, 25% about traffic signs and signals, 25% -- about Tennessee's rules of the road, and the last 25% is devoted to rules for safe driving. Once you pass the DMV test, you can receive your learner's permit after paying a fee of $10.50 if you are under 18 and passing a vision screening. The permit is then valid for 12 months. Tennessee has a Graduated Driver License (GDL) law. This means there are 3 stages before you receive your driver's license: a learner's permit at 15; an intermediate restricted license at either 16 or no sooner than 180 days after your learner's permit; an intermediate unrestricted license at 17 or one year after your intermediate restricted license; then your full driver's license at age 18. There are several other requirements for each licensing stage, which you can find in the 2019
Tennessee Comprehensive Driver License Manual
.
Rating:

4.37

out of

5

based on

538

votes.
Or get unlimited access to all TN tests with

Premium
Your Progress
87%
of people found this test
helpful
.
Click a star to add your vote
538
votes - average
4.37
out of
5
87%
of people told us that this test helped them.
8 mistakes allowed to pass
Passing score required at the TN DMV: 80%
We're preparing your test...
Report a problem
Tennessee DMV Permit Test Fact Sheet
| | |
| --- | --- |
| How many questions: | 30 |
| How many correct answers to pass: | 24 |
| Passing score: | 80% |
| Minimum age to apply for Class PD License (Learner Permit) | 15 |
TN DMV Driver's Handbook
View the most recent (2019) official TN DMV Driver's License Handbook.
Explore
List of questions (classic view)
The stopping distance of a car traveling at 50 mph under ideal driving conditions is approximately
To maintain a safe following distance behind the vehicle ahead of you, you should use
If you miss your exit on an interstate highway, what should you do?
What does this sign indicate?
Two common types of interchanges are
On an interstate highway, you can prevent highway hypnosis by
In Tennessee, you must dim your headlights at night whenever you are within _______ of a vehicle you are meeting or following.
What does this sign indicate?
In Tennessee, it is illegal for a driver at least 21 years old to drive with a blood alcohol concentration (BAC) of ______ or above.
If you see a pedestrian using a guide dog or carrying a white cane, you must
If you plan to turn beyond an intersection, you should
What does this sign mean?
When a train is approaching a railroad crossing, you must stop _________ from the nearest rail.
The speed limit in a roundabout is usually
If an emergency vehicle displaying flashing red or blue lights or sounding a siren or air horn is approaching from either direction, you must
What does this sign indicate?
You are parked parallel to the curb, facing downhill. Which way should you point your front wheels?
To hold the steering wheel, especially in turns, you should keep
Under Tennessee law, the maximum speed limit on interstate highways is
What does this sign mean?
Under Tennessee law, if you intend to turn, you must start to signal _________ before you turn.
A broken white line
On an undivided road, you must stop for a school bus that has stopped with its red lights flashing and its stop arm extended. If you are found guilty of failing to do so, you will be fined
What does this sign indicate?
When driving through dense fog, heavy rain, or snow in the daytime, you must switch on your
If your vehicle starts to skid, you should turn the steering wheel
On a divided highway, _________indicates the left edge of traffic lanes going in your direction.
What does this sign indicate?
_________ are mobile devices that are used to give drivers advance warning of work zones or other unusual conditions.
Work zone signs usually have
To enter an interstate highway, use _________ to speed up and merge with fast-moving traffic already on the interstate.
What does this sign indicate?
If a driver holds a learner permit or an intermediate restricted driver license, which occupants of the vehicle must wear seat belts or suitable child restraints?
The speed limit on state and federal roadways that are not part of the interstate highway system is ________ except where otherwise posted.
If another driver tries to pass you on your left, you should
What does this sign indicate?
If two vehicles arrive at an uncontrolled intersection (i.e., one without signs or signals) at about the same time, then
You may NOT make a U-turn
In Tennessee, your headlights must be turned on
What does this sign indicate?
Show comments