FREE Illinois DMV Practice Test 2019 | IL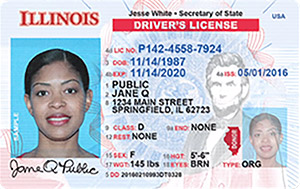 The official Illinois DMV written test consists of 35 questions. To pass the test, you'll need to answer at least 28 of them correctly as the passing score is 80%. This practice test features the same exact ratio. If you're studying for your IL instruction permit test, in addition to passing the written portion of the driving test you must also pass the vision exam and provide acceptable proof that you've signed up for an approved driver education class and that you will start attending it within 30 days. So grab your 2019 Illinois Rules of the Road Manual, take this DMV practice test as many times as you need to, and good luck!
Rating:

4.26

out of

5

based on

479

votes.
Or get unlimited access to all IL tests with

Premium
Your Progress
85%
of people found this test
helpful
.
Click a star to add your vote
479
votes - average
4.26
out of
5
85%
of people told us that this test helped them.
8 mistakes allowed to pass
Passing score required at the IL DMV: 80%
We're preparing your test...
Report a problem
Illinois DMV Permit Test Fact Sheet
| | |
| --- | --- |
| How many questions: | 35 |
| How many correct answers to pass: | 28 |
| Passing score: | 80% |
| Minimum age to apply for Class D Instruction Permit | 15 |
IL DMV Driver's Handbook
View the most recent (2019) official IL DMV Driver's License Handbook.
Explore
List of questions (classic view)
In Illinois, the maximum speed limit on interstates, tollways, freeways, and some four-lane highways is ________ except where otherwise posted.
When being approached by an emergency vehicle, you must
You see a sign shaped like a pennant. What does this sign mean?
By law, a driver who causes bodily harm to a child in a school crossing zone is subject to
What does this sign indicate?
Who has the right of way when more than one vehicle arrives at a four-way stop?
When you see a pedestrian crossing an unmarked crosswalk where there are no traffic control signals, you should
You are allowed to pass on a two-lane, two-way roadway
What does this sign indicate?
You may find this warning sign
A driver's left hand and arm are bent at 90 degrees and pointing downward. This driver intends to
You must not make a U-turn on curves and hills unless you can see for at least _________ in all directions.
While you are driving, you may __________ on your cell phone.
When following a truck at night, you should always
You should maintain a following distance of __________ behind a motorcycle.
When you are turning left and there is a bicyclist entering the intersection from the opposite direction, you should
What does this sign indicate?
You are driving above the speed limit posted in a construction zone where no workers are present. For your first offense, the fine is
It is illegal to drive if your blood alcohol concentration (BAC) is
This sign indicates that you are on a
If you are involved in a crash that causes damage to an unattended vehicle or other property, what should you do?
A traffic signal with a flashing yellow light means that you must
Which of the following statements about pavement markings is FALSE?
If a railroad grade crossing has no warning devices or only a crossbuck sign, you should
This sign indicates
You are allowed to drive on the left side of a multilane highway when you are
This sign is displayed on
If a driver behind you repeatedly flashes his or her headlights, you should
While driving in fog, you should
You often see this sign when
If you skid while hydroplaning, you should
If you suddenly have no control of the steering wheel, you should
Before changing lanes on expressways, you should
This route marker sign indicates
If you accidentally pass your exit on an expressway, you must
As you approach a curve, it is safer to
At night or in poor visibility, loads extending four feet or more to the rear of a vehicle must have a red light that is visible for
When you are driving at 20 mph on a highway, you should drive
A driver must yield in all of the following situations except
Passing another vehicle is allowed
Show comments