FREE Connecticut DMV Permit Practice Test 2019 | CT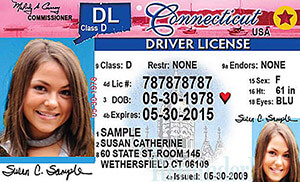 The Connecticut DMV written permit test contains 25 questions. To achieve the passing score of 80% necessary to get your learner's permit, you must answer 20 questions correctly. The fee to take the knowledge test is $40, and if you pass, you will need to pay an additional $19 for your learner's permit. If you fail the knowledge test, you will have to wait seven days and re-pay the $40 fee. Individuals under age 18 must have a guardian or parent's permission to apply for your learner's permit. Those who are under age 18 must also have their permits for at least 120 days before moving on with the licensing process, such as taking the road test, whereas those over 18 only need to wait for 90 days. The Connecticut DMV also asks that you schedule your appointment online for taking the knowledge test, using their website. If you need hearing interpreter services for taking your test, you must visit the office where your appointment is scheduled to arrange for them. This DMV practice test can help you prepare for your exam, as it contains questions based on the
2019 Connecticut Driver's Manual
, exactly like the official written test.
Rating:

4.22

out of

5

based on

371

votes.
Or get unlimited access to all CT tests with

Premium
Your Progress
84%
of people found this test
helpful
.
Click a star to add your vote
371
votes - average
4.22
out of
5
84%
of people told us that this test helped them.
8 mistakes allowed to pass
Passing score required at the CT DMV: 80%
We're preparing your test...
Report a problem
Connecticut DMV Permit Test Fact Sheet
| | |
| --- | --- |
| How many questions: | 25 |
| How many correct answers to pass: | 20 |
| Passing score: | 80% |
| Minimum age to apply for Class D Learner's Permit | 16 |
CT DMV Driver's Handbook
View the most recent (2019) official CT DMV Driver's License Handbook.
Explore
List of questions (classic view)
The vertical rectangular traffic sign generally gives
What does this sign mean?
When drivers see this sign while driving they should
This sign is a
This warning sign indicates
This sign indicates that you are going to approach
This sign represents
These pavement markings mean
The number seen in this sign represents
This warning sign means
The eye test for the driver's license evaluates
If your driver's license says you must wear corrective lenses and you are stopped by a law enforcement officer while not wearing them, you may be
A 16- or 17-year-old driver who received their license on or after August 1, 2008, must not operate a vehicle between the hours of ________, unless it is for certain activities.
When a vehicle does not pass an emissions inspection, the driver will be given ________ to have the problem fixed and the emissions re-checked.
Which of the following statements is NOT correct when making a turn?
Unbalanced tires and low tire pressure can cause
If your brakes stop working while driving, which of the following must be done?
You must not park your vehicle
Which of the following statements is true regarding the use of a cell phone while driving (for adult drivers)?
Which of the following statements about safety belts is correct?
When turning sharp corners, turn the steering wheel using the
Safer drivers tend to look at least _________ ahead of their vehicles.
Before making a right turn at an intersection, you should make sure that
When you see or hear an emergency vehicle approaching from any direction, you must
During heavy traffic, drivers are prohibited from entering any intersection, unless there is sufficient space on the opposite side of the intersection to accommodate their vehicle without obstructing the passage of other vehicles or pedestrians. NOT doing so is referred to as
Blind pedestrians may carry _________ canes or use the assistance of guide dogs.
When a road is too narrow for cars and bikes to ride side-by-side, bicyclists should
What should you do when you approach a horse being ridden on a highway?
When you are being followed too closely, you should
At a speed of 55 mph, a vehicle needs _________ to pass.
If it feels like your tires have lost traction with the surface of the road, you should
A flashing yellow traffic light means
If you fail the Blood Alcohol Content (BAC) test, your operator's license will be suspended for at least
A dashed yellow line alongside a solid yellow line indicates that
Vehicles should not be parked within _________ of a fire hydrant.
When you are driving at night and there are no oncoming vehicles, you should
A new driver's license is valid for 5-1/2 to 7 years and will expire
If you are driving on an icy road where the posted speed limit is 50 mph, you should
The correct hand signal indicating a right turn is
Which of the following right-of-way rules is not true?
Show comments