FREE Idaho DMV Drivers Practice Test 2019 | ID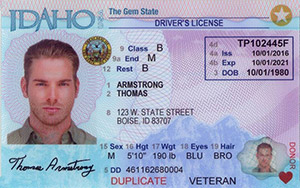 You will need to take a 40-question written knowledge test if you are applying for your Idaho driver's license for the first time, or if your Idaho driver's license has been expired for over 25 months. The questions on the test are based on the 2019 Idaho Driver's Manual. The questions will cover such topics as road signs, signals, symbols and markings, traffic and vehicle laws, and more. If you are over the age of 15 and you have met the requirements of Idaho's Graduated License Program, you may receive your driver's license after passing the knowledge test and a driving skills test. You must also provide proof of school enrollment or high school graduation (or its equivalent) to be issued a learner's permit if you are under 18. If you are over the age of 18, you must simply pass the knowledge and skills tests to receive your license. This DMV practice test consists of 40 questions based on the same information from the driver's manual that you will need to know to pass your knowledge test.
Rating:

4.31

out of

5

based on

163

votes.
Or get unlimited access to all ID tests with

Premium
Your Progress
86%
of people found this test
helpful
.
Click a star to add your vote
163
votes - average
4.31
out of
5
86%
of people told us that this test helped them.
6 mistakes allowed to pass
Passing score required at the ID DMV: 85%
We're preparing your test...
Report a problem
Idaho DMV Permit Test Fact Sheet
| | |
| --- | --- |
| How many questions: | 40 |
| How many correct answers to pass: | 34 |
| Passing score: | 85% |
| Minimum age to apply for Class D Instruction Permit | 14 ½ |
ID DMV Driver's Handbook
View the most recent (2019) official ID DMV Driver's License Handbook.
Explore
List of questions (classic view)
As you approach a school bus with flashing red lights that is stopped to pick up or drop off children, you must
When slowing down or stopping, you must
Idaho law requires you to maintain a speed that is __________ at all times.
What does this sign mean?
Which of the following statements about Idaho speed limits on an interstate highway is correct?
If you are approached by an emergency or police vehicle sounding a siren or flashing red or blue lights, you must _________ until the emergency vehicle has passed you.
Passing is prohibited when you are in or approaching the following areas, except
This sign indicates
When parking on a public road, you must park parallel to and within ____ inches of the curb or edge of the roadway.
If you plan to turn just beyond an intersection, when should you signal?
Which of the following can be considered a legal parking zone?
This sign indicates
You must dim your headlamps 500 feet before meeting another vehicle and __________ before overtaking another vehicle.
When you make a U-turn near a hill or curve, the law requires that you be able to see
Backing of a vehicle is always prohibited
What does this sign mean?
You are driving on a freeway. If you exit at a single-point urban interchange by mistake and you wish to return to the freeway, what should you do?
In a roundabout, drivers must __________ whether they need to make a right turn, a left turn, or a U-turn or continue forward.
Things that can distract you from the road include
What does this sign indicate?
Be prepared to react promptly to emergencies by driving with your hands placed on the steering wheel at approximately
To avoid a collision,
For an extra margin of safety, increase the usual three-second following distance
What does this sign indicate?
Which of the following statements about passing a vehicle is correct?
When driving at night, the distance you can see ahead is
To reduce the chances of hydroplaning, you should
This sign indicates
To exit a freeway, you must use
To avoid a collision, you should NOT
Median crossovers on freeways and interstate highways are intended for use by
What does this sign mean?
What does a V-shaped pattern on a barricade mean?
If you are being followed too closely by other drivers, you should
When you approach a snowplow truck in winter driving, you should
What does this sign indicate?
When an animal moves into the path of your vehicle quickly and unexpectedly, you should
You must allow a safe distance of at least _______ when passing a bicycle traveling in the same direction.
If the traffic signals at an intersection are not operating, treat the intersection as a(n)
What does this sign indicate?
Show comments