FREE Missouri DOR Permit Practice Test 2019 | MO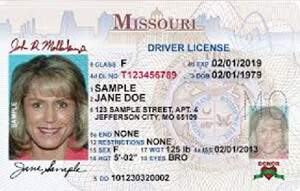 You are eligible for your instruction permit in Missouri starting at age 15, which you can receive by passing a written test, vision test, road sign test, and providing appropriate forms of ID, as well as paying a fee of $3.50. The instruction permit will then be valid for up to 12 months. The written test has 25 multiple-choice questions, and you must answer 20 of them correctly to get the passing score you need for to receive your permit. You must have your instruction permit for at least six months and complete at least 40 hours of driving instruction, which must include 10 hours or more of nighttime driving, before you can move to an intermediate license, which will allow you to drive unsupervised and is valid until age 18. The Missouri State Highway Patrol is in charge of administering the written test; when you're ready, you can find a list of their locations online. This practice test will help you prepare by covering all the information, from the 2019 Missouri Driver Guide, that may be on the written and road sign exams.
Rating:

4.3

out of

5

based on

569

votes.
Or get unlimited access to all MO tests with

Premium
Your Progress
86%
of people found this test
helpful
.
Click a star to add your vote
569
votes - average
4.3
out of
5
86%
of people told us that this test helped them.
8 mistakes allowed to pass
Passing score required at the MO DOR: 80%
We're preparing your test...
Report a problem
Missouri DOR Permit Test Fact Sheet
| | |
| --- | --- |
| How many questions: | 25 |
| How many correct answers to pass: | 20 |
| Passing score: | 80% |
| Minimum age to apply for Class F Instruction Permit | 15 |
MO DOR Driver's Handbook
View the most recent (2019) official MO DOR Driver's License Handbook.
Explore
List of questions (classic view)
If there are two solid yellow lines next to your lane, you must
On a roadway with three or more lanes traveling in the same direction, the leftmost lane is intended to be used
Under normal roadway conditions, you may not drive slower than ________ on interstate highways.
This sign indicates
At a railroad crossing, you must stop _________ before the railroad tracks.
Reference markers are placed along the outside shoulder to mark the edge of the roadway. They give drivers information about
When are you allowed to pass another vehicle on the right?
This sign warns drivers of
The first step in Missouri's Graduated Driver License Program for young drivers is
When approaching a roundabout, you must
When you see or hear an emergency vehicle that is approaching from any direction while using a siren or air horn and a flashing red or blue light, you must
This sign is
You are approaching a school bus that has stopped to take on or discharge young passengers. You do NOT have to stop for the school bus if
Signal a turn at least _________ before you make the turn.
Which of these statements is FALSE?
What does this sign indicate?
To obtain a driver license, you must pass
You have parked next to a curb, facing downhill. Which way should you point your front wheels?
When passing another vehicle, get through the other driver's blind spot as quickly as you can
What does this sign mean?
When entering a highway, use the entrance ramp and __________ to increase your speed to match the speed of highway traffic.
To prevent highway hypnosis, you should
According to Missouri law, __________ must wear seat belts if the driver holds an intermediate driver license.
What does this sign mean?
To pass a motorcycle, you should
When turning corners, turn the steering wheel using
In Missouri, when following a vehicle at night, you must use your low beams
What does this sign mean?
When driving in fog at night, you should use
If you are about to pass a bicycle to your right and an oncoming vehicle is approaching you on your left, what should you do?
Use _________ to maintain a safe following distance behind the vehicle in front of you.
What does this sign mean?
When turning left from a two-way street onto a one-way street, you should
If there are no traffic signals, you must slow down or stop for pedestrians in
If your vehicle starts to hydroplane, you should
This driver's hand signal indicates that this driver intends to
If you are under 21 years of age and are caught driving with a blood alcohol content (BAC) of ________, your driver license may be suspended.
A vehicle's stopping distance is equal to
________ are large blind spots around trucks where a car cannot be seen by the truck driver.
What does this sign mean?
Show comments