FREE South Carolina DMV Permit Practice Test 2018 | SC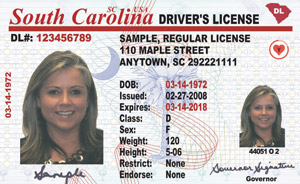 | | |
| --- | --- |
| Number of tests: | 11 |
| Number of questions: | 30 |
| Passing score: | 80% |
---
You will need to pass a written test consisting of 30 multiple-choice questions in order to receive either your learner's permit or driver's license in the state of South Carolina. In order to pass, you need to answer 80% of the questions on the test correctly. You may apply for a learner's permit starting at age 15. However, you must take a driver's education course to get a full license if you are under 17 years of age. The fee for a permit is $2.50. You will also need to pay a $2 fee to take the written test, whether you are applying for a permit or a license. All the information you need to answer any potential test questions can be found in the 2018 South Carolina Driver's Manual, which covers topics such as safe driving conditions, how to handle weather and emergencies, licensing laws and limits, and what you need to know for your road skills test. Just like on the real test, you must answer 80% of the questions correctly on this South Carolina DMV practice test to pass.
Rating:

4.4

out of

5

based on

513

votes.
Your Progress
Rate This Test:
4.4 out of 5 based on 513 votes.
8 mistakes allowed to pass
Passing score required at the SC DMV: 80%
We're preparing your test...
Report a problem
South Carolina DMV Permit Test Fact Sheet
| | |
| --- | --- |
| How many questions: | 30 |
| How many correct answers to pass: | 24 |
| Passing score: | 80% |
| Minimum age to apply for Class D Beginner's Permit | 15 |
SC DMV Driver's Handbook
View the most recent (2018) official SC DMV Driver's License Handbook.
Explore
List of questions (classic view)
You must _________ for a stopped school bus with flashing lights that is loading or unloading passengers on any two-lane highway.
When you park near a curb, you must park within _________ from the curb.
Which of the following statements is NOT true about speed limits?
This curved arrow mark sign indicates that
When you meet a car at night, you must dim your headlights at least _________ from the approaching vehicle.
If you are involved in an accident and you are not at fault, you must
You must not park your vehicle
What does this sign indicate?
When an emergency vehicle with flashing lights comes behind you while you are driving, you must
When brakes fail while driving, a driver must NOT
When oncoming headlights dim your vision, you must look
What does this sign mean?
To maintain a firm grip on the steering wheel, you must
A driver with an intention to turn must signal at least _________ before making the actual turn.
When there is no traffic on both sides of the road, a turn-around maneuver can be performed using
This arrow mark and an octagonal image in the sign indicate
If two motorists arrive at the same time at an uncontrolled intersection, the driver on the left must yield to
To avoid rear-end crashes, you must maintain the correct following distance between you and the vehicle ahead by using
While driving, you must have your headlights turned on
This numbered figure shows
When your vehicle stalls on a railroad track and a train is approaching, you must
When turning the steering wheel at intersections, a driver must use
When a driver extends his/her left hand and arm downward, he/she intends to
What does this yellow diamond-shaped sign indicate?
When driving in fog, snow, or rain, a driver must use
When you park your vehicle headed uphill with curb, you must
On a highway with four or more lanes, slower traffic should always use
What does this sign mean?
All work zone symbols or signs have
South Carolina law requires the suspension of driving privileges if you are under 21 years of age and are convicted of
When there are two solid yellow lines in the center, passing is
What does this sign indicate?
When using roundabouts or traffic circles, drivers must
Interstate route markers on a highway are identified using a/an
While entering an interstate highway, a driver must use
What does this diamond-shaped sign indicate?
If you miss your exit on an interstate highway, you must
The _________ are areas around large trucks and buses where cars cannot be seen.
Which of the following conditions is known as 'hydroplaning'?
This circular arrow sign indicates
Show comments