FREE Delaware DMV Permit Practice Test Four 2019 | DE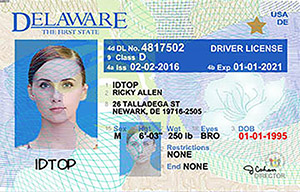 Are you being bothered by the feeling of lagging behind? Speed yourself up – get a driving license. No, we don't sell forged licenses but we offer you our 4th DE permit test for FREE. Yes, that means what it's always meant – no charges, no fees. You can take our permit practice test as many times as you want and you won't even have to register.
Why is it a good idea to take our test, besides the obvious reason that it's free? Well, it's online, so don't have to leave the comfort of your home. It's complete with easy-to-navigate intuitive interface. Importantly, it has structure and content similar to a real Delaware DMV test. It's based on this year's new
2019 official Delaware Driver Manual
, so it's as up-to-date as you could wish for. Enough to get you interested? Then start now!
Answer the first multiple-choice question below by selecting one of the four options that follow. Not sure which one to choose? Try our hints – they can help you make the right decision when you're in doubt. How do you know if it's correct? Have a look at the left-hand side of the page – there's a progress bar which will mark each of your successful attempts with green. If the color is red – sorry, you've made a mistake. It's normal part of learning – just don't forget to read our explanation that will help you avoid the same problem in the future. Go on like this through all the 40 questions up to the end of the test and have a look at your result. Want to make it better? OK, have a second try, and then more – each time the answers will be randomized for you. Sounds good? Then "Like" our DE permit practice test by hitting the button above or tell your friends on Twitter about it. Good luck! Don't lag behind – speed it up!
Or get unlimited access to all DE tests with

Premium
8 mistakes allowed to pass
Passing score required at the DE DMV: 80%
We're preparing your test...
Report a problem
Delaware DMV Permit Test Fact Sheet
| | |
| --- | --- |
| How many questions: | 30 |
| How many correct answers to pass: | 24 |
| Passing score: | 80% |
| Minimum age to apply for Level One Learner's Permit | 16 |
DE DMV Driver's Handbook
View the most recent (2019) official DE DMV Driver's License Handbook.
Explore
Show comments