FREE Wyoming DOT Permit Practice Test Four 2019 | WY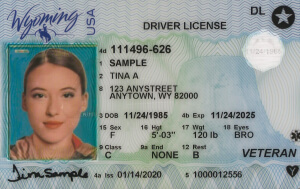 Even if you know the basics of traffic rules and driving, don't be in a rush to grab a steering wheel. You must obtain a driving license – unlicensed drivers are a danger to themselves and other people on the road. You can make a good start by getting ready for your DOT exam – read the latest official Wyoming Rules of the Road and sharpen your test skills with the help of our 4th WY permit practice test. It's available for you online any old time of the day (or night, if you will). The question structure and scoring system are the same as you see on a real DOT Permit Test, and the content is pretty similar – road signs and traffic regulations as described in the driver's handbook. The only difference from a real DOT test is the hints that we included for your reference and practice – don't expect to see them when it comes to the real thing. Got you interested? Have a look.
The first question below, just like all the rest, has four answers – select the right one and click it – you'll get the next task automatically. Look at the left-hand side of the screen – the progress bar there should wink green. If, however, it flashes red, it means that your choice wasn't the best – read the explanation of your mistake and try to avoid it in the future.
Carry on like this through all the 40 questions and look at your final score – looks good? Don't get upset if it doesn't – you're free to repeat your attempt as many times as you need to bring it to perfection. Don't worry – no matter how long you practice with us, you don't spend a penny. Did we mention that our WY permit practice test is free? It is! No fees, no registration. Sounds good? Bet it does – so tweet your friends about what you found or just press the "Like" button above. Start making it right with the law – good luck!
Or get unlimited access to all WY tests with

Premium
8 mistakes allowed to pass
Passing score required at the WY DOT: 80%
We're preparing your test...
Report a problem
Wyoming DOT Permit Test Fact Sheet
| | |
| --- | --- |
| How many questions: | 25 |
| How many correct answers to pass: | 20 |
| Passing score: | 80% |
| Minimum age to apply for Class C Learner's Permit | 15 |
WY DOT Driver's Handbook
View the most recent (2019) official WY DOT Driver's License Handbook.
Explore
Show comments