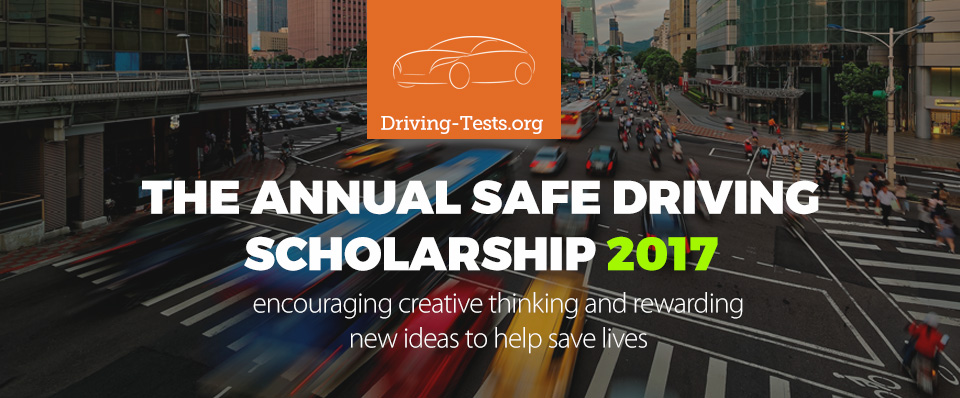 Congratulations to the winner of the 2016 $2,500 Scholarship!
Tierra Wilson, Tahoma Senior High School, Washington
Tierra's video entry can be seen here.

Our many thanks to all of you for your efforts in your communities to encourage safe driving behaviors among your peers – keep up the great work! The 2017 Scholarship is now open, so start thinking about your entries for this year and get your videos ready!
Driving-Tests.org is proud to announce our 2017 $2,500 scholarship for all high school seniors, as well as undergraduate university or community college students in the United States.
This scholarship is being offered to reward students for using their creativity to encourage safe driving behaviors.
How to Enter:
Download Brochure →
To apply for the scholarship, candidates will create a 2-minute video and post it online (YouTube or Vimeo are preferred), and send the link to scholarships@driving-tests.org or send it using the form below. Your video will not be used for any purposes other than selecting the winner and should answer the following question:

"How can you as a new driver help to
reduce road fatalities among your peers?"
Eligibility Criteria:
To be eligible for the scholarship, you must be a current high school senior or an undergraduate student who will still be attending high school, community college or university until July 2017.
Why This Topic?
Car crashes are a leading cause of death for 15- to 20-year-olds in the United States. In 2014, there were 1,717 young drivers (15-20 years old) who died in car crashes. We want to reward you for your efforts to keep you and your peers safe on the roads!
Ready to Apply?
Use the entry form below to submit the link to your video. Competition ends December 31, 2017. A panel of traffic safety experts from Driving-Tests.org will judge submissions. The winner will be announced February 1, 2018.

---
About Us
Driving-Tests.org (DTO) offers DMV practice tests online to help users become safer, more knowledgeable drivers. The company is committed to helping reduce road crashes, injuries, and fatalities among drivers and motorcyclists by helping them get better trained before they get on the road. DTO currently partners with over 1,900 public libraries across the United States to make its permit practice tests accessible through the libraries' computers. The company also has several national non-profit partnerships with the National Safety Council, National Organizations for Youth Safety, American Driver and Traffic Safety Education Association, and the Roadway Safety Foundation. In 2016, DTO's site had over 16 million unique visitors.
---
Our Mailing Address
Elegant E-Learning, Inc.,
1466 Limeridge Road East, Hamilton, ON,
CA L8W3J9,
Telephone: 1-888-392-2170
---
Our DMV Practice Tests