Start Your FREE 2015 CA DMV Permit Practice Test Now:
How Can I Apply for my CA Driver's License? Frequently Asked Questions
What age can I apply for my permit in CA?

What documents do I need to bring when applying for my license in California?

Where do I go to apply for my driver's license in CA?

How can I contact the California DMV office?

Who needs to bring me for the permit test in CA?

Is a physical required to get a permit in CA?

Do I need to take a vision test when applying for the California driver's license?

Where can I get a photo for my CA driver's license taken?

What colors should I avoid wearing when taking picture for my license?

Do I need to put up hair when taking driver's license photo?

What make-up to wear when I get my CA driver's license picture taken?

Why is it best not to smile when taking your drivers license picture?

What are some tips for getting the best out of the driver's license picture?

I have already applied for my CA license, what do I do next?

I have a question that's not answered above. What do I do?
Here's What Learners from California are Saying:
"
"Super helpful. Some of these questions were actually on my test and I passed first try. I took every test on here and reviewed and it totally paid off."

Bri Rei, California
"

The free permit tests really helped. I just took my permit test today and passed! You should totally try these practice tests!"

Hannah Tran, California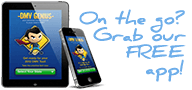 Welcome to the best online resource for California's driving exams! This page will provide you with all the study tools you need to ace your driver's permit or motorcycle permit test on the very first try. Below you will find 5 FREE practice tests that closely mimic the exam currently administered by the California Department of Motor Vehicles. But before you give the practice tests a try, review the official online CA Driver's Handbook, the CA Motorcycle Handbook, and the California License Guide. This page will provide you with the information that you need to study and five chances to practice before heading to your local CA DMV office. Good luck!