Start Your FREE 2015 MO DOR Permit Practice Test Now:
How Can I Apply for my MO Driver's License? Frequently Asked Questions
At what age should I be before I can apply for my permit in Missouri?

What documents will I need when I go to apply for my license in Missouri?

Where is the nearest place I can go to apply for a driver's license in Missouri?

Is it easy to contact my nearest Missouri State Highway Patrol Office?

Who is allowed to bring me for my permit test in Missouri?

Is a physical required in order to get a permit in Missouri?

Is a vision test necessary when I go to apply for my Missouri driver's license?

Where do I get a photo for my Missouri driver's license taken?

What happens after I apply for my Missouri license?
Here's What Other Learners from Missouri are Saying:
"
"It was a great feeling when I passed my permit test today! I did every test on this website the night before as review before the test and I passed. So thanks Driving-Tests.org"

Deion Smith, Missouri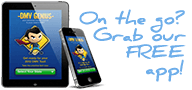 Searching for the best online resource for the Missouri driver's permit exam? This page has everything that you need to successfully complete the exam and obtain your permit without too much stress. First, take a look at the Missouri License Guide, MO Driver's Handbook, and MO Motorcycle Handbook. These resources contain all of the information you will be tested on when you visit your local Missouri Department of Motor Vehicle Licensing office to complete your permit exam. Next, test your new knowledge using the five free practice permit exams. There is even a practice exam for individuals who wish to obtain their MO motorcycle permit. With a little preparation and the help of the resources on this page, you'll be a new Missouri driver before you know it!