Start Your FREE 2015 SC DMV Permit Practice Test Now:
How Can I Apply for my SC Driver's License? Frequently Asked Questions
At what age can I apply for my South Carolina license?

What documents should I have when I go to apply for my license in South Carolina?

Where's the nearest place to apply for a driver's license in South Carolina?

How can I contact my nearest South Carolina DMV office?

Who should bring me for my permit test in South Carolina?

Does South Carolina require a physical in order to get a permit?

Is a vision test necessary when I go for my South Carolina driver's license?

Where do I go to get my South Carolina driver's license picture taken?

What's next after I apply for my South Carolina license?
Here's what other learner drivers from SC are saying:
"
"Thanks to your tests I knew every single one of the answers to the permit test. This is a great site."

Brandon McMillan, South Carolina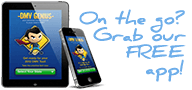 Passing the South Carolina driver's permit exam is nothing to be worried about. All you need to study for and successfully pass the exam is right on this page! First, take a little time to review the official online SC License Guide, SC Driver's Handbook, and South Carolina Motorcycle Handbook. These study tools will help you learn all of the information that you will be tested on when you head to your local South Carolina Department of Motor Vehicles office to obtain your permit. Below you will also find 5 FREE permit practice exams and one free motorcycle permit practice exam that are almost identical to the real thing. Use these practice tests to brush up on your test-taking skills and approximate your likelihood of passing the real permit exam. You'll do great!