Are you ready to take an awesome road trip now that you have obtained your license and your very own vehicle? If you're low on cash or just ready to experience life on the road, consider car camping, the ultimate adventure for anyone who loves to drive.
No matter where you plan to go, there's more than likely a convenient and cost effective campground. Why pay for a hotel room when you can use your own vehicle to create a comfortable and safe place to spend the night? If you think that car camping might be something to add to your bucket list, here are a few tips to make your ultimate road trip a success:
Car Camping Fundamentals: 5 Simple Tips To Remember
1

Consider your space

What type of vehicle do you drive? A spacious sedan or SUV makes for an awesome car camping space. A compact car or small hatchback is more economical to travel in but provides less space and will limit the amount of equipment and supplies you can bring with you. A pickup truck sports a large area to transport equipment and, in good weather, the option of sleeping under the stars in the bed. No matter what type of vehicle you drive, car camping is a great travel accommodation option, but you may need to tailor your plans to your specific vehicle.

2

Back seat or tent?

When car camping, you have two sleeping options. The easiest, and the one that requires less equipment and set-up, is to sleep in your vehicle. A spacious backseat can make for a good night's rest with a pillow and sleeping bag. If you have passengers traveling and car camping with you, an SUV's cargo area (with the back seats folded down or removed, if possible) can provide enough room for several sleeping bags or, if you desire more posh sleeping arrangements, an inflatable air mattress. Inexpensive air mattresses are great for car camping because they often include an air pump that can be powered through your car's cigarette lighter. If you decide to sleep inside your car, make sure that it is well ventilated. Crack the windows to allow air to circulate and never sleep with the vehicle running. If you decide to pack a tent, you'll have more room inside your car for overnight storage (a good idea if you are car camping in an area with large wild animals that might be attracted to food) and a larger, more level area to spread your legs at night. Pitching your tent in close proximity to your vehicle ensures that you have a safe shelter should rain or cold weather make more sturdy accommodations desirable.

3

Choose a great campground

Most campgrounds welcome car campers whether you decide to use a tent or not and offer an array of amenities from completely primitive (no water, electricity, or premade campsites) to full hook-ups (sites designed for RVs that include water, electrical outlets, and often picnic tables and campfire pits). State and national parks are great destinations for car campers because the parks offer some of the nation's most scenic drives. KOA campgrounds are also a good choice because they are typically located just outside major cities and along major interstate highways.

4

Keep the food simple

You don't want to have to keep perishable food items in your vehicle for a long period of time or take up all your cargo area with a giant cooler. Hot dogs over the campfire, s'mores, sandwiches, snack cakes, trail mixes, and freeze dried meals designed specially for campers require minimal packing and prep time. Always remember to follow food safety precautions.

5

Safety first

When car camping, always be aware of your surroundings. Only camp in campgrounds that require guests to register and monitor unregistered visitors. Lock your vehicle's doors and store valuables out of sight. Be weary of strangers.
With a little planning, a love to drive, and a small sense of adventure, you'll be ready to enjoy your first car camping adventure!
Bonus: Types of Campfire: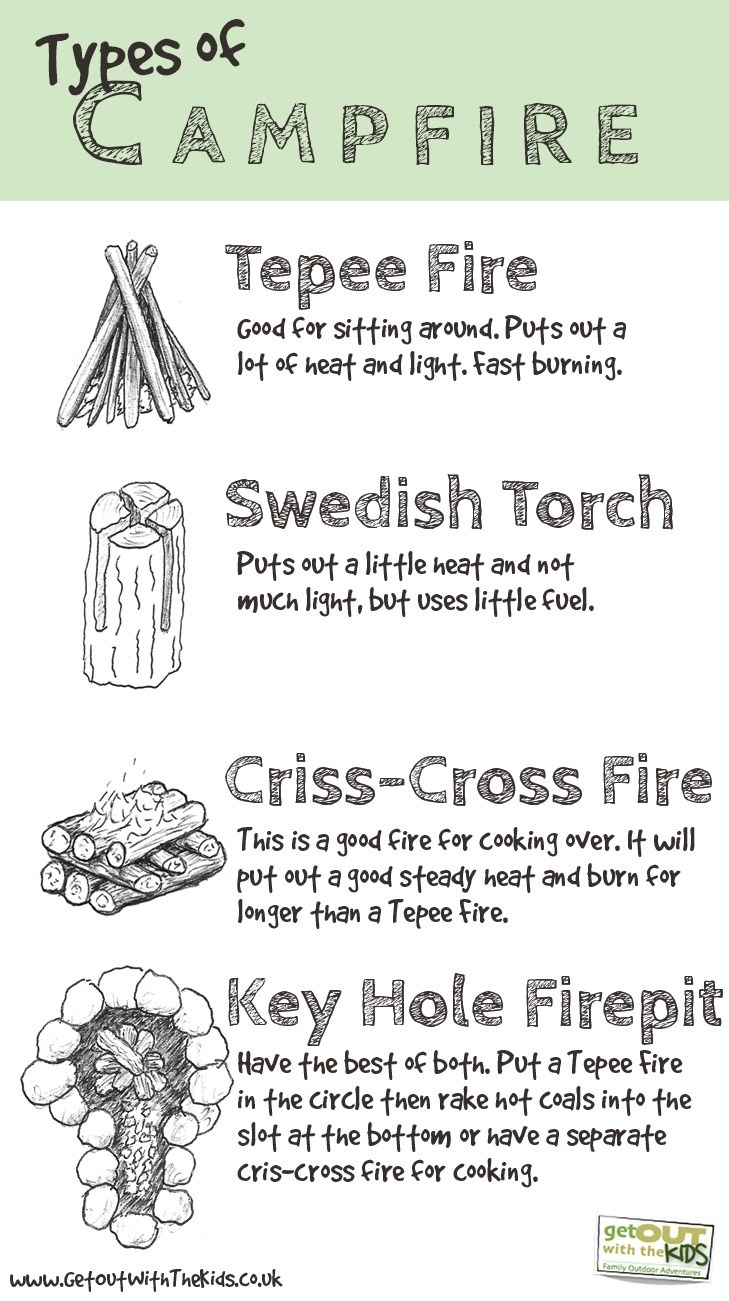 getoutwiththekids.co.uk
How would you rate your driving?
Expert level? Beginner level? Needs improvement?
Take a free quiz