Purchasing a vehicle is a huge decision. You are about to spend a great deal of money on an object that you will depend on for transportation to school, work, and other important events. When searching for your first car or a new car, it is wise to consider what types of vehicles are right for your lifestyle. While it is expected to want a car that you think is attractive and fun to drive, cars are not only objects to look at. You should also take into consideration the function of the type of vehicle you are considering to purchase. Here is a list of type of vehicles and a description of the purposes they are best suited to.
4 Types of Vehicles to Choose From
1

Cars generally come in either two door varieties, called coupes, or four door varieties, called sedans. Cars are the most common type of vehicle on the road and are suitable for a variety of purposes. Cars typically get the best mile per gallon ratings and are very popular with drivers who have to commute to work or school. Many sports cars are coupes and are popular choices for people who like convertibles or are interested in a car that goes fast. Cars are also great for couples or families with only one or two children.


It is your option if you neither have several kids nor require a big car boot

2

Vans come in two varieties. A regular van is a large vehicle that is often used for businesses. Mini-vans are very popular for drivers who need to transport their children. A mini-van is a smaller version of a van that handles much more like a car rather than a truck. A mini-van usually has the capacity to transport up to seven people and also has plenty of storage room. Mini-vans are also easily modified to be handicap accessible.


Honda Odyssey is one of the most popular minivans for big families in the US

3

SUVs were originally designed to be used as utility vehicles but have become popular family automobiles in recent years. Many SUVs come with four wheel drive options that allow them to be driven in difficult terrain. Like mini-vans, SUVs can transport between five and nine people, depending on the model. SUVs generally get poor gas mileage and may not be the best option if you have to commute on a daily basis.


A lot of drivers feel an SUV is a safer vehicle because it's heavier built

4

Trucks are popular vehicle choices for people who need to haul equipment or materials on a regular basis. Many models of trucks have room for up to five passengers, making them popular choices for active families. Trucks can also be fitted with a camper shell that makes the bed area weatherproof.


Nothing can beat an ability to carry a camper, jet-ski or a couple of motorcycles
When considering what type of vehicle to purchase, think about your preferred style as well as the functions that you need it to carry out. Finding the perfect vehicle for your lifestyle is a difficult decision that should be considered carefully.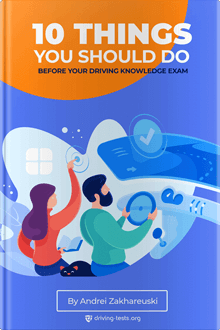 FREE e-Book:

10 Things You Should Do Before Your Driving Knowledge Exam

Many people get to the DMV overconfident and underprepared because they fail to do some of the simple things that would allow them to pass easily. What follows are the 10 steps that every aspiring driver should take to prepare for his or her official knowledge exam.