As you steer your vehicle, you should never take either of your hands off of the steering wheel. The push and pull method of turning the steering wheel allows you to safely rotate the steering wheel while keeping both hands in contact. For example, if you are turning to the right, you will push the steering wheel in a clockwise motion with your left hand while simultaneously pulling the wheel in a clockwise motion with your right hand. Some drivers simply push the wheel with the hand opposite of the direction in which they are turning while allowing the other side of the wheel to slide through the loose grasp of the other hand. It is not acceptable to turn your steering wheel with only the palm of one hand or with your thumbs. The push and pull method should be used for every turn, every time you drive.
Push and pull method
Proper placement of your hands on the steering wheel is essential to driving your vehicle safely. Remember to place your hands in the nine and three position at all times while driving. Never drive with only one hand, your fingertips, or, even worse, with your knees. While turning to the left or right, use the push and pull technique to ensure that the steering wheel does not slip out of your hands. Not only will proper placement of your hands on your vehicle's steering wheel help you pass your driving exam, it will also contribute to your overall safety while on the road.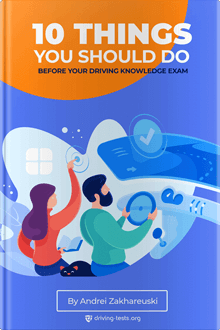 FREE e-Book:

10 Things You Should Do Before Your Driving Knowledge Exam

Many people get to the DMV overconfident and underprepared because they fail to do some of the simple things that would allow them to pass easily. What follows are the 10 steps that every aspiring driver should take to prepare for his or her official knowledge exam.