If you suddenly get the urge for a new vehicle but are in no way ready to make a purchase, why not rent a new ride for the weekend instead? Whether you've got a hot date or need to haul something, car rental companies offer a wide selection of vehicles that can be rented for one day or one month. While it can be a little costly, renting a vehicle allows you to become the temporary driver of a red convertible sports car, roomy SUV, or rugged pick-up truck.
How Old Do You Have To Be To Rent a Car?
Before you get excited about picking out an awesome car to rent for the weekend, keep in mind that most rental companies maintain a minimum age restriction. As a general rule, drivers under the age of twenty-five are required to pay a hefty fee. This is the first question you need to ask when you inquire about renting a vehicle.
How Much Does It Cost to Rent a Car?
The average rate to rent a midsize sedan for one day from a US airport (the most expensive location to rent from) was $99.81 in July 2018. That's when booking 7 days in advance and including all the extra car rental hidden fees (insurance, licensing fees, sales taxes, etc) are added onto your bill. Economy cars are usually the less expensive -- you can rent one for around $45-$50/day.
If you're ready to hit the road in a rented car, here is what you need to do:
1

Look for a deal. The internet is a great place to start. All major car rental companies, as well as some of the minor ones, allow customers to book one of their rental vehicles online. Here are a few reputable car rental company web sites to check out first: Enterprise, Hertz, Avis, Budget, Thrifty, Alamo, and Dollar. Additionally, many travel booking website offer deals on rental cars. Visit Travelocity, Expedia, or Kayak to search all the above companies at once for the best price.

2

Determine if you want to pick-up your rental car at a local office or at the nearest airport. Some rental car companies are only located at airports while others have offices in residential areas, too. The company you choose to rent from will be largely determined by the area in which you live. If you live close to a major airport, you will probably be able to find a better deal if you pick-up your rental vehicle at an airport branch.


Always check the prices as there's an opinion that it's often more expensive to rent a car at the airport

3

Know what you're paying for. The daily price that you pay for a rental car is composed of several different fees. Of course, the primary expense is the actual rental fee. In addition, you pay sales tax, insurance, mileage fees, fees for GPS systems, and, as mentioned before, fees for being under the age of twenty-five. If you're booking online, ensure that you see the actual total before you select any option. Here are several things you need to know before renting.

4

Bring all required documentation when you go to retrieve your rental vehicle. Most car rental companies will require a copy of your driver's license, a credit card, and proof of your own auto insurance policy.

5

Drive carefully! You are ultimately assuming responsibility of someone else's property. Treat your rental car with the same care and respect you would a friend or family member's vehicle. Don't speed, obey all traffic regulations, and pay close attention to the task of operating the vehicle.

6

Ask if there is a mileage limit or restriction. Most rental car companies allow you to drive an unlimited amount of miles; however, you need to make sure that there is not a limit over which you will be charged a fee.

7

Follow your rental company's fuel policy. Rental car drivers usually have two options. The first is to pay a fuel surcharge and return the vehicle without worrying about filling up. The second is to allow a company representative to make a note of the fuel level when you pick-up the rental car. Return the vehicle with the same amount of gas or you will be charged a fee. The following video helps you calculate the exact amount of fuel needed to return a moving truck.
What are you doing this weekend? How does taking a road trip in a tiny, fuel-efficient sub-compact or hauling a load of landscaping supplies for your yard in a roomy pick-up sound?
Renting a vehicle might be a little costly, but it opens up an array of possibilities.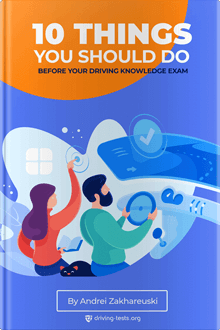 FREE e-Book:

10 Things You Should Do Before Your Driving Knowledge Exam

Many people get to the DMV overconfident and underprepared because they fail to do some of the simple things that would allow them to pass easily. What follows are the 10 steps that every aspiring driver should take to prepare for his or her official knowledge exam.