It's an enduring truth of teenage life in America: Teens eagerly await the day they can drive. Across the country, getting a driver's license is heralded as a bona fide rite of passage. Legal access to a set of wheels means freedom from parental dependence (if not from their anxieties). Who can blame the nation's youth for wanting a little automotive autonomy?
As their parents will attest, teenagers aren't exactly known for being transparent about their intentions. While we're sure most young folks have admirable reasons to value their vehicles (trip to the library, anyone?), there could be another explanation for their zeal to get behind the wheel.
We're talking about a subject that some Americans would probably prefer to leave unaddressed: getting it on in our cars.
Yes, we went there.
For the record, we're not the first to bring up the topic. Some of America's favorite films feature in-car rendezvous. Remember Rizzo and Kenickie's interrupted intimacy in Grease? Even Titanic saw Jack and Rose consummate their short-lived love in a Packard limousine aboard ship. In our cultural memory, at least, cars have been a sanctuary for lovers with nowhere else to go.
We wanted to know how often car sex happens outside of the movies, so we surveyed over 1,000 Americans on their relevant experiences to determine how common automobile intimacy is, and our findings were both surprising and steamy. Read on to see how America makes love in its vehicles.
How Common Are Car Hookups?
First, let's look at how many Americans say they've experienced in-car intimacy firsthand. We segmented our respondents' answers by age group to track how the trend may have changed over time.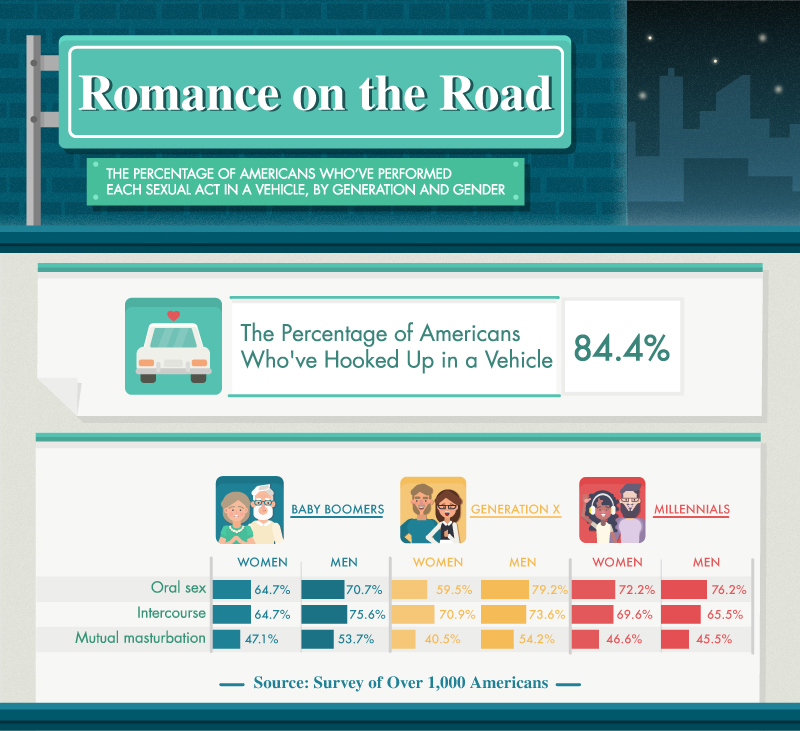 About 84 percent of those surveyed have engaged in some sexual act while in a vehicle. If you've only gotten it on in the bedroom, you're in the minority. No wonder our films feature sex in cars so often – or perhaps movies actually inspire the trend.
When we considered specific acts and age groups, we saw a more diverse set of results. In every age group, participants' most common experience was intercourse, but there were some interesting differences. For instance, Gen X and Millennial men were the most likely to report having had oral sex in a vehicle, whereas male baby boomers were most likely to have had intercourse in a vehicle. Among women, Gen Xers reported having had oral sex less often than their baby boomer counterparts, though Millennial women led that category by far.
The Kind of Car Counts
We've seen that hookups in cars are common, but all these experiences may not be equally pleasant. While some hope that their sports cars will attract a partner, consider how uncomfortable canoodling in a two-seater might be. Which kinds of cars play host to our hookups most often, and which allow for the best sexual experiences?

For ease of lovemaking, the sedan rules supreme, with about 66 percent of respondents having hooked up in one. That may change, however, as SUVs occupy an ever-increasing share of the market. At the end of 2013, they represented just half of all vehicles sold. By the end of 2016, they were up to 63 percent.
One metric in support of the SUV's growth is the enjoyment our participants expressed. SUVs led all car types in the average enjoyment of sexual experiences and were the preferred car type of Gen Xers and Millennials. This may be due to the added space they offer lovers. It's hard to imagine many couples risking a painful collision with the seat or ceiling. (Unless that's your thing, of course; we're not judging!)
We also considered the car manufacturers most likely to host Americans' hookup activities. We asked participants about the car brands they got it on in, and which permitted the best experiences. For American auto manufacturers sweating a slight decline in recent sales, our stats could be some welcome good news (let's hope they see it that way). The top two brands for car hookups were Ford and Chevy, way out in front of Japanese giants Toyota and Honda.
Luxury manufacturers were concentrated at the bottom of the list. For one thing, luxury cars are sold in lower volumes. Fewer people can afford them, so fewer people will use them for loving liaisons. Moreover, those who drive a nice ride are likely to have other location options, such as a home of their own.
That said, when Americans do get it on in a luxurious vehicle, they seem to appreciate it. Our three top-ranked brands for hookup enjoyment were Lincoln, Cadillac, and Audi. Lincolns have historically been quite spacious, which reaffirms that we like a little space when things get steamy. But there's another possible explanation: Lincoln has long dominated the market for limousines. If you're lucky enough to have hooked up in a limo, you might well rate that experience highly.
Lovemaking Locations
Car hookups present us with options, from where we park to which positions we attempt. So we surveyed respondents on the way they went about their car canoodling.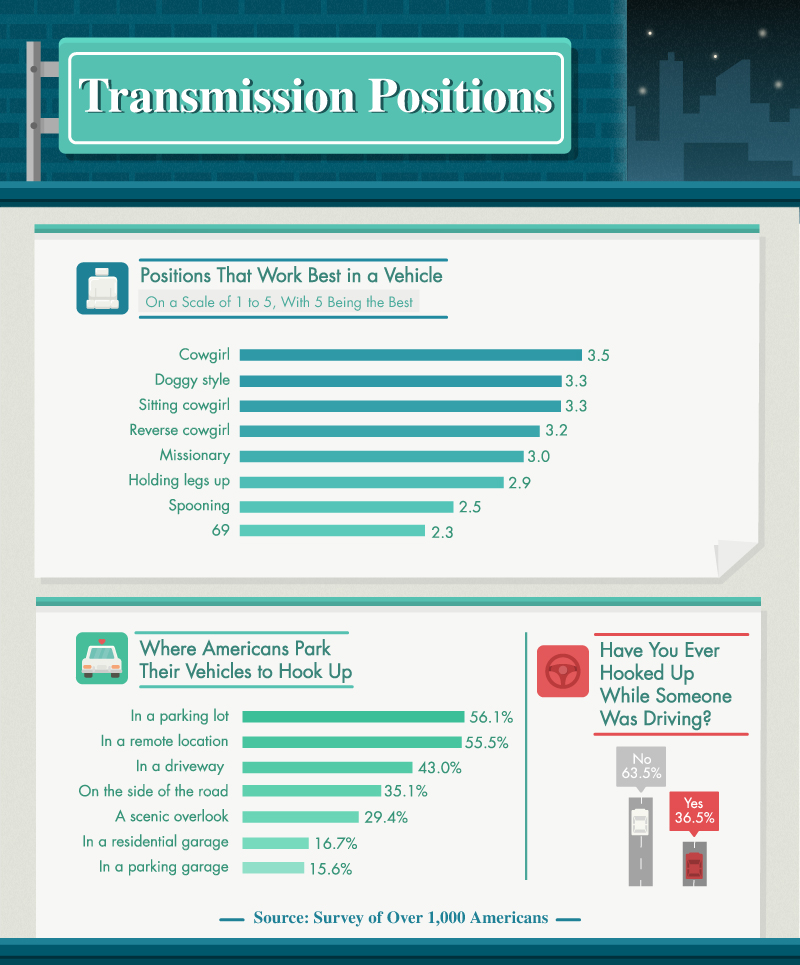 Our respondents made one thing clear: In cars, intercourse made things complicated. They rated oral sex and mutual masturbation as best (each 4.2 on our scale from 1 to 5). But when they did elect to have intercourse, they favored getting creative. The missionary position was ranked among the least comfortable options (a 3.0 on our scale), whereas the cowgirl and doggy-style positions were considered the best ways to get it on within the confines of a car.
Thankfully, most respondents didn't make these choices while their car was in motion. Less than 37 percent of respondents admitted to hooking up while someone was driving. While some couples value spontaneity, tragedy can result when the act of love distracts from driving.
Because cars have the obvious advantage of mobility, we were also interested in where our respondents said they had parked to get intimate. Parking lots were the top response (over 56 percent), though we hope they were pretty empty. The desire for more seclusion explains the second most common spot: a remote location such as the woods. Just because respondents got frisky in a vehicle didn't mean they were partial to exhibitionism.
Sexy Seating
So far, we've explored where our in-car lovers have parked, but we haven't yet addressed something at least as important: Where's the best place in and around the vehicle to do the deed?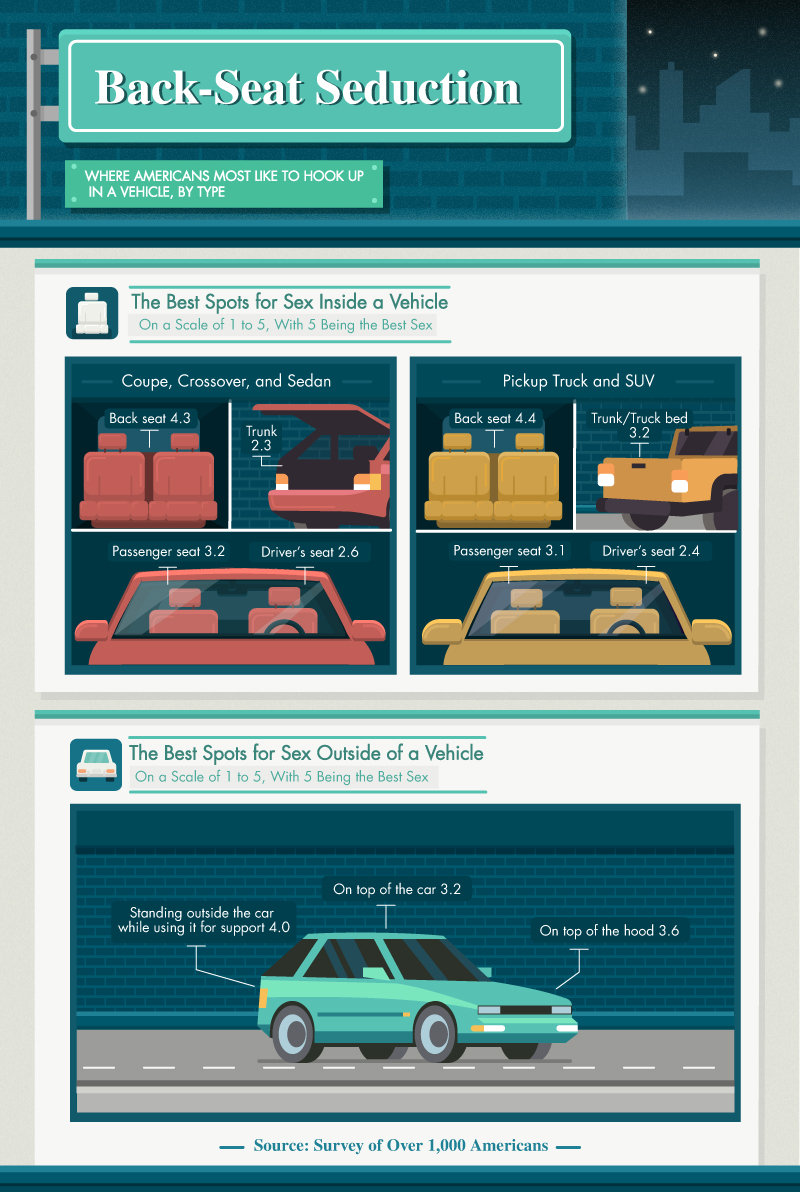 Our respondents' answers varied by the type of car and whether they got down inside the car or on its exterior. The rear seat was the top response regardless of the type of vehicle, but a pickup's truck bed was understandably popular, too. With pickup bed lengths typically ranging from 5 to 8 feet, couples could enjoy nearly as much space as in a true bed at home. The driver's seat was much less popular. The steering wheel could get in the way, and most folks probably preferred their hookups without honking.
In warmer weather, the exterior of the car offered some options as well. Respondents were most enthusiastic about standing while using the car as a source of support. Perhaps that's because hoods could get hot with the motor running, and few lovers wanted to wait for it to cool off.
The Age of Our Auto Adventures
It is often assumed that hookups in cars appeal primarily to younger Americans, but we found that most Americans don't leave car rendezvous behind them as they age. When we asked how old respondents were the first time they hooked up in a car, most told us they had been teenagers. But when we asked about their most recent experiences, it was a different story.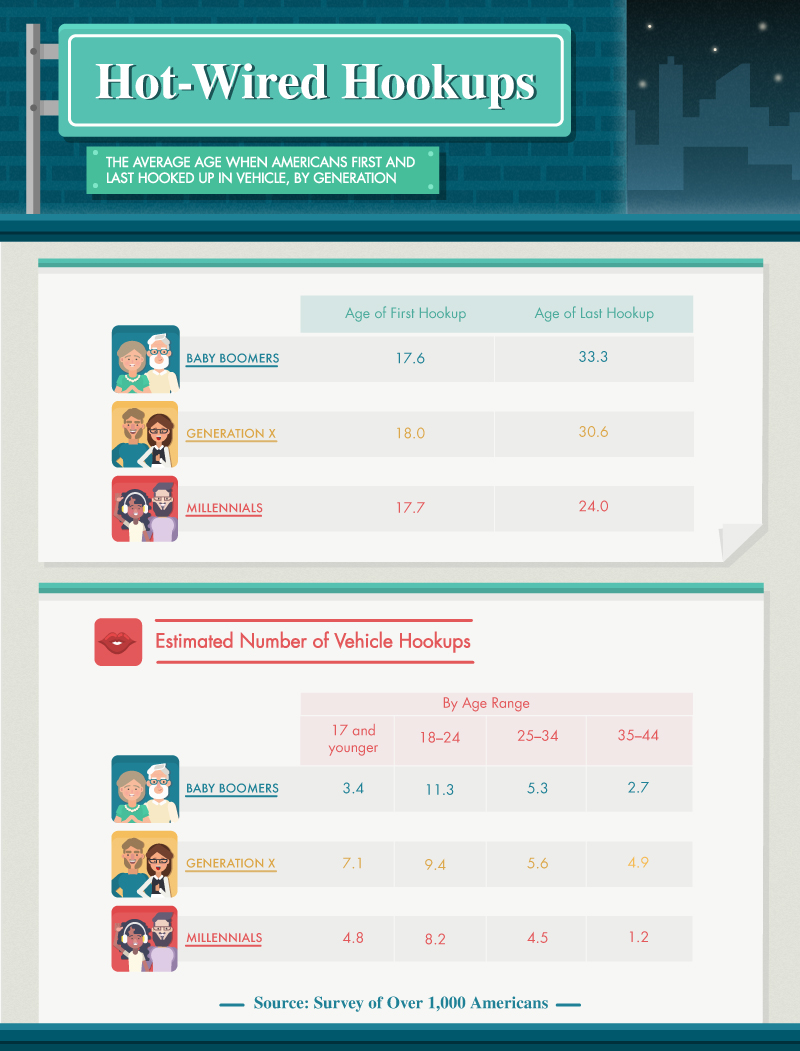 In every age group, the average age of the first car hookup was virtually the same (17 –18 years of age). However, baby boomers and Gen Xers got frisky into their thirties, on average. The average age for Millennials was lower, but that's probably because many of them were still in their twenties.
There's more evidence that we find car sex convenient well into adulthood. Respondents in every age group estimated they'd had more car sex between ages 18 and 24 than at any other time in their lives. Interestingly, that period covers the typical college years. Perhaps dorm rooms are only slightly more accommodating of our hookups than our parents' homes. Kicking your roommate out can be awkward.
Love on Wheels
Whatever you make of Americans' vehicular hookup habits, we found that doing the deed in the Dodge is pretty common. Regardless of what we may judge to be appropriate, we can all agree that the most important concern is safety. That's true whenever we're in our cars, for romance or not.
But that's also true in matters of sex and love. As long as you and your partner feel safe, where you make love doesn't matter all that much.
Methodology
We surveyed more than 1,000 Americans about their experiences and preferences related to sexual activities in vehicles. We then indexed their responses against their self-reported demographic information to formulate the comparisons presented above.
Fair Use Statement
Interested in sharing how people hook up in cars? Great! Feel free to do so for any noncommercial purposes; just be sure to link back to Driving-Tests.org and its authors.