One aspect of driving that is constantly drilled into our heads is that speeding kills. The United States has one of the highest mortality rates from car crashes in the world. It's not far-fetched to think speeding might be a culprit. But is speed actually leading to disaster, or are Americans just poor drivers?
America has some of the lowest speed limits in the developed world, with a maximum posted limit of just 85 mph on Texas State Highway 130. In Germany, speed limits are nonexistent on 60 percent of the autobahn network, yet crash-related fatalities are dropping. Perhaps it's time to look in the rear-view mirror (when safe, of course) and assess our driving skills.
Are American drivers better or worse than drivers in other countries? And are American and foreign perceptions of drivers around the world accurate? We surveyed some five hundred Americans and five hundred international citizens to see who thought of themselves as kings and queens of the road and who could really benefit from additional driver's education classes. Keep reading to see what we learned.
So You Think You Can Drive?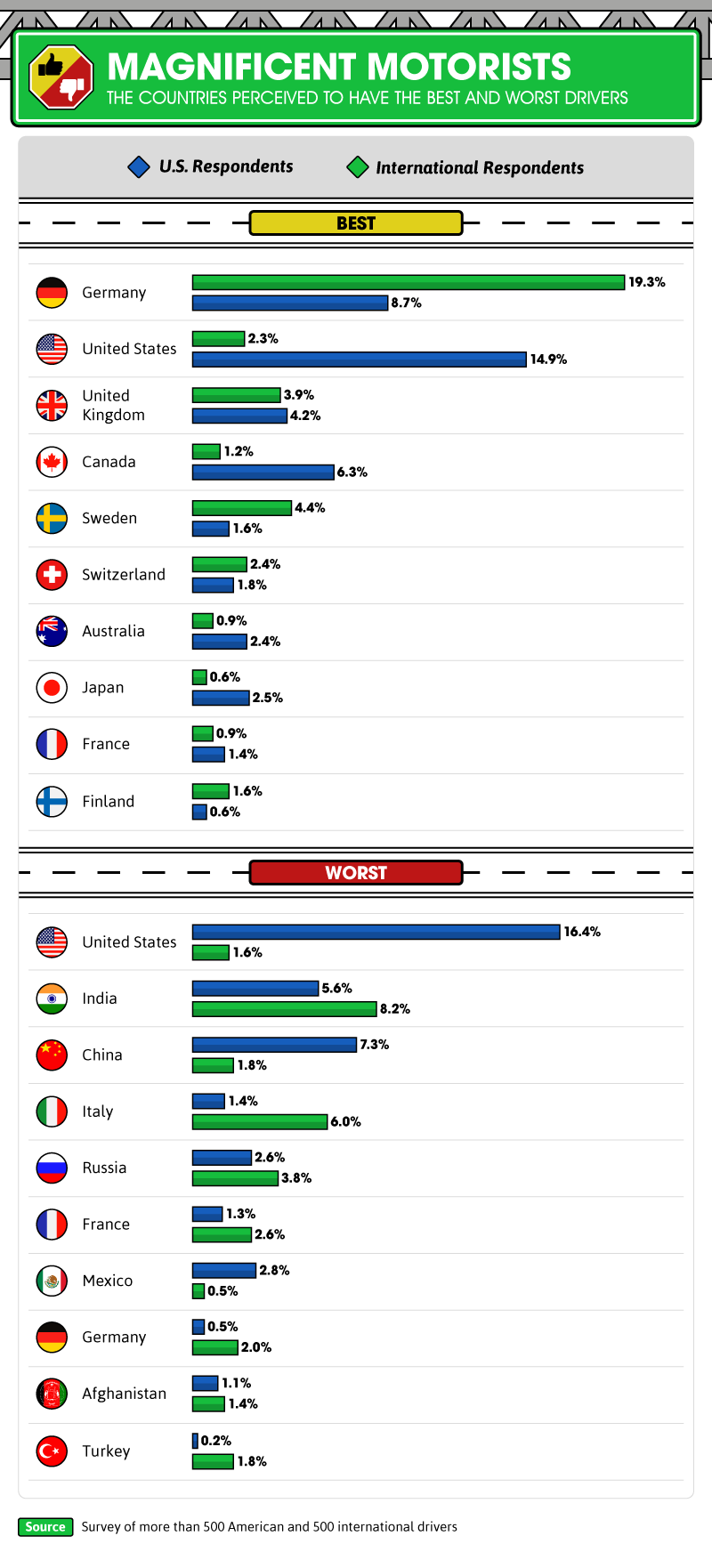 Before we crown the country with the best drivers, let's look at the countries that respondents said had the best and worst drivers. According to international respondents, Germany had the best drivers – perhaps because of their comprehensive licensing test system. In contrast, American respondents thought higher of their skills and perceived the United States as having the best drivers.
For the worst drivers, though, international respondents pointed fingers at India, while US respondents had no qualms about ratting out their own country. Germany was ranked highest by international respondents for having the best drivers, so it's not surprising that this country was low on the list of worst drivers, with only 2 percent of international respondents perceiving German drivers as failing behind the wheel.
Are You Average?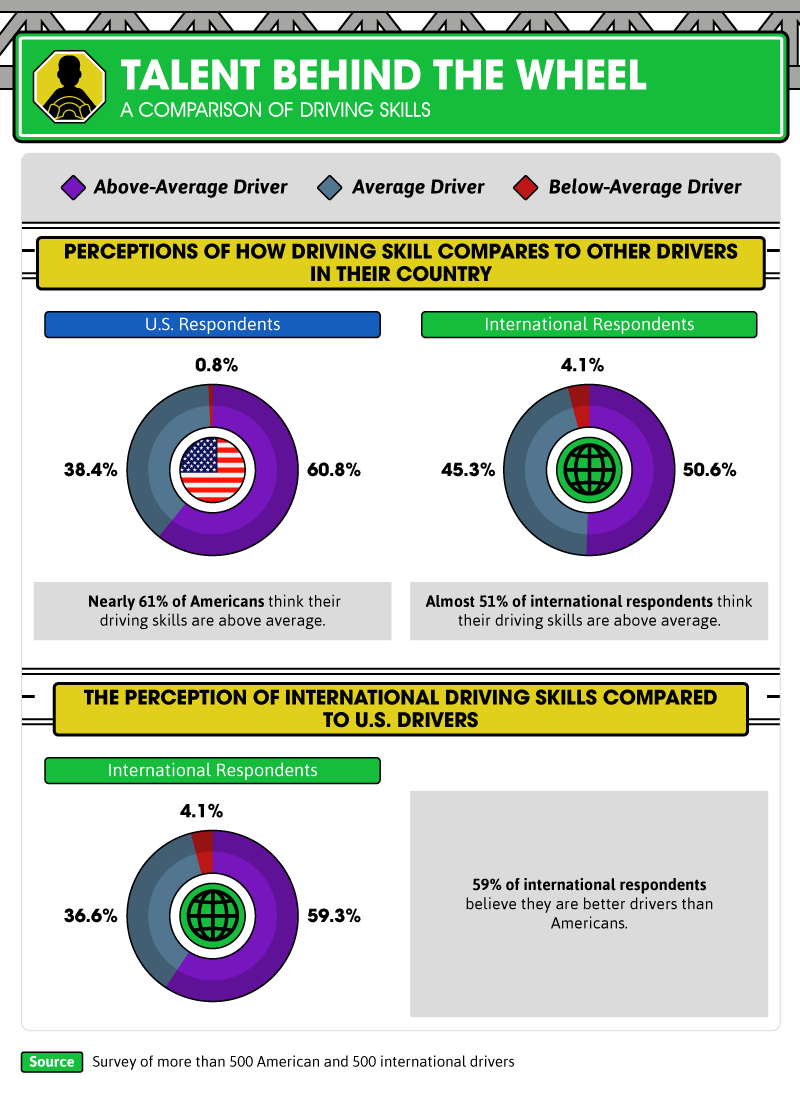 Drivers in America and other countries agreed on one thing: Most thought they were better than the average in their country. International respondents were a bit more modest, though. About 51 percent thought their driving skills were above average, and 4 percent admitted to being below average. Americans were more self-confident, with about 61 percent viewing themselves as above-average drivers, and less than 1 percent labeling themselves below average.
When asked how their skills compared with those of Americans, international respondents threw modesty out the window: 59 percent perceived their driving skills to be better than those of American drivers.
Habits That Help, Habits That Hurt

Habits can be easy to acquire but hard to break. Overconfidence in one's driving ability or capacity to multitask can lead to the adoption of bad driving habits. Although seat belts have been proven to save lives and 49 US states mandate the wearing of seat belts, 14 percent of US respondents didn't always buckle up. While international respondents reported similar results, 3 percent reported never wearing a seat belt, compared with only 1 percent of Americans.
Distracted driving is becoming more commonplace around the world, leading to stricter laws and, unfortunately, more deaths. America's largest distracted driving study found that Americans use their phone nearly every time they operate a motor vehicle, but 45 percent of respondents reported never using their phone while driving. The drastic difference in these results might be due to respondents' unwillingness to admit to this dangerous habit. A higher percentage of international respondents never used their phone while driving, but 1 percent reported using it 100 percent of the time.
Law enforcement may be coy about how much wiggle room is allowed in speeding, but American men thought it was acceptable to drive up to 9 mph above the posted speed limit. International male respondents thought 7.6 mph over the speed limit was the maximum acceptable. American women and international women were more similar, suggesting 6.8 and 7 mph over the speed limit respectively. The difference between international men and international women was also less significant than the difference between American men and American women. Perhaps American men are the real speedsters after all.
Check Yourself Before You Wreck Yourself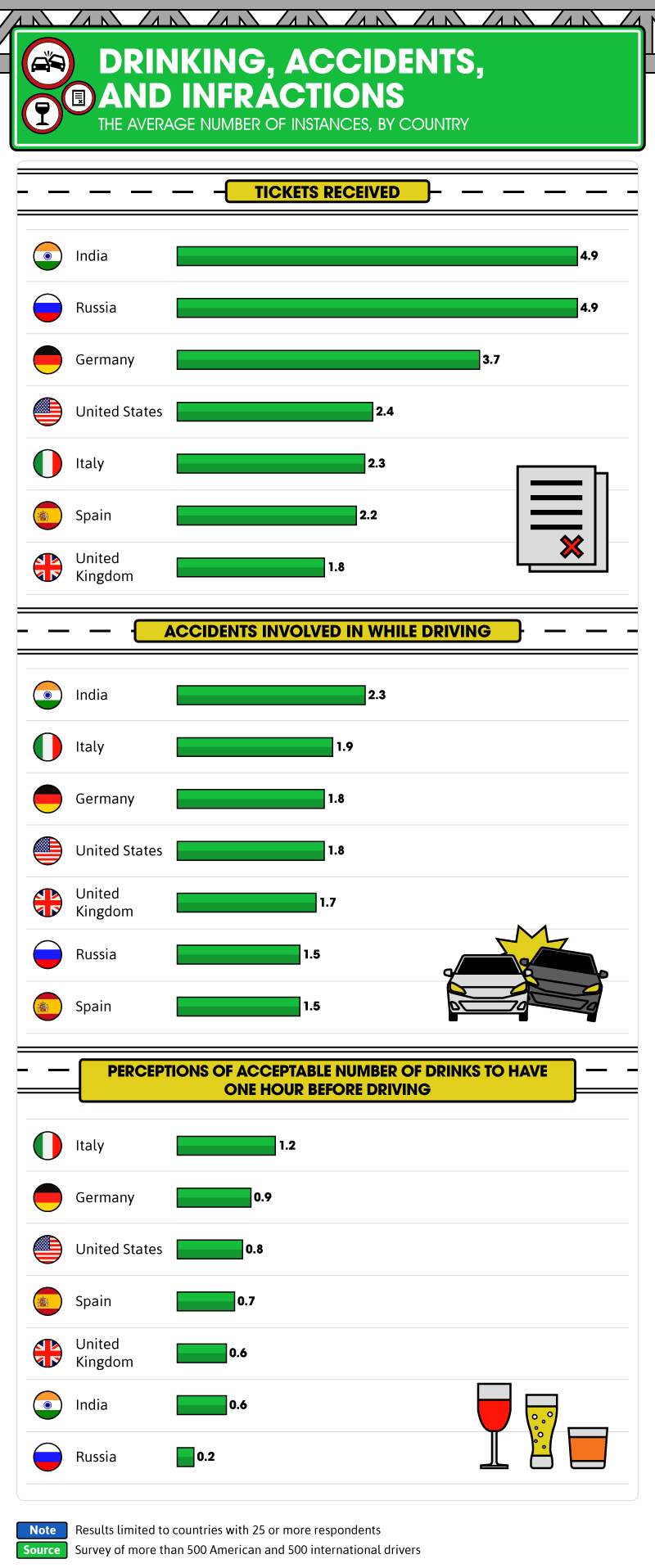 No driver ever expects to be pulled over by the police and issued a ticket, or be involved in an accident, but these things happen – especially in India. Drivers in India tied with drivers in Russia for the highest average number of tickets per driver. India also topped the charts for the highest average number of accidents per driver, but Russia fell far behind, luckily tied with Spain for the lowest average number of accidents per driver.
Russians may be among the biggest consumers of alcohol in the world, but they also appear to know when the timing is right. On average, respondents from Russia thought that only 0.2 drinks one hour before driving were acceptable. In contrast, Italian respondents thought that 1.2 drinks were acceptable.
Always remember that it is never safe to operate a motor vehicle while you are intoxicated. And the more alcohol you have consumed, the longer it takes for your body to metabolize it all.
Fury Road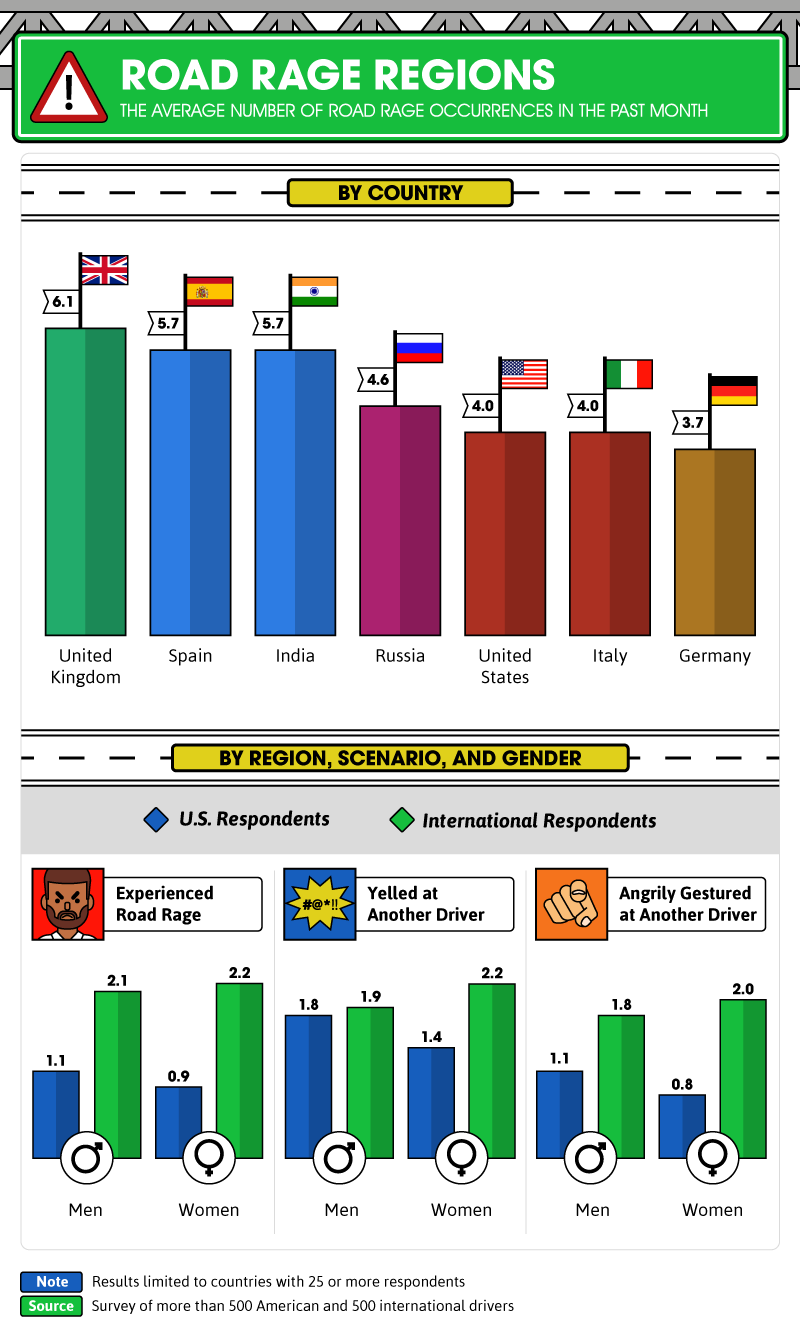 Driving is often necessary, but heavy traffic and inexperienced or inept drivers can make it very frustrating. We looked at reported occurrences of road rage across countries and then compared road rage between men and women. The United Kingdom had the highest average number of experiences with road rage in the past month, while Germany had the least. The United States fell just short of the middle – an average of four occurrences in the month before our survey.
In the United States, the effect of gender on road rage differed from that in other countries. In all scenarios, international women exhibited road rage and other aggressive driving behaviors more than international men, whereas American men experienced road rage and yelled and gestured more than American women. International women significantly topped the charts, though – not only contributing more to road rage and aggressive driving behaviors than their male counterparts but also contributing more than either American men or American women.
And the Winner Is …
It's difficult to say if the United States has the best drivers, but Americans certainly think it does.
No matter the country or ranking on the list of best drivers to worst drivers, being a safe driver is what actually matters.
Distracted driving, driving while intoxicated, and driving without wearing a seat belt are dangerous habits that not only make you a bad driver but risk your life and the lives of others. For the sake of safety and some friendly competition, ditch those bad habits so you can claim the title of best driver.
Methodology
We surveyed 521 Americans and 504 international citizens about their driving perceptions and behaviors. Fifty-eight percent of respondents identified as men, 42 percent identified as women, and less than 1 percent identified as another gender. Country-based analyses were limited to results with at least 25 respondents. The average age of respondents was 35 years.
Fair Use Statement
Before you brag about your driving skills, we grant you permission to use the images and content here for non-commercial purposes. Just don't forget to link back to Driving-Tests.org and its authors.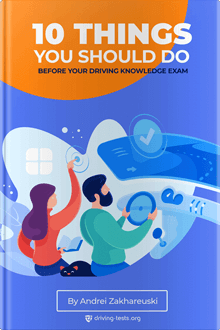 FREE e-Book:

10 Things You Should Do Before Your Driving Knowledge Exam

Many people get to the DMV overconfident and underprepared because they fail to do some of the simple things that would allow them to pass easily. What follows are the 10 steps that every aspiring driver should take to prepare for his or her official knowledge exam.