There's nothing like the smell of a new car. Even if your current ride was pre-owned when you first bought it, chances are it doesn't smell anything like it did on day one.
What about the exterior? Does it still gleam in the sunlight like it did when you first laid eyes on it at the car lot? Yeah, right.
Having a perfectly detailed vehicle doesn't have to be a luxury! Many car washes and detail shops charge upwards of fifty dollars for a wash and wax special and another fifty for cleaning and detailing the interior of your car. But, with a little elbow grease and a few inexpensive products, you can detail your own vehicle for a fraction of the cost.
You can find professional-grade cleaning products for detailing the inside and outside of your vehicle at big box and auto parts stores. Some brands even offer kits that include a selection of their most popular washes, waxes, and protecting products, all ready for a weekend spent giving your car a much needed spa day. Two time-tested brands to consider when shopping for your car cleaning products are Turtle Wax and Armor All. Both have been around for many years and are frequently used by professional vehicle cleaners.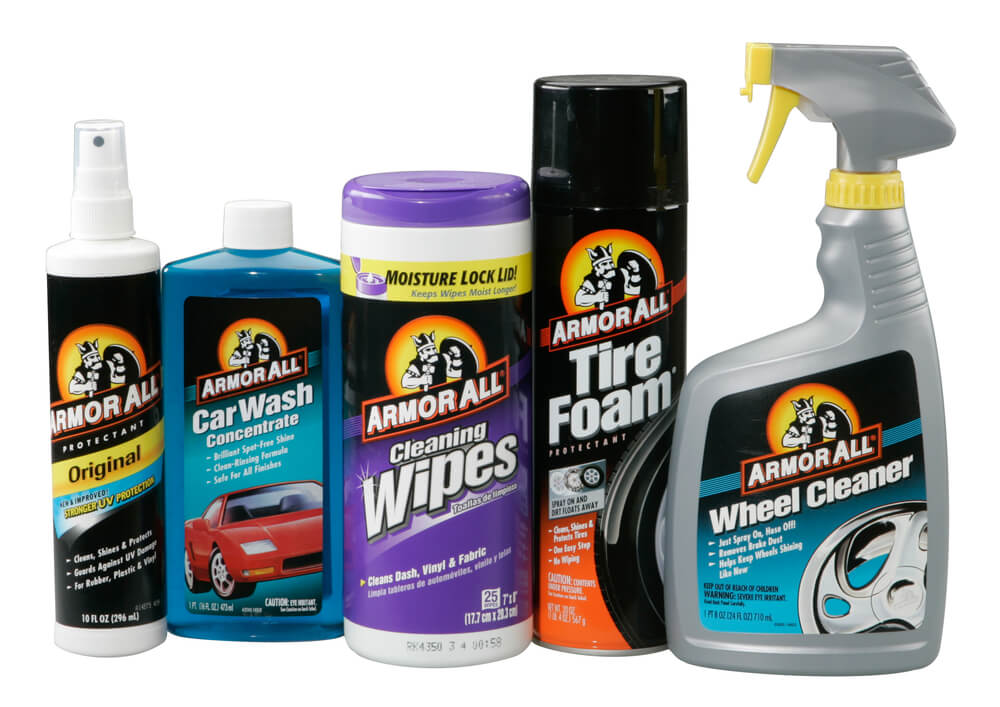 Both brands have their fans and critics. You should definitely choose for yourself
To completely clean your vehicle from bumper to bumper, you'll need:
1

Car washing liquid

Sudsing up your ride with dish washing liquid is fine for a run-of-the-mill wash, but if you want to return your car to showroom perfection, invest in a soap made specifically for automotive exteriors. A good spray nozzle for your home's garden hose, a non-abrasive sponge, and sturdy bucket are necessities, too.

2

Car wax

Most waxing products are packaged in a small tub and include a specially designed soft application pad. This product will enhance the color and shine of your vehicle and protect its paint job.

3

Chamois cloths

These super-soft pieces of special fabric are excellent to use after waxing to create a glass-like finish. They are reusable, so you can keep your chamois on hand for the next time you decide to detail.


Chamois cloths are very well suited for safe drying and shining delicate surfaces

4

Tire foam

This nifty stuff gives your tires a jet black shine that catches the eye as you cruise down the road. It's definitely worth a couple extra bucks.

5

Vinyl/leather cleaners and protectors

These products are designed for the interior of your vehicle. They clean dust and grime from your vehicle's dash board, consoles, and inside door panels. Most of these products can be used on plastic, too.

6

Upholstery cleaners

Find a product that is appropriate for the material your vehicle's seats are made of. Sometimes products can be used on leather and cloth. These sprays or wipes will clean the surface of your seats and remove any foul odors that might be lingering in your vehicle.

7

Glass cleaners

Use either an all-purpose glass spray or one designed especially for automotive glass. Sometimes these products can also be used on the outside of the glass to repel water and leave your windshield streak-free.
You'll also need access to a vacuum cleaner and at least a couple of hours to burn before you begin your DIY detail job.
Grab your supplies and get started!
1

First, clean the exterior of your vehicle. Spray the entire vehicle's surface with water to remove large pieces of mud, road debris, and mud. Don't forget the undercarriage, wheels, tires, and beds of pickup trucks.

2

Using a rag or non-abrasive sponge dipped in a bucket of water and your washing liquid (follow the manufacturer's directions), clean small sections of the vehicle and immediately rinse with water to prevent streaking.


One of the recent alternatives to sponges are microfiber wash mitts that don't allow scratches

Pay special attention to the front bumper and grill where bug residue builds up. Dry with old towels or drive around the block to remove excess water.

3

Next, apply tire foam per the instructions on the bottle.


Don't let it cover the metal of the wheel or it will stay there

4

Time to wax! This can be a lengthy and strenuous process, so allot plenty of time and recruit some help. Your vehicle must be completely dry before wax is applied. The following tutorial will help you wax your car like a pro.

5

Now that the vehicle's exterior is clean, move on to the interior. Begin by removing all trash, coins, and clutter. Don't forget to remove and shake floor mats.

6

Wipe down all vinyl and plastic surfaces to remove dust and apply protecting product. Don't forget the steering wheel!

7

Vacuum seats, floor boards, cup holders, etc.

8

Use the appropriate product to clean your vehicle's seats and other upholstered areas. Cloth seats can be spot cleaned with a damp rag first. You can even try using baking soda, which is much cheaper and quite effective.

9

Use glass cleaner to clean the insides and outsides of your vehicle's windows and windshields.
Ta da!
Enjoy the fruit of your labor by taking a joy ride in your like-new, perfectly detailed vehicle!
How would you rate your driving?
Expert level? Beginner level? Needs improvement?
Take a free quiz