The freedom of the open road is something every driver looks forward to experiencing. Now that you have your newly obtained drivers license you, too, can get your kicks on route 66, or wherever it is you want your travels to take you. But, as a not yet seasoned road warrior, yet, you should approach your first road trip as adventure, but also a responsibility.
Be safe, have fun and you will be bound to make many more road trips to follow. The key is to make your first one a success.
How To Prepare for Road Trips
Above all else, have fun. Bring music, but remember not to have it so loud it will be a distraction. Do not plan on texting or making calls while behind the wheel. Also, do not allow any of the passengers in your car to make decisions you do not agree with or pressure you into doing something that veers from the plan you had set up.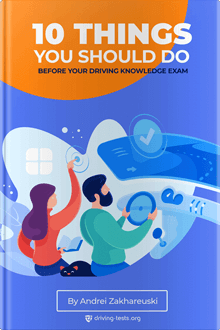 FREE e-Book:

10 Things You Should Do Before Your Driving Knowledge Exam

Many people get to the DMV overconfident and underprepared because they fail to do some of the simple things that would allow them to pass easily. What follows are the 10 steps that every aspiring driver should take to prepare for his or her official knowledge exam.