Driving safely not only depends on your own driving skills, but also the driving habits of everyone else on the road. Unfortunately, not all states are full of safe drivers. In effort to educate drivers on safety, Allstate releases an annual "Allstate America's Best Drivers Report." The report is based on Allstate claims data, and ranks 200 of America's largest cities driver's safety.
Do you live in one of the least safe cities to drive in? You do if you live in Boston, MA, Baltimore, MD, Worcester, MA or Washington, D.C. according to the latest Allstate report. On a positive note, Kansas City, Kansas, has earned the title of "America's Safest Driving City". According to the study, drivers in Kansas City are about 32% less likely to experience a collision than the average U.S. driver. And there is good news for New Yorkers as well, as New York City climbed 27 spots from last year's position to reach the 116th spot.
Whether you live in the most or least safe driving cities, it is important to be a responsible and defensive driver. Here are a few tips about how to be a good defensive driver from the Department of Motor Vehicles:
5 Key Tips to Drive Defensively
1

Keep your eyes moving and constantly check your mirrors and surroundings. Check here if your mirrors are set properly:

2

Be courteous of other drivers -- give right of way and allow ample room for merging. The following guide will help you recollect when you give right of way:

3

Allow one car-length per 10 mph between yourself and the car in front of you. Keep in mind the 3-second rule explained in the following video;

4

Look high above your steering wheel to view upcoming obstacles. The following guide will help you adjust your seat properly:

5

Avoid any possible distractions, including mobile phones.


Distracted driving crashes are the leading death reason for U.S. teens (State Farm)
For more information on being a safe driver, visit Driving-tests.org's Beginner Driver's Guide.
Sources:
Allstate: America's Best Drivers Report.
DMV: Defensive Driving Techniques for All Drivers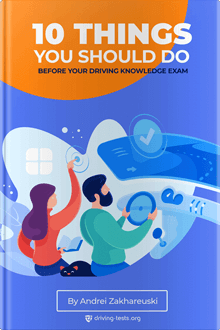 FREE e-Book:

10 Things You Should Do Before Your Driving Knowledge Exam

Many people get to the DMV overconfident and underprepared because they fail to do some of the simple things that would allow them to pass easily. What follows are the 10 steps that every aspiring driver should take to prepare for his or her official knowledge exam.