Cars are a way of life for most Americans. There are more than 111,400,000 automobiles registered in America according to 2016 numbers from the Federal Highway Administration, and the average American spent more than $9,000 on their vehicles in 2016 (that's more than double the amount they spent on health care). But despite the hefty price and necessity of mobility, an alarmingly high number of drivers lose their cars to theft each year. And for many families, losing a vehicle can be devastating.
We set out to understand America's critical carjacking problem by analyzing stolen vehicle reports from the National Insurance Crime Bureau and FBI data from 2016 and 2017. In the process, we examine the financial impact of car theft on individuals and families, the most-stolen car models, and America's greatest hot spots for car theft. Our study so far suggests that car theft is up 1 percent in the U.S., with Alaska experiencing a nearly 40 percent increase since 2016. Read on to discover the complicated dynamics of carjacking across America and to see if your state or city is particularly prone to theft.
Popularly Stolen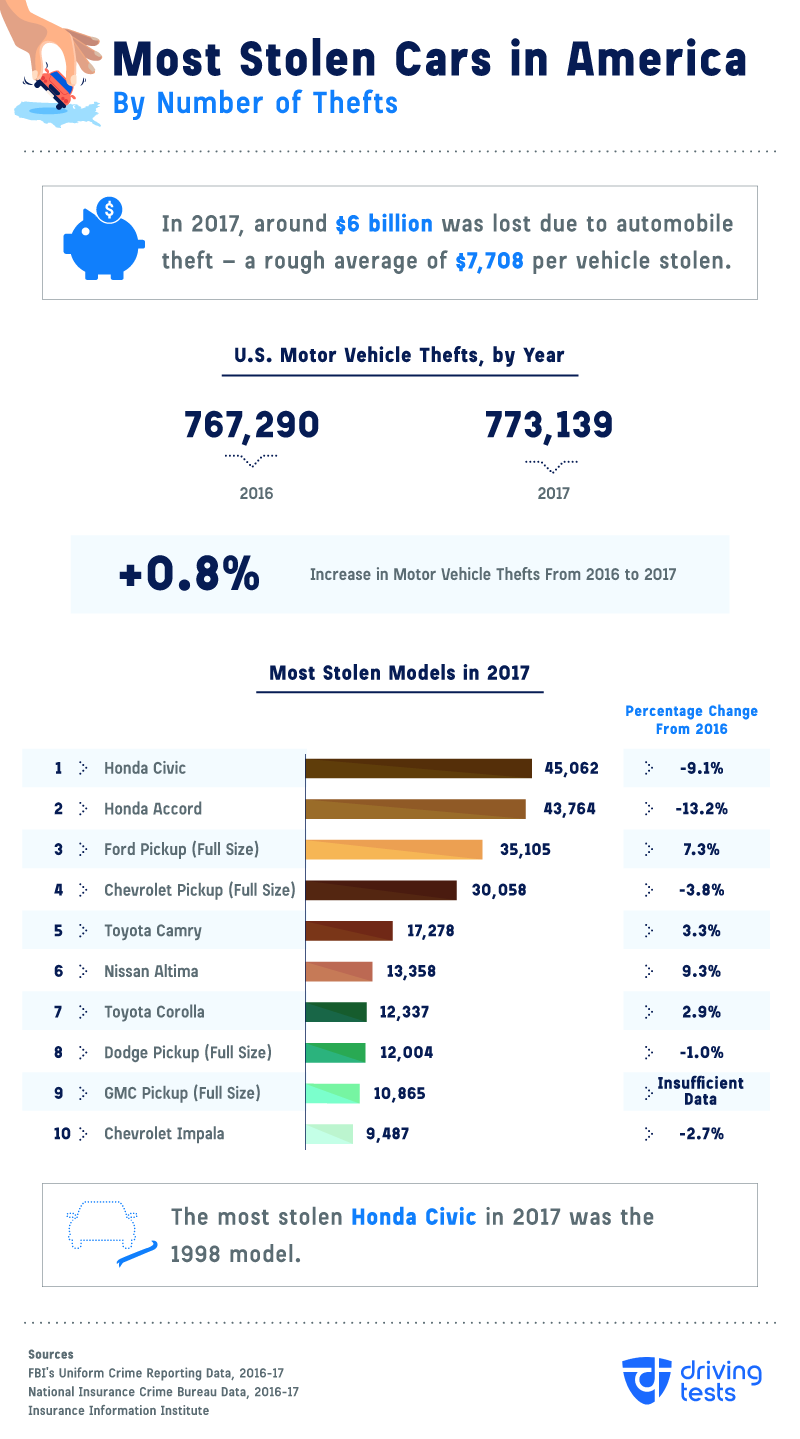 Stolen vehicles may make up only a small fraction of all vehicles in the United States, but our analysis suggests that car theft caused a total loss of roughly $6 billion in 2017. No doubt, that's a steep price worth most Americans' concern. Further, car thefts are on the rise -- in 2017, 773,139 U.S. motor vehicles were stolen, compared to 767,290 in 2016.
More than 45,000 of them were Honda Civics. Additionally, the most stolen model was from 1998, most likely because many are on still on the roads today and do not have anti-theft technology like the newer models. Honda Accords were the second-most stolen car -- although this trend decreased by 13.2 percent from 2016 to 2017 -- followed by full-size Ford pickups, full-size Chevrolet pickups, and Toyota Camrys.
Targeting Modern Models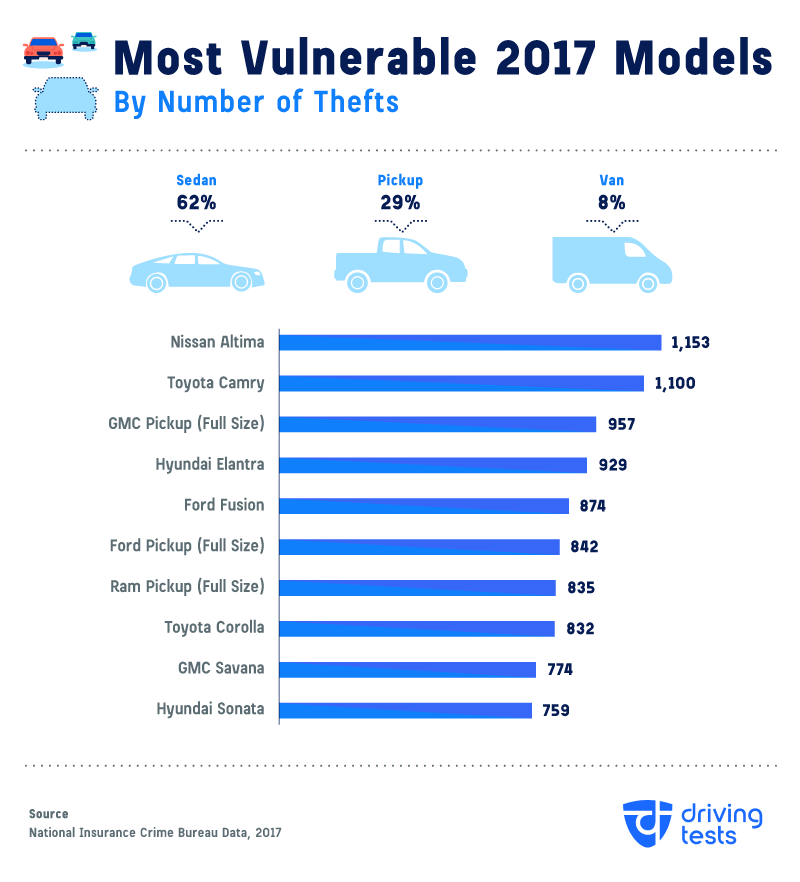 Carjacking is a known problem in the United States, and so many carmakers are adding extra anti-theft measures to their vehicles. But which recent models are still disproportionately stolen?
We analyzed car thefts among leading 2017 car models. Our results suggest that the 2017 Nissan Altima was the most-stolen car model that year, followed by Toyota Camrys, full-size GMC Pickups, Hyundai Elantras, and Ford Fusions. Full-size Ford pickups, full-size Ram pickups, Toyota Corollas, GMC Savanas, and Hyundai Sonatas were also frequently stolen 2017 models.
Robbed Regions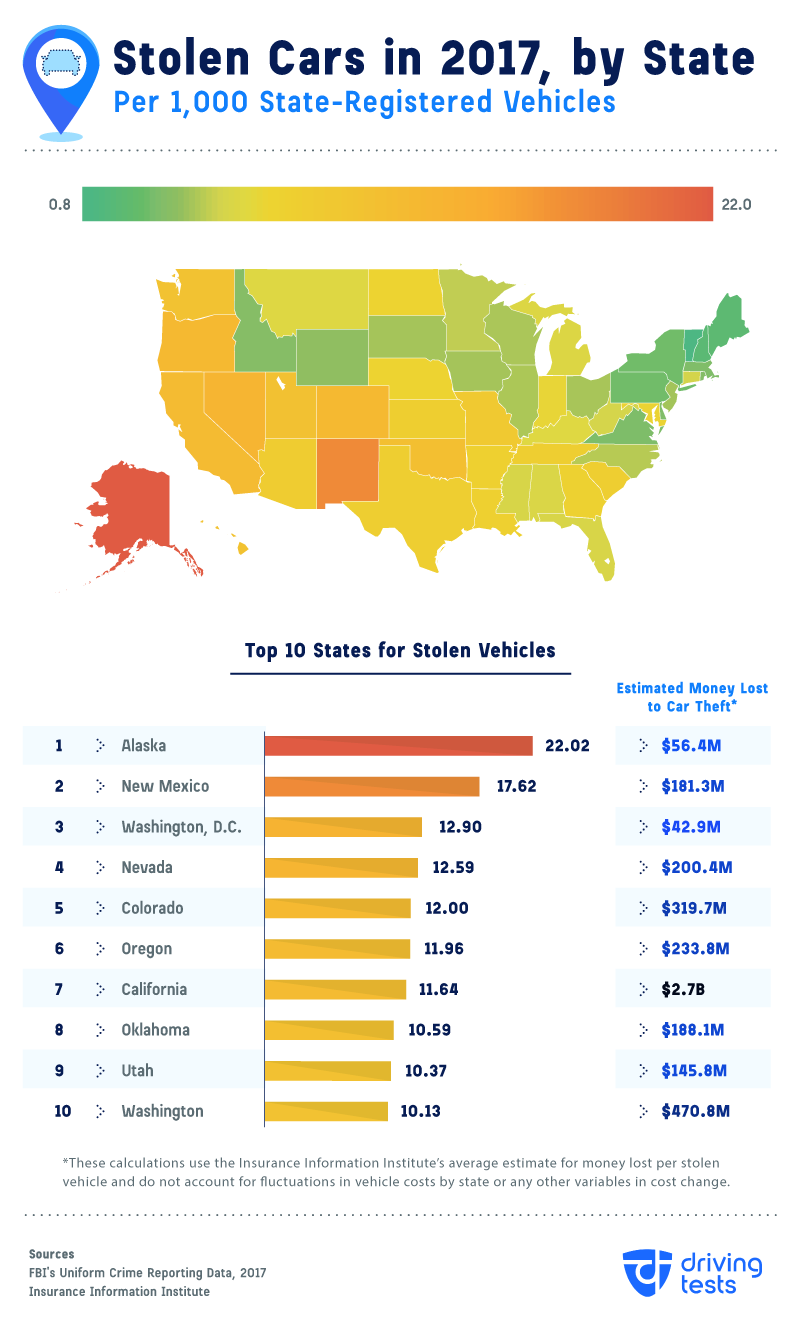 Car theft, although widespread, is not evenly distributed across the United States. Which of the 50 states are the least safe for our cars, though?
According to our analysis of government data, the top 10 states for stolen vehicles were Alaska, New Mexico, Washington, D.C., Nevada, Colorado, Oregon, California, Oklahoma, and Washington. Alaska, by far, stands out though, with roughly 22 vehicles stolen for every 1,000 registered vehicles.
The total money lost in this state is estimated to be around $56.4 million using the Insurance Information Institute's average cost estimate per stolen vehicle but is actually significantly less than other states because of the sheer volume. For example, car theft in California is estimated to have caused about $2.7 billion in lost money. Regardless, in Alaska, 2018 is on pace to be even worse than 2017.
Changed or Shortchanged?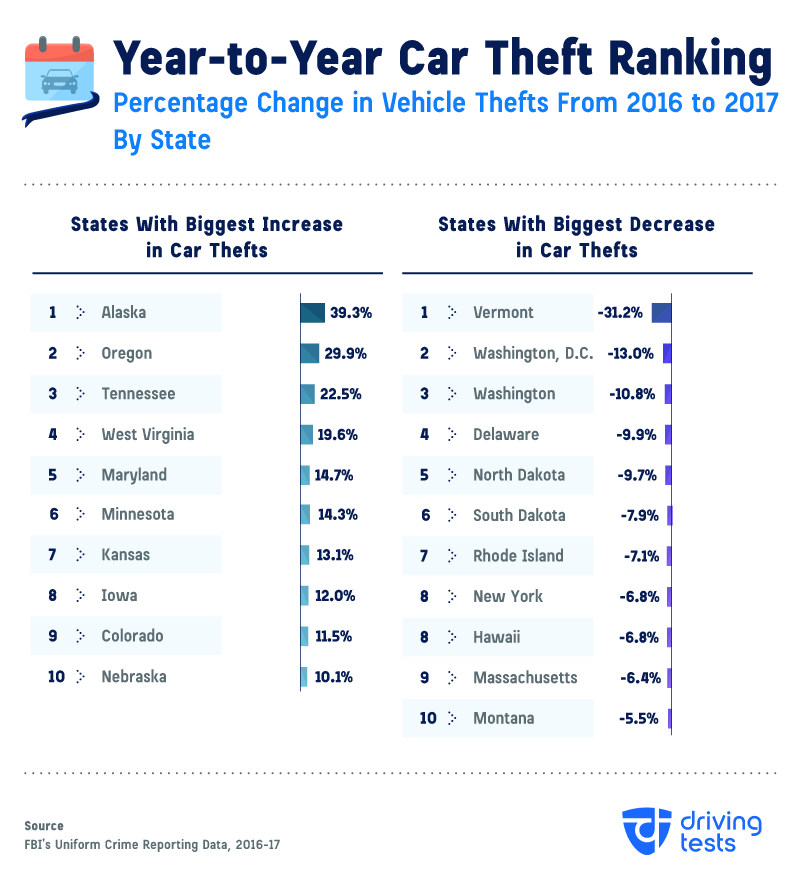 We've established that certain states are known hubs for carjacking and car theft. Between 2016 and 2017, motor vehicle thefts in Alaska went up nearly 40 percent, while thefts in Vermont decreased by 31 percent. In fact, the situation is so severe in Alaska that some residents have reacted by becoming vigilante car theft investigators.
Nonetheless, it's unclear why auto theft in these states is so dramatically transformed, but one thing is for sure: States can experience dramatic changes in car thefts in the matter of a year.
Statewide Targets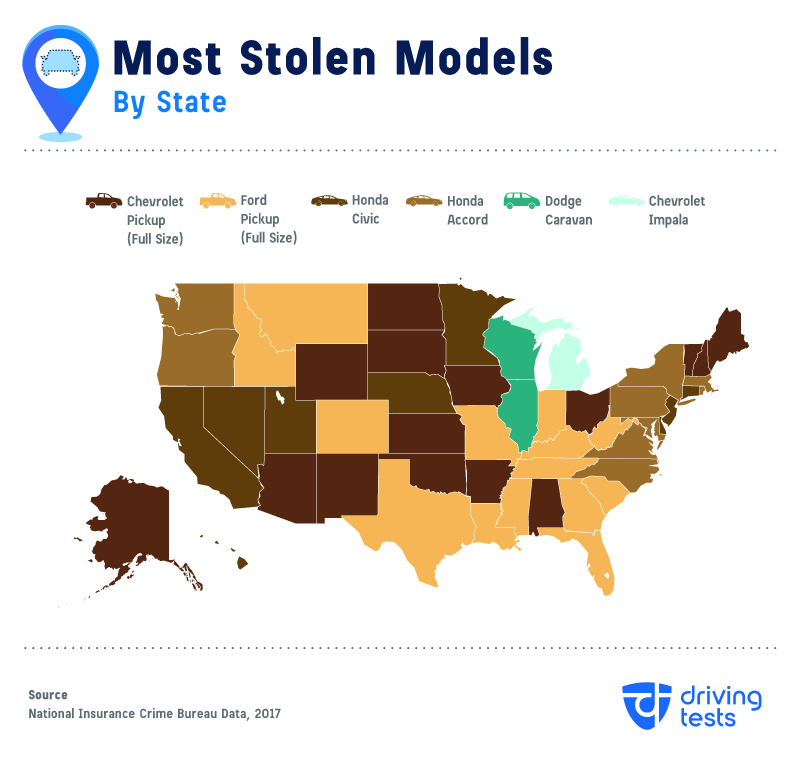 How safe is your car? Well, the answer may depend on what kind of car you have and where you live. We examined government data to find the most-stolen car models in each state -- and by mapping this discovery, we noticed some regional trends. For example, Chevrolet and Ford pickups tended to be the most stolen in Southern and Midwestern states, while Honda Accords were the most stolen in many East Coast states such as New York, Massachusetts, and Rhode Island. See the above map to determine the most stolen car model in your state.
Stolen in the City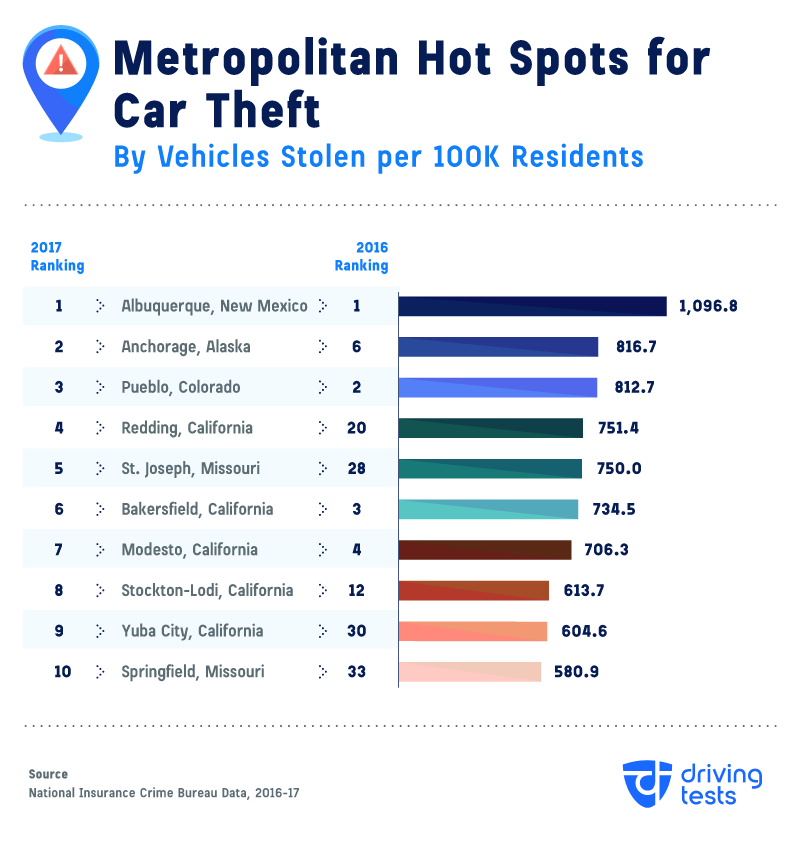 For better or worse, cities tend to have a reputation for crime (even though they are much safer today than in the past). Unfortunately, automobile theft is no exception. We ranked the top 10 cities for stolen cars in 2017. According to our numbers, Albuquerque, New Mexico, had the highest rate of stolen cars: 1,096.8 vehicles per 100,000 residents in 2017 (it was also the highest-ranking city for car theft in 2016). Anchorage, Alaska, and Pueblo, Colorado, also had high numbers -- both had more than 810 vehicles stolen per every 100,000 residents.
Meanwhile, Redding, California, and St. Joseph, Missouri, also made the top five. Interestingly, Springfield, Missouri, and Yuba City, California, both made the top 10 worst cities for car theft in 2017 despite ranking in the 30s in 2016. This suggests that car theft can vary widely in American cities year to year, with unknown factors contributing to crime fluctuation.
Protecting Your Vehicle
Car theft can turn an individual's life upside down. Not only is there a significant financial loss, but also drivers are often suddenly left without any practical way to get to work or other key destinations.
In hopes of teasing out key insights on the state of car theft in America, we analyzed FBI Uniform Crime Reporting Data for 2016 and 2017, as well as stolen vehicle reports from the National Insurance Crime Bureau. Our results can only conclude that this problem, which is particularly acute in some regions of the country, comes at a significant cost to Americans. Even though certain models are prone to being stolen over others, and there are some areas with higher theft rates than others, a part of becoming a good driver is learning how to best protect your car, too. There are simple steps that a driver can take, in order to be a safe driver, besides learning the basics of safe and practical driving. So if you or your loved ones are learning how to drive, visit driving-tests.org and get your hands on our numerous resources on driving and safety, and arm yourself with the tools you need to be a safe driver.
Methodology and Limitations
We used the FBI's Uniform Crime Reporting Data from 2016 and 2017 to find the number of motor vehicle thefts in states across America. We combined these data with stolen vehicle reports from the National Insurance Crime Bureau to find the model of vehicles most stolen as well as the top models per state. We incorporated state population data and automobile registration data to make calculations on stolen vehicles per 1,000 registered automobiles (excluding waterborne vehicles, tractors, and other types of driving devices not considered a car) and 100,000 residents by state.
We used the estimated average money lost per vehicle from the Insurance Information Institute to roughly calculate the money lost to stolen vehicles by state, but our calculations do not account for fluctuations in the cost of a stolen vehicle by state and any other variances due to model types, so our estimates are generalized figures.
Sources
Fair Use Statement
Thinking about taking a road trip sometime soon? You might want to take a closer look at our study in case you park your car anywhere. Feel free to share our study with friends, too, although for noncommercial purposes only. We also ask you to link back to us and provide credit for our work.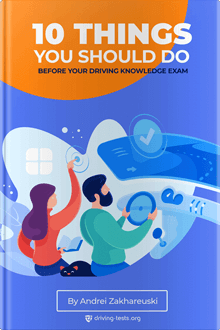 FREE e-Book:

10 Things You Should Do Before Your Driving Knowledge Exam

Many people get to the DMV overconfident and underprepared because they fail to do some of the simple things that would allow them to pass easily. What follows are the 10 steps that every aspiring driver should take to prepare for his or her official knowledge exam.