Auto insurance options can be overwhelming. When you begin to shop for auto insurance for the first time, you will be bombarded by a multitude of insurance companies offering many different types of coverage. Before you decide on an insurance company or a particular plan for your vehicle, it is important to understand exactly what automobile insurance is and why it is important. Below are some terms that you will encounter as you begin to shop for automobile insurance.
Car Insurance Terminology
1

Full-coverage:
This is a general term that describes auto insurance that will help cover costs for your vehicle and any other vehicle involved in the accident. For example, if you accidentally run into the back bumper of a vehicle in front of you at a stop sign, full-coverage insurance will cover the cost of repairing your vehicle as well as the vehicle you hit. In some cases, full- coverage auto insurance is required for vehicles that are financed.

2

Liability:
In the world of auto insurance, this type of insurance only covers damage for the other vehicles in an accident you are involved in. For example, if you run a stop sign and subsequently hit another car, auto insurance with only liability coverage will cover the costs of repairing the vehicle you hit, but not your own vehicle. Liability coverage is only advisable if you have an older vehicle that is completely paid for. In this scenario, the cost of full-coverage auto insurance might outweigh the cost of repairing your vehicle or purchasing a replacement.

3

Deductible:
This is the term for the amount of money you will have to pay before your auto insurance policy will begin to take affect. In general, the higher your deductible the lower your payment.

Here is a more detailed explanation of how to choose your deductible:

4

Collision:
Collision insurance is the part of an auto insurance policy that covers accidents. If you are hit by another driver, rear-end another vehicle, or run into a ditch, your collision coverage will assist you in paying the ensuing expenses to repair the damage to your car.

5

Comprehensive:
This part of your auto insurance covers expenses other than those covered by your collision coverage. Hail damage, broken windshields, falling trees, and impacts with animals are some examples of situations that comprehensive auto insurance covers.
After you do a little research about auto insurance, you are ready to begin your search.
The easiest way to shop for auto insurance is through the internet. All major auto insurance companies as well as online auto insurance providers have excellent websites that will make comparing prices easy. Follow these steps to find auto insurance quotes online.
How To Find Auto Insurance Quotes Online
1

First, gather the following information: the make and model of your vehicle, mileage, your driver's license number, previous auto insurance information, driving history including speeding tickets, and information on any other individuals who will be driving your car on a regular basis. Also, decide if you want to purchase full-coverage or liability auto insurance.

2

Conduct an internet search for auto insurance or auto insurance quotes. The first eight or ten results are likely to be the most reputable and popular traditional and online auto insurance companies.


It requires some time to go through 8-10 links getting insurance quotes but it will definitely save you money

3

Each of these websites should offer a function that allows you to enter the above information (see #1) and receive an approximate auto insurance quote.

4

After receiving quotes from several different companies, evaluate the pros and cons of each auto insurance policy. Pay special attention to your estimated monthly payments, your deductible, and the amount of coverage each plan includes. Always read the fine print!

5

Although most auto insurance companies offer the option of purchasing online, you should feel free to call the company to speak with one of their representatives before you make the decision to purchase coverage.
Next to purchasing your vehicle, deciding on which auto insurance company to buy a policy from is one of the most important decisions you will make as a driver.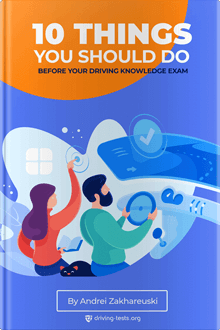 FREE e-Book:

10 Things You Should Do Before Your Driving Knowledge Exam

Many people get to the DMV overconfident and underprepared because they fail to do some of the simple things that would allow them to pass easily. What follows are the 10 steps that every aspiring driver should take to prepare for his or her official knowledge exam.