FREE California DMV Practice Test 3 in Spanish 2018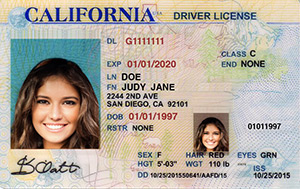 Para aprobar el examen del DMV y obtener su licencia de manejo, las personas menores de 18 años necesitaran contestar de manera correcta 83% de las preguntas en el examen o 38 preguntas de las 46 que lo conforman. Si usted es mayor de 18 años, el examen oficial del DMV solo contendrá 36 preguntas, pero usted necesitara el mismo porcentaje de preguntas correctas -- 83% -- para aprobarlo. El examen del DMV está elaborado con preguntas de opción múltiple, con tres opciones de respuesta y usted lo resolverá en una computadora con pantalla táctil, es un proceso rápido y eficiente para calificar sus respuestas. Si usted tiene entre 15 años y medio y 17 años y medio, necesitara comprobar que está inscrito en una clase de educación vial. Si usted es mayor a 17 años y medio, no es necesario que tome el curso de educación vial. Usted deberá pagar una cuota de $33 por su permiso, y recuerde que los exámenes deben comenzar antes de las 4:30 pm para que tenga suficiente tiempo para terminar el examen antes que las oficinas del DMV cierren.
Tu Progreso
Important:
In California, the number of knowledge test questions is different depending on how old you are:
If you are under 18, you will get 46 questions, 38 of which will need to be answered correctly
If you are over 18, the written part of the driving test will have 36 questions.
7 mistakes allowed to pass
Passing score required at the CA DMV: 83%
Carga de prueba, por favor espere ...
Found a mistake?
California DMV Permit Test Fact Sheet
| | |
| --- | --- |
| Número de preguntas: | 46 |
| Responder a esta cantidad correctamente para pasar: | 38 |
| Calificación minima: | 83% |
| Edad mínima para aplicar: | 15 ½ |
Show comments