FREE Montana MVD Permit Practice Test Three 2019 | MT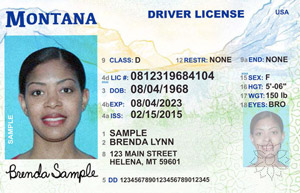 Drivers under the age of 18 must participate in Montana's Graduated Driver Licensing Program. If you're 16, or 14 ½ and enrolled in a traffic education program approved by the state, your main step to get a learner license is to pass a written knowledge test. The exam consists of 33 multiple-choice questions based on the 2019 Montana Driver Manual and you'll need to correctly answer at least 27 of the questions to pass. To get your learner license, you'll need to make an appointment to take your written exam, as well as a vision test, show proof of identity and residence, and pay the $5 fee for your learner license. If you're a minor, you will have to have parental consent, and if you're between 14 ½ and 16, you'll need to show that you've completed or enrolled in an approved driver's education program. Use this MVD practice test to help you study, as you're only allowed to miss six questions on your test, and if you fail, you'll need to make another appointment to try on a different day.
Or get unlimited access to all MT tests with

Premium
7 mistakes allowed to pass
Passing score required at the MT MVD: 82%
We're preparing your test...
Report a problem
Montana MVD Permit Test Fact Sheet
| | |
| --- | --- |
| How many questions: | 33 |
| How many correct answers to pass: | 27 |
| Passing score: | 82% |
| Minimum age to apply for Class D Learner License | 14 ½ |
MT MVD Driver's Handbook
View the most recent (2019) official MT MVD Driver's License Handbook.
Explore
List of questions (classic view)
Except where it's prohibited, you should use the three-point turn to
If your vehicle breaks down at night, use _________ to prevent an accident.
Uncontrolled intersections are
You see a sign shaped like a pennant. What does this sign mean?
Vehicles approaching a roundabout must
_________ mean(s) that passing is not allowed in either direction.
If you start to become sleepy while driving, you should
If it starts to rain on a hot day, use caution because the pavement may be slippery for the first few minutes. This is due to
Which of the following right-of-way rules is FALSE?
Which of the following are two types of speed signs?
To enter a roundabout, you must _________ whether you need to make a right turn, a left turn, or a U-turn or continue forward.
In a typical passenger car, partial hydroplaning can begin at speeds as low as
Where there are four or more lanes with traffic moving in opposite directions, what does a double solid yellow line mark?
A double solid white line separates two lanes of traffic
If you start to skid, you should
You should avoid _________ while crossing railroad tracks.
Before entering an intersection, you must watch for
When passing a truck or other large commercial motor vehicle, you must watch out for
When there is water on the roadway, you must reduce your speed to avoid
What does this sign mean?
When turning left from a two-way street onto a one-way street, you should
On a four-lane divided roadway or a one-way road, a solid yellow line usually marks
What does this sign mean?
What does this sign mean?
Which of the following statements about headlights is FALSE?
When are you allowed to drive on the shoulder of the road to pass another vehicle on the right?
Warning signs are placed along the roadways to
To turn around on a narrow, two-way street, you may make
What does this sign mean?
You may NOT pass a vehicle on the right
On a highway, signs with black letters or symbols on an orange background provide
You may not park your car in any of the following places, except
Which of the following rules about turning is FALSE?
If a blind pedestrian with a white cane or guide dog is waiting at a crosswalk, you must
When going down a steep hill, you should
Crossing a solid white line is
On a road with three or more lanes in your direction, you should stay _________ except when passing another vehicle.
On an expressway, you can avoid highway hypnosis by
If you are being tailgated, you should NOT
On multilane roads, you should avoid driving alongside other vehicles because
Show comments