FREE NY DMV Permit Practice Test in Spanish 2019 (Road Signs)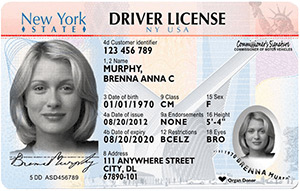 Ponga a prueba sus conocimientos de señales de tráfico y marcas en el pavimento. Las 25 preguntas de esta prueba lo ayudaran a repasar los conocimientos que adquirió con su Manual del Conductor. Cada pregunta le ofrecerá 4 opciones de respuesta, si contesta alguna pregunta equivocadamente le daremos la explicación y la respuesta correcta. Recuerde que puede hacer uso de la pista proporcionada si necesita ayuda con alguna respuesta. Nuestras pruebas son gratuitas y usted las puede tomar tantas veces como lo desee.
7 mistakes allowed to pass
Passing score required at the NY DMV: 70%
Carga de prueba, por favor espere ...
Report a problem
New York DMV Permit Test Fact Sheet
| | |
| --- | --- |
| Número de preguntas: | 20 |
| Responder a esta cantidad correctamente para pasar: | 14 |
| Calificación minima: | 70% |
| Edad mínima para aplicar: | 16 |
Show comments