WV DMV Test Simulator: Exam Mode 2019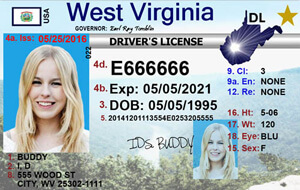 This West Virginia DMV Test Simulator is different from other practice tests we have on this site. It is the closest thing you can get to the actual exam. There are no hints and no explanations – because you won't have them at the DMV. You can also skip as many questions as you want. You'll get new questions every time you re-take this exam: no two exams are the same.
Do you sometimes get the test day nerves? You've studied and studied, but something happens on the day of the test. You do not even know what this is. You know everything there is to know, but then it's like everything falls out of your brain and you are left with nothing. You can get over your test day nerves with the test simulator. It simulates an official exam at the West Virginia DMV. It's just like sitting for an exam at the DMV, down to the number of questions that you will take during a test. This is a terrific way to overcome the stress you feel on test day.
Are You REALLY Prepared?
Many people think they have a case of exam stress, when in reality, they just don't know the answers. They understand that quickly when they take the test simulator. This simulator does two things to let people know if they have what it takes to pass the test at the DMV.
First, it stops as soon as you fail. If you miss enough questions to fail the DMV test, the test stops and you don't get any more questions.
Second, it lets you know when you get the answer wrong by highlighting the correct answer. This is the best way to learn the answers. Write down all of the answers you get wrong and then review them. You will be prepared if you go over all of the mistakes you've made. Then you won't have any trouble walking into the West Virginia DMV and acing your official test.
Still Have the Jitters?
If you still felt nervous on test day, continue to practice. Practice is the best way to deal with anxiety. Also, try some breathing exercises when you sit for your DMV test! That is a good way to eliminate anxiety. Picture yourself passing the test, as well.
You can do great on your test, but it begins with the practice test. Take it and then get ready to walk into the DMV and ace your test.
Or get unlimited access to all WV tests with

Premium
6 mistakes allowed to pass
Passing score required at the WV DMV: 76%
We're preparing your exam...
Report a problem
West Virginia DMV Permit Test Fact Sheet
| | |
| --- | --- |
| How many questions: | 25 |
| How many correct answers to pass: | 19 |
| Passing score: | 76% |
| Minimum age to apply for Instructional Permit | 15 |
WV DMV Driver's Handbook
View the most recent (2019) official WV DMV Driver's License Handbook.
Explore
Show comments